In today's world, Do-It-Yourself (DIY) projects have quickly become a staple for many home improvement projects. Jobs like installing windows, painting, or shelf installation are simple to-do projects around the house with the right tools and skill. Electrical work however, is slightly different and is not so easy.
Light fixture installation requires a set of expertise that can't be taught from a YouTube video. Sure, a lightbulb is easy enough, but new wire installation or understanding power systems to make sure everything is up to date on local and state codes is beyond basic DIY knowledge. Ceiling light fixtures are no different.
At Kaminskiy Care & Repair, we have the knowledge and capability when it comes to installing ceiling light fixtures flawlessly. The installation process may appear simple, but when you consider the safety of yourself and your home as you toy with electrical work, you may second-guess your decision to do it on your own. Kaminskiy Care & Repair ensures that each ceiling fixture is up to safety standards, and we repair any electrical issues as we see them.
---
Installing Ceiling Light Fixtures on Your Own
It is plausible to replace a ceiling light on your own. Make sure you have all the tools required and a ladder that is tall enough to reach.
Before you remove the old fixture, you should make sure you turn off the power from the electrical box. This is the circuit breaker that controls where the electricity is going. If you have power going through where your light is, you may be electrocuted. It's imperative the power is shut off before you begin any electrical work. There are occasions that turning the light switch off from inside the room is okay, but it is better to be safe than sorry.
---
You will want to make sure you have the correct tools and materials to ensure all your lights are in working order. You'll need:
Voltage tester – this tells you if there is voltage going through the wires. If there is, then you turned off the wrong switch on the breaker or power is coming from somewhere else.
Screwdriver – Don't let the screwdriver touch any electrical wires. You will be electrocuted. This is only for installing the light fixture.
Wire nuts – Wire nuts hold together and protect the bare copper ground wire
Wire strippers – A wire stripper allows you to cut the coating around the electrical wire and expose the wire. Cut it to the appropriate length for your light.
Work light – A headlamp or a handheld flashlight. Something that makes it easy to see where you're connecting wires.
Your new fixture – Whatever you wish to use to light up your room from the ceiling. This is purely a design choice. A light fixture could be a ceiling fan with a light, a recessed light, a designer lamp, and other choices.
---
The correct tools make the installation process much easier for you. However, if you don't know how to use these tools you may work harder and longer. What may take you hours to install may take the electrician or handyman less than an hour or two depending on the assignment.
An electrician or an electrical handyman will have the tools needed to make the process that much easier for you. You won't need to buy tools you'll only use one time, and you won't have to risk electrocution by the wires. You must have skill and precision to install a ceiling light fixture. If you fall from the ladder, you can get severely injured.
Kaminskiy Care & Repair installs all light fixtures inside your home. No job is too small for this San Diego handyman service!
Ceiling Light Fixtures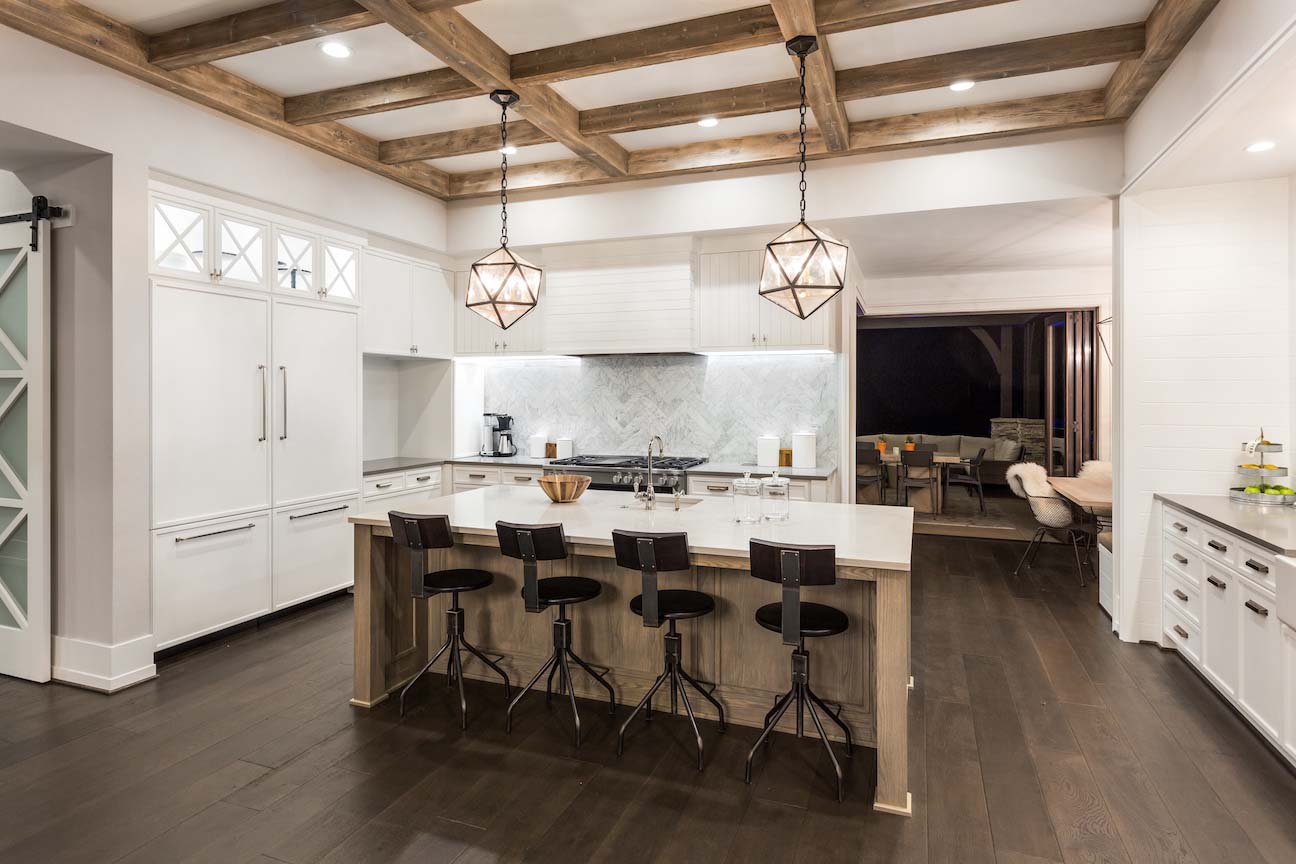 There are different types of light fixtures. Each type of light provides different lighting and has unique purposes: ambient lighting, ceiling fans, task lighting, and accent lighting.
You will also choose what style of fixture you want based on your distinctive taste in décor. Care & Repair has a vast catalog of lighting styles to choose from. Below is a small example list of your style options along with a list of style finishes you may consider choosing.
---
Styles
Rustic – Embraces the natural beauty of the aged and rough design. The most used material is weathered raw wood.
Contemporary – A minimalistic approach to design. The use of neutral colors and soft lighting offers simplistic yet deliberate use to showcase space.
Industrial – Features steel and wood to celebrate the aesthetic of aged factories and industrial fixtures. The dark overtones and distressed metal display an unfinished appearance with exposed lightbulbs and brickworks.
Coastal – the ever popular and desired seaside aesthetic on the coast. The beachy look calls for blue hues and white lighting to match the bright and colorful vision of the beach.
Ranch – Similar to rustic, but with a twist. It doesn't focus on the aged and rough like rustic, but it does feature raw materials like wood and textural fabrics. According to Homes and Gardens, ranch designs "bridge the gap between indoor and outdoor living". They utilize natural lighting with large windows so typically the lighting fixtures are more for ambiance or accenting décor.
---
Finishes
Bronze – Adds warmth and texture with a several different hues of bronze. Bronze can be dark or light or even change colors from green to gold.
Chrome – Durable and timeless. This finish adapts to any style while also providing utility. It is scratch resistant and easy to clean.
White – The perfect addition to contrast. It creates a clean space to feature strong colors such as black, red, and yellow.
Black – As stated before, black is a strong color. Use this finish to accent the more widely used color in your home.
Brass – Provides a warm overtone, and with different types at your fingertips, you can find a style that suits you the most. You may choose between satin, antique, polished, weathered, and matte brass. Each brass type provides a unique set of style choices perfect for different home designs.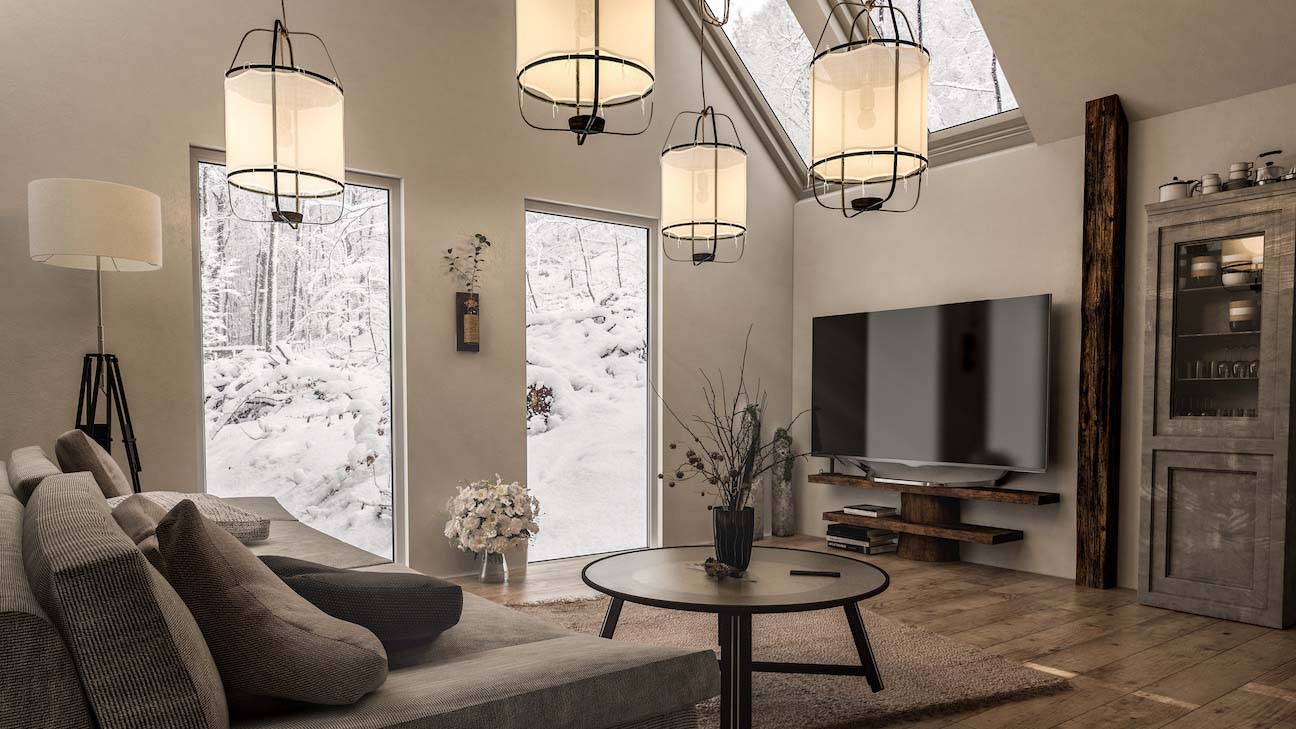 Flush Mount Lighting
Flush mount lights sit completely flush with the ceiling. It does not leave a space or opening between the fixtures. It's perfect for minimal designs, and its subtlety enhances the look of your existing space.
Semi-Flush Mount Lights
Semi-flush mount lights are similar to flush mounts except there is a space between the ceiling and the fixture. The space in between is a stylistic choice. Most of these mount types are elaborate in design and perfect for all style types.
Chandeliers
Chandeliers are a beautiful addition to any dining room and living space. Many think a chandelier is fit for more formal areas, but now, they are making their way into living rooms, dining rooms, and even bedrooms. It adds an air of sophistication in any space with varying styles to choose from. You may select a more traditional style that fits the formal dining area or move towards a contemporary style that befits the décor. A chandelier is a unique and stunning design choice.
Recessed Lighting
Recessed lighting are lights installed directly into the ceiling. The light sits flush while the electrical wiring and housing are hidden away. Recessed lighting bulbs are significantly more energy efficient and still present varying styles. You may choose different lighting temperatures for each room to create a distinct atmosphere. You may choose daylight which is a beautiful bright white that mimics the brightness of daytime. A soft white color is perfect for office or bedroom lighting because it is easier on the eyes and does not overpower your room. You must also consider the layout of the lighting. If you have a whole set of recessed lighting, Kaminskiy Care and Repair will ensure that your layout is symmetrical and equally spaced throughout the room; even two or three misaligned lights would bother anyone.
Track Lighting
Track lighting uses a support railing that is mounted on the ceiling. The railing powers individual light bulbs and allows for customizability. The directional bulbs cast light on any spot rather a fixed point in space because of the maneuverability of the track system. They are often out of sight and close to the ceiling and are used as accents to the room décor rather than as a centerpiece. There are sub-types of track lighting such as standard track lighting, monorail lighting, and cable lighting. The difference between the standard track lighting and monorail lighting is like the flush mount and semi-flush mount lighting. One is flush is against the ceiling (flush mount and standard track) and the other drops a little bit from the ceiling to leave a space between the fixture and the ceiling (monorail and semi-flush).
---
Contact Us
Kaminskiy Care and Repair specializes in making the tedious work easy for you. We provide services that finish your home projects fast without you having to lift a hammer. Do-It-Yourself projects are fun and rewarding, but when you're busy with your career or family, the list grows longer. We'll complete your to-do list and ensure the job is done right. Call us to make an appointment and receive a free consultation.