While there are many projects around the house that are easy to DIY, electrical work is rarely one of them. A single mismatched wire can bring all your work to a stop and take hours to troubleshoot. Residential electrical work varies greatly in complexity, from the simple installation of a switch, to trying to diagnose which outlet keeps tripping the circuit breaker or installing new lights and appliances. All too often, homeowners start an electrical project and quickly find themselves overwhelmed by the myriad of different wires, switches, plugs and power supplies. At Care and Repair, we provide best electricians and the best electrical repair service to quickly get our customers back on the grid. Hiring the best handyman San Diego electrician is a great way to save time, money, and stress!
Electrical work can be quite dangerous. Electricity is one of the modern world's greatest inventions, but with great power comes great responsibility. Seemingly minor mistakes like cutting the wrong wire at the wrong time can be fatal. Even after the work is done, dangers loom. Shoddy wiring is one of the most common causes of house fires. Don't risk the safety of your family, home, or commercial business trying to do it yourself. Our Care and Repair best electrical contractors will get you powered up with safety assured!
---
Ceiling Fan Installation and Repairs In San Diego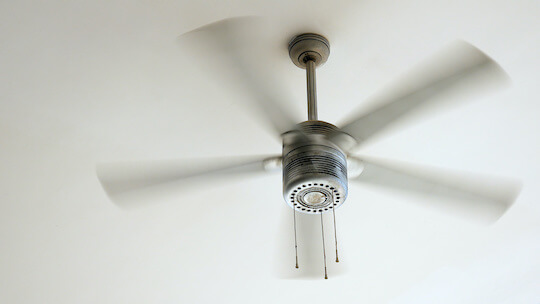 As a local company, we know that San Diego summers can get quite warm. No one wants to sit around in the heat but, running your air conditioner can add up to a huge bill very quickly. Ceiling fans are a fantastic way to keep yourself cool and keep costs low. You may be surprised to hear that they can help in the cooler months as well by pushing the warmer air down from the ceiling.
Unfortunately, many San Diego homes do not have ceiling fans. That's where we can help! A Care and Repair handyman can come out to your home and install a new ceiling fan for you whether you may need it. Our electricians will do the complicated work of running new wiring into position for you, so you can sit back and relax. If you already have a ceiling fan but want to modernize it, we can help as well. Our professional electricians in San Diego can replace old pull-chains with independent switches or even remotes.
---
Lighting Installation
Proper lighting is something that many San Diego area homes lack. Many homes have rooms with no lighting at all, forcing you to rely on independent lamps. Big overhead lights in kitchens are great, but what about inside or under the cabinets? Landscape lighting and security lighting are also great ways to put the spotlight on your beautiful yard and anyone that trespasses on it.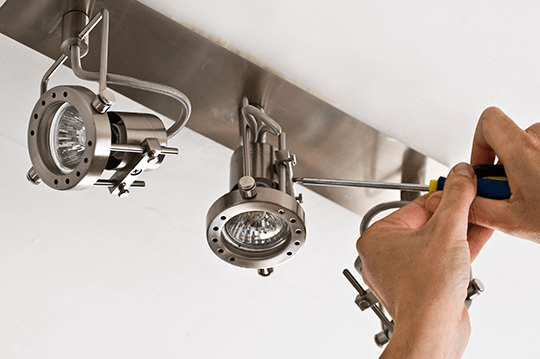 Whatever your need, we are here to help brighten up your home. We can install a wide variety of lighting, including:
---
Ceiling Fans
Recessed
Canned
Custom Kitchen Lighting
Custom Living Room Lighting
Track
Accent
Security, including Motion Sensors
Landscape
---
We also specialize in updating older lights to the newest, most efficient standards. LED lighting is becoming increasingly popular for the many benefits it brings. LED lights last longer and costs less to run that nearly any other type of lighting. If you want to upgrade your home with state-of-the-art, efficient and eye-appealing LED lights, call a Care and Repair handyman electrician today!
---
TV Wall Mounting and Wiring In San Diego
Today's televisions are bigger and better than ever before. With resolutions as high as 8K and sizes exceeding 100 inches or more, installing your new TV can be quite a lot of work. Mounting a movie screen-sized monster on your wall requires heavy duty equipment, muscle and expertise. Thankfully, our Care and Repair handymen fit that description perfectly!
---
Appliance Wiring and Installation
One of our most common services is helping homeowners install the many different machines and appliances found in the modern home. Our Care and Repair electrician handymen are experts at set up a huge variety of electrical equipment, including:
Need to protect your expensive equipment with state-of-the-art surge protectors?
Looking to automate your home with smart devices such as thermostats and door cameras?
Is your ceiling fan not cooling things down enough, and want to upgrade to a whole house fan?
Did you buy a new surround sound speaker system for your new TV and need help installing and setting it up?
Are you taking the plunge into electric cars and have a new EV charging system to install in your garage so you can top off the battery at home?
The electrical service experts at Care and Repair can help with all your handyman electrical needs.
---
Appliance, Switch, and Wiring Repairs For Your San Diego Home
Of course, sometimes things in your home stop working, and you need someone to come figure out what the problem is. Our team can diagnose and handle many electrical repairs, such as faulty wires, sparking circuits and blown fuses. We'll get your fridge running, dryer drying, or dishwasher washing again quickly and easily so you can get back to living your best life.
No matter what your electrical needs are, Care and Repair is here to help our customers. We'll get your charged up quickly without charging you a fortune. Hire the best San Diego electricians today!