As a local repair company in San Diego, you're probably wondering why we even offer gutter cleaning since it rarely rains in gorgeous Southern California. The truth is, keeping your gutters clean is an essential task to home maintenance, even here! Leaves and debris build up over time, adding weight to your gutters that they were not designed to handle. This will cause the gutter to fall and tear away from the facade and soffit. Facades and soffits are essentially the outer rims of the roof that hold the gutter. Even without the rain in San Diego, make sure you get your gutters checked!
---
Gutter Cleaning
Gutter cleaning is when you clean the gutters that outline your roof. This includes removing leaves and other debris and a flush out of of your entire system. After a thorough washing, your rain gutters will do a better job of channeling rainwater towards the downspout to prevent flooding on your roof.
---
Routine Gutter Cleaning For Your San Diego Home
Rain gutter cleaning in San Diego is an important seasonal task that needs done at least once a year. When leaves and debris get stuck inside the gutter, water will flood the area and pool into the soffits or weigh down the fascia of the roof. This can cause the fascia and soffit to detach from the roof, severely damaging the area. Ideally, you should clean it 2 times a year. It is important during the fall and winter because leaves and debris can freeze, creating frozen pools alongside your roof. It can be very dangerous to you and your housing.
If it is been a while or if you have never had a cleaning, you may need your rain gutter repaired.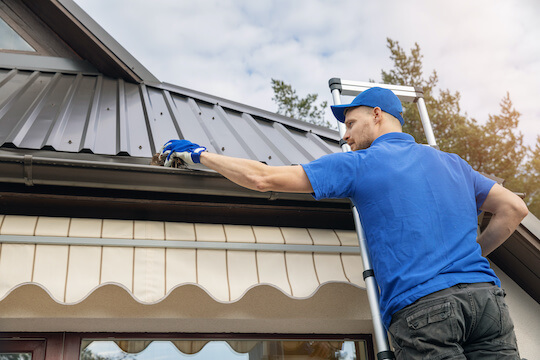 ---
Can I clean my gutters myself?
Short answer, yes, you can. The better question is whether you should clean them yourself. Cleaning your gutters is rough, dirty, and rather dangerous. It is best to have a professional do it. The most dangerous aspect of gutter cleaning is going on a ladder. Without the proper safety procedures, you can severely injure yourself and be out of work for a long period of time. Each year there are 164,000 emergency room treated ladder injuries. There are 300 deaths that are caused by ladder falls.
You will not have to worry about injury to yourself or the repair team. Care and Repair Handyman Services are trained professionals and take every safety measure seriously.
---
Keeping Debris Out Of Your San Diego Home's Gutters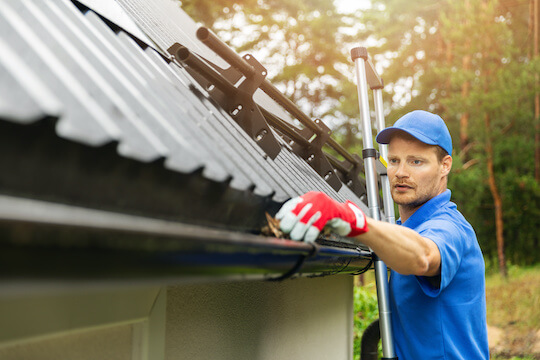 You can buy gutter guards from your local hardware store. While that won't completely protect your gutters from dirt and small pieces of debris, it will prevent leaves from piling up. You would still need to check and clean your gutters even with a gutter guard.
There are different types of gutter guards. Make sure you buy the right one for the season. Heated coils are available for cold winters but may actually create an ice damn on your gutter guard and do more harm than good. Do some research and ask questions! Exterior house repairs are no laughing matter and small mistakes can destroy the integrity of your house if you're not careful.
---
Your San Diego Gutter Cleaners
Luckily, you're already on the site! Kaminskiy Care and Repair Handyman Services is one of the best local handyman services you'll find in San Diego. We provide a free estimate for all our repairs and general jobs around your home or commercial property, including gutter cleaning!
It's easy to forget about your rain gutters on the day to day due to the lack of San Diego rain. With our rain gutter cleaning service, you can continue to go about your days while we take care of the dirty work.
We service all San Diego County so if you're in the area, give us a call and ask about our services. We'll do all we can to answer your questions and get you a quote right away.