Many improvements or repairs around your home can be DIY, but electrical work is not one of them. One small mistake can spiral into another problem that you have to troubleshoot and fix. The electrical work that residential homes need varies wildly in complexity. From the installation of a simple switch to figuring out which outlet is tripping the circuit breaker, electrical projects for residential homes can vary greatly in complexity.
Electrical work can also be dangerous if performed by uncertified hands. For some homeowners, the thought of performing your own electrical work is downright scary. Don't worry, our professional electrical handyman service will keep you safe and provide the fixes and upgrades you need!
Electricity is one of the greatest inventions in modern history, but you need a thorough knowledge of it to ensure you won't damage you or your property. Even after the work is done, if a wire isn't properly fastened the loose wiring can cause a house fire. Hiring a contractor for the job is the best way to ensure that you and your home do not suffer from any extra damage while the problem is fixed.
Homeowners can start an electrical project without fully realizing the overwhelming amount of different moving parts these kinds of jobs have. The problems a single mistake can cause also put a lot of weight on your actions. Hiring an electrician is the best way to get the job done right, without the risks to you, your family, or your home. Kaminskiy Care & Repair provides homeowners with expert electricians so that you get the best electrical service for an affordable price.
---
With the number of electrical issues your home can have, you need to find a handyman that can handle all of them. Kaminskiy's skilled handymen offer their services for:
---
---
Call Kaminskiy Care & Repair today so our skilled electricians can help you with your project!
Ceiling Fan Installation And Repairs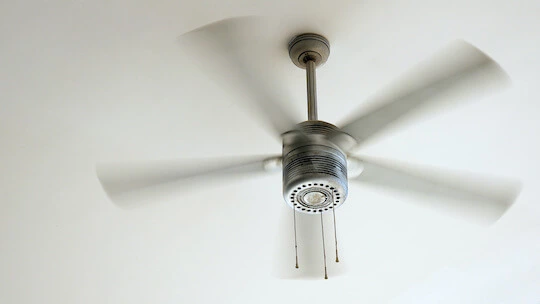 No one likes sitting in a room with warm, stagnant air. Ceiling fans are the perfect way to get the air moving in your home and cool you down without costing you a fortune in energy bills. They can also help in colder months by pushing the warmer air down from the top of the room. Many homes do not have this helpful piece of equipment, though.
Our handyman electric services can help you by installing a ceiling fan into your space. Our electricians do the hard work of making sure the wiring is in the correct position for you. That way you can relax, knowing the fan will be installed properly without you having to do anything. We can also help in modernizing an old ceiling fan in your home or replace your old pull-chains with remotes and switches.
---
Lighting Installation
Proper, full lighting is a feature that not every home has. Some homes have whole rooms without any built-in lighting, requiring you to buy lamps to make up for the lack of built-in lighting. Your kitchen might feature plenty of overhead lighting, but are the spaces inside or under your cabinets properly lit? Our team can install lighting everywhere you need it. Illuminate your beautiful home so you can see every detail.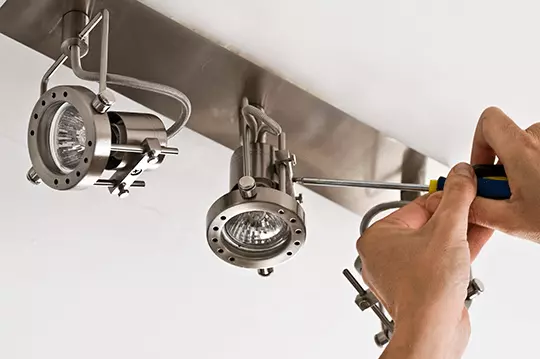 Our amazing electricians can install a variety of lighting solutions, including:
---
Recessed lighting
Canned lights
Ceiling fan lights
Track lights
Accent lighting
Custom kitchen lighting
Security lighting with motion detectors
Living room lighting
Landscape Lighting
Exterior lights
---
TV Wall Mounting and Wiring
With the size and weight that some televisions are today, they are becoming increasingly difficult to install. Mounting a 100-inch TV is an incredibly stressful thing to do alone and requires the right equipment and expertise to do it properly. Our handymen will happily help you install your new television in your home the right way so you can enjoy your new entertainment center without the hassle.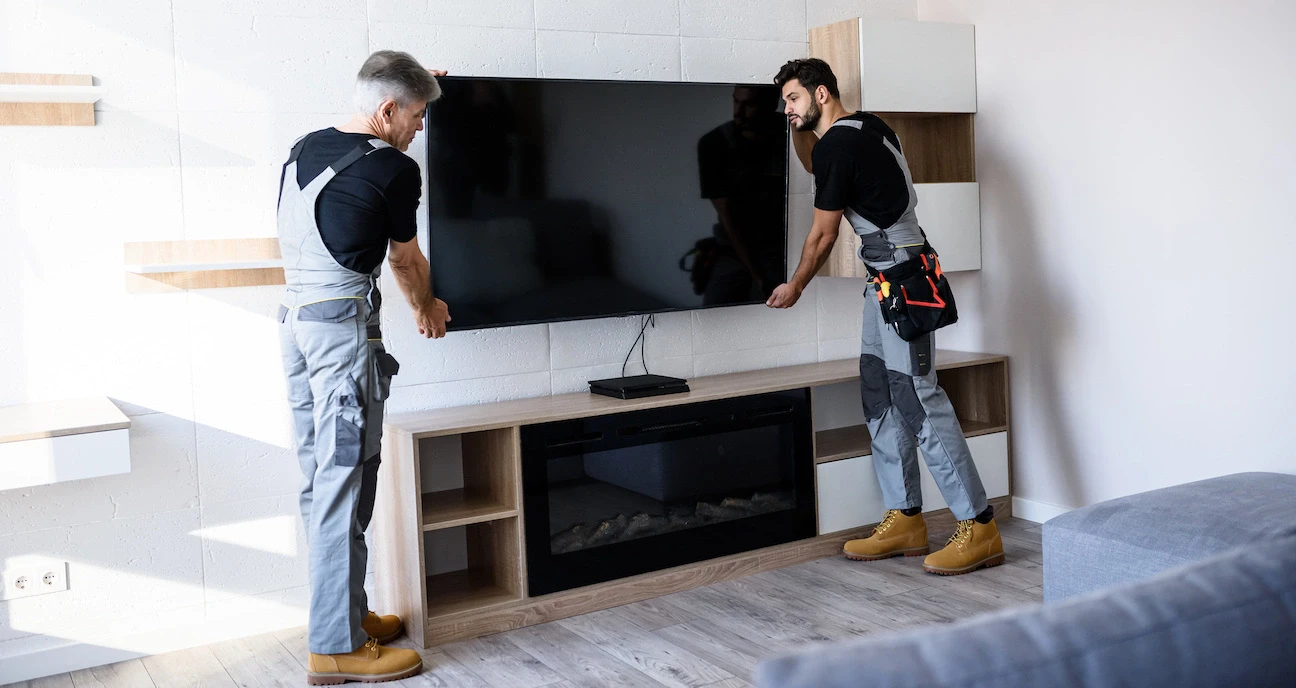 ---
Appliance Wiring And Installation
There are often so many appliances installed in your home. One of Care & Repair's most common services is helping homeowners properly install their new appliances, whether it is a new washer and dryer or a new fridge. Our handymen can install many different modern household appliances and electrical equipment, including:
---
Protective surge protectors to protect your equipment.
Whole house fan installation.
Thermostat installation.
Installation of surround sound speakers.
Electrical car charging station.
---
Appliance, Switch, and Wiring Electrical Repair
At Kaminskiy Care & Repair, we put ourselves above other electrician contracting companies because of our guarantee. Our promise to you is this: if something we've repaired in the last year fails, we'll fix it for free. Our job is to get your home repaired. If we fail to do that, we'll do everything in our power to make it right. Call our office today so you don't have to stress out over your electrical problems anymore.