The kitchen is often the first stop for Bel Air homeowners wanting a fresh look in their homes. As the main focus in many homes, it's natural that most people start by remodeling this room. After all, they provide the backdrop to family gatherings and dinner parties. Regrettably, even the most immaculate kitchens won't stay that way forever.
Just like other rooms you use a lot in your Bel Air home, this area often needs extra care to make sure everything works well. It's designed to be a space that exudes warmth and friendliness, while also being highly functional. Problems like faulty plumbing, cabinets in disrepair, or outdated fixtures can influence your ability to use this space effectively, resulting in a dated and uninspiring appearance.
Here at Kaminskiy Care and Repair, we recognize the value of a usable kitchen. Drawing on our extensive background in home improvement and maintenance, we can help you achieve the space you've longed for. If you require cabinet replacement or are embarking on a complete kitchen transformation, enlist our expert team to manage your toughest endeavors.
---
Kitchen Island Installation Services
When redoing your kitchen, islands are solid investment options. With their addition of vital countertop and storage space, they elevate practicality and convenience, serving as a central feature of the space. Additionally, they provide extra space for working and preparing food during gatherings, ensuring the kitchen never gets too crowded. Some units can even add additional seating or serve as a natural hangout spot for friends and family.
The size, shape, and function of islands can vary greatly. With options such as built-in seating or the capability to hold appliances like an extra stove, islands can greatly contribute to enhancing your kitchen's functionality and efficiency. You have the freedom to personalize your island according to your requirements and the room's size and shape. After making your choice, reach out to the professionals for their installation services!
Our team can handle any type of island, from a prefabricated design to a custom piece built to fit your specifications. With years of experience, we are skilled at installing all elements of an island, including countertops. Allow us to remove the stress from your home improvement project!
---
Handyman Countertop Installation Service In Bel Air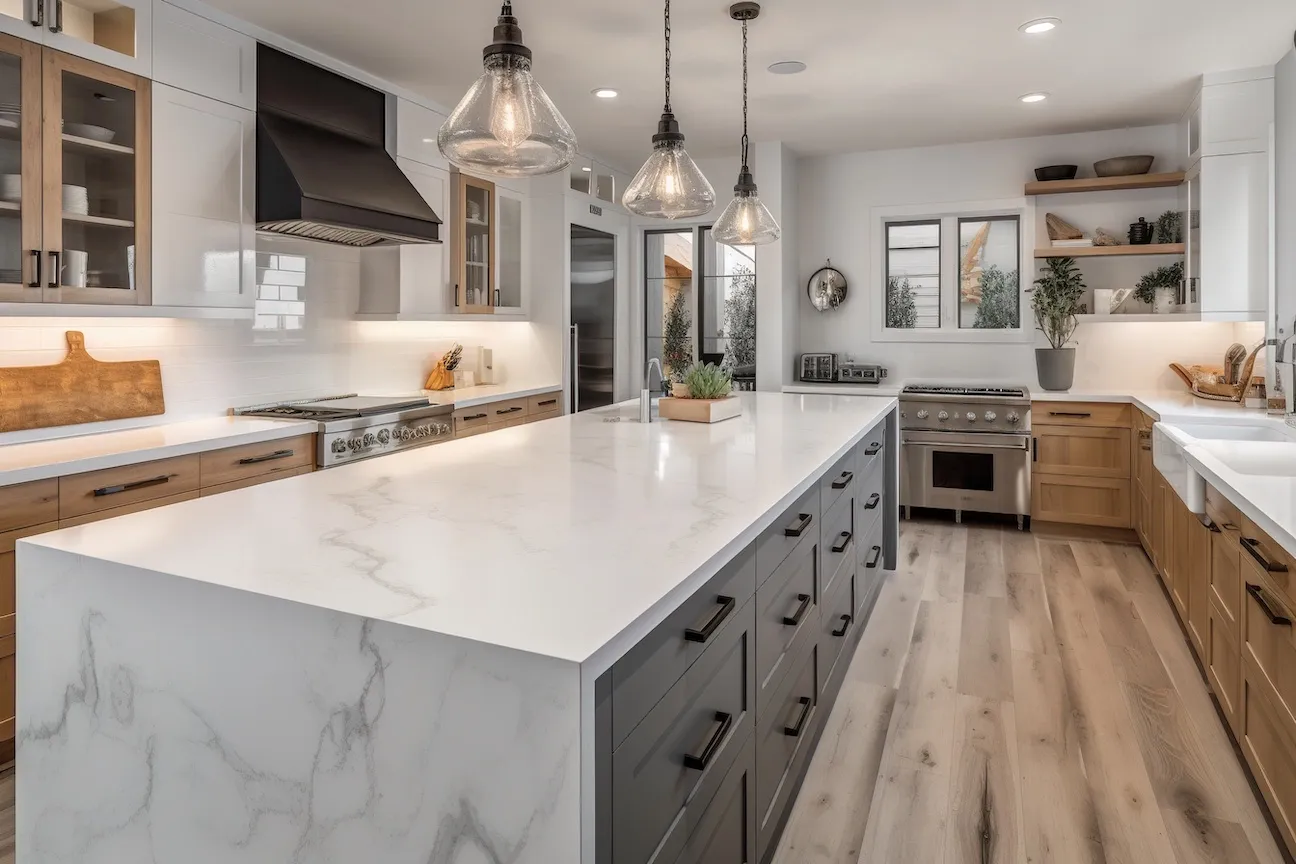 The real work gets done on the kitchen counter. From meal prep to crafting your culinary delights, countertops withstand a significant amount of use. This is what makes them indispensable for realizing your dream kitchen, especially if you're an avid cook. The presence of cracked or damaged surfaces can disrupt your meal preparation, especially when trying to chop on uneven surfaces. Material that's been compromised can also accumulate food particles and bacteria, creating a health risk. What's even more troublesome is that cracked countertops can cause damage to the cabinets below. Once you notice a crack in any surface, call the professionals to have it replaced.
Counters account for most of the functional space in the kitchen. These essential parts are sometimes overlooked, but investing in something that's both durable and stylish can significantly refresh your kitchen. You would be surprised at what a difference it can make.
With several materials to choose from, you can easily find one that matches your budget and fulfills your requirements. What you want is a product that can endure your messiest experiments and simplify the cleaning process. No matter if you choose wood, marble, quartz, or another material, our professionals can quickly install your new counters, so you can get back to enjoying your space.
---
Local Faucet Installation Services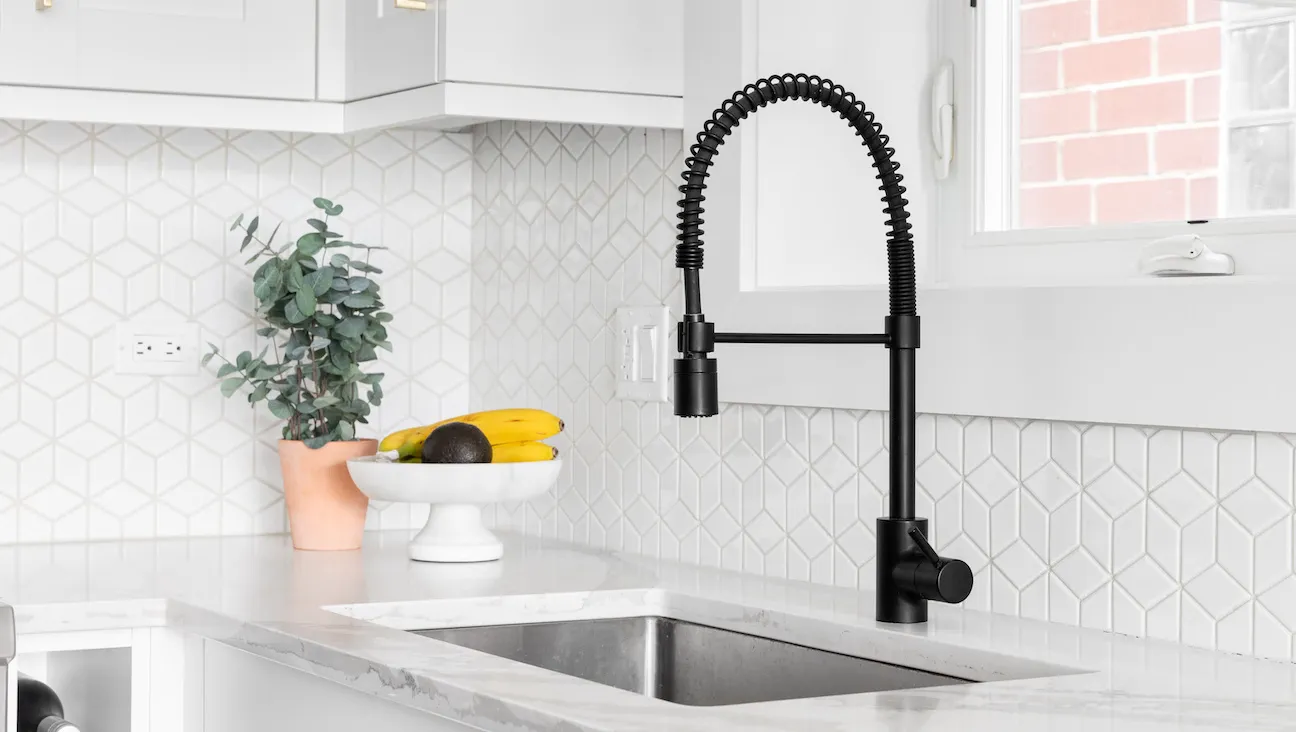 Don't underestimate the importance of your kitchen's plumbing system; it's just as crucial as the one in your bathroom. Most fridges also come with water dispensers, and the dishwasher needs to be tied into the existing pipes so it can run properly. It's essential to have running water for your sinks, as it allows you to clean dishes, your hands, or items from your recent grocery store visit.
When you start to notice that your faucets or pipes are leaking, suffering from poor water pressure, or are caked in rust and mineral deposits, call the experts to bring these fixtures back to working order. Without a properly functioning faucet, your home can become quite messy, especially when you have a sink full of dirty dishes.
You can depend on our local handyman team in Bel Air to get the job done. Whether you need a completely new faucet installed or a few leaks taken care of, our team has the knowledge to finish everything as efficiently possible, so you can go back to enjoying your home. We can provide assistance in replacing your worn-out or malfunctioning garbage disposal, too.
You can replace your faucet even if it's not broken. Sometimes, all you need is to update the fixture to breathe new life into your kitchen's design. Modernize your design to express your current style choices or test out the latest trends. You'll be pleasantly surprised by the remarkable improvement it can achieve!
---
Bel Air Cabinet Installation Services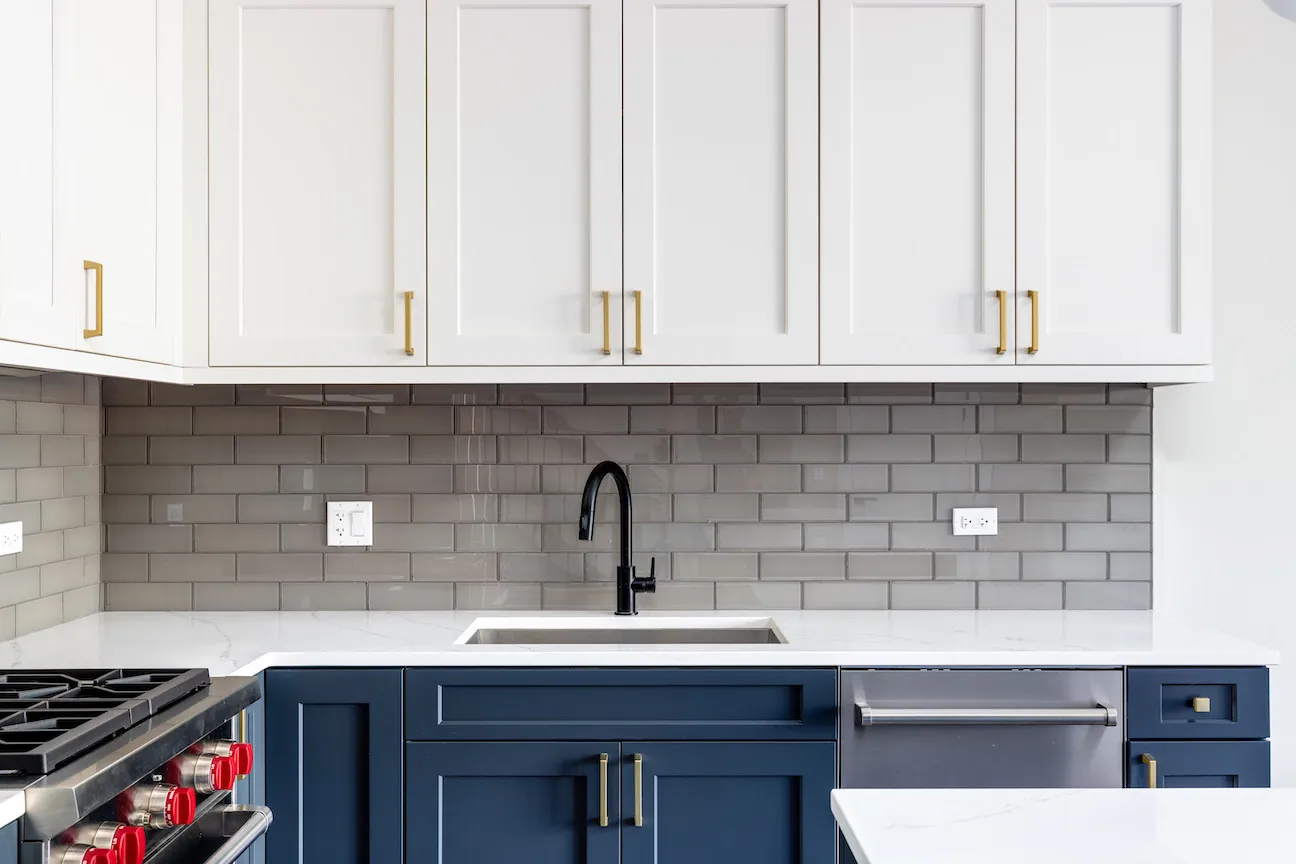 Cabinets are vital in ensuring a kitchen's practicality. They give you convenient storage for things you'd rather not leave on your kitchen counter. Considering the numerous tools, toys, and technologies available to home cooks, it's important to have storage space for them.
Another benefit of cabinets is that they provide added protection for your tools. Unfortunately, that also means these units are the first to show signs of damage. The doors of your cabinets may warp or crack due to water and mold damage. Additionally, it can lead to shelves being uneven and drawers that don't close properly. As soon as you detect any damage, don't hesitate to contact the professionals for an efficient replacement project.
Though your units may not show damage, replacing them can help you revamp your kitchen's overall look. Today, cabinets come in different styles, colors, and finishes. With a multitude of options available, you can personalize them to suit your preferred style. You also have the option to select more robust materials, like oak, which can truly enhance the beauty of your overall interior design style.
Regardless of why you're thinking about changing your kitchen cabinets, Kaminskiy Care and Repair is prepared to assist. With our professional team, you can be assured that the removal and installation of different styles and types will be trouble-free.
---
Kitchen Sink Installation Services
Although sinks serve a vital purpose, we tend to overlook their significance in the kitchen. Even though they aren't immediately noticeable, they can still influence your kitchen's appearance and usability. Renewing your cabinets and faucets can revitalize your kitchen, but it's equally important to have a fully functional sink to complete the transformation. The presence of cracks or stains your sink's surface can take away from the overall aesthetic appeal.
You might also want a larger sink to better accommodate your lifestyle. No matter which material or type you choose, our handymen can smoothly handle the removal of your old model and the installation of a new one! Installing a new sink provides a great chance to check for any potential problems, such as issues with plumbing or the existing faucet setup. Our skilled professionals are armed with the necessary tools and know-how to navigate this intricate project, ensuring your peace of mind.
---
Kitchen Backsplash And Tile Installation Handyman For Bel Air Homes
As you're revamping the style and vibe of your kitchen, it's important to consider the backsplash above your counters. They provide protection against any spills, grease stains, or other cooking mishaps that might ruin your walls. These features serve a practical purpose and give you an extra chance to showcase your design flair.
If your tiles or marble backsplashes are damaged or cracked, they won't be able to adequately shield your walls. Additionally, they become an eyesore and can give your kitchen a worn-out appearance. Changing these features provides you with the opportunity to add color or another design element, improving the entire area. Delightful additions like these elevate a fine look to a fantastic one.
The variety of options in the market can make the selection process difficult. The last thing you want to do is spend more time installing them, especially after long hours or even days spent agonizing over style choices. The process of installing backsplashes can be challenging due to the gravitational aspect and the need for consistent spacing. Rather than taking on this task yourself, rely on the expertise of our handyman team to handle everything for you.
---
Kitchen Floor Installation Services
A kitchen renovation wouldn't be finished without enhancing your flooring. Considering all the effort you've invested in creating a more inviting space, you wouldn't want badly installed floor tiles or wood to spoil the appearance. Trade in your old flooring for something entirely different to invigorate your space. It can make a notable difference, especially when complemented by our other remodeling services.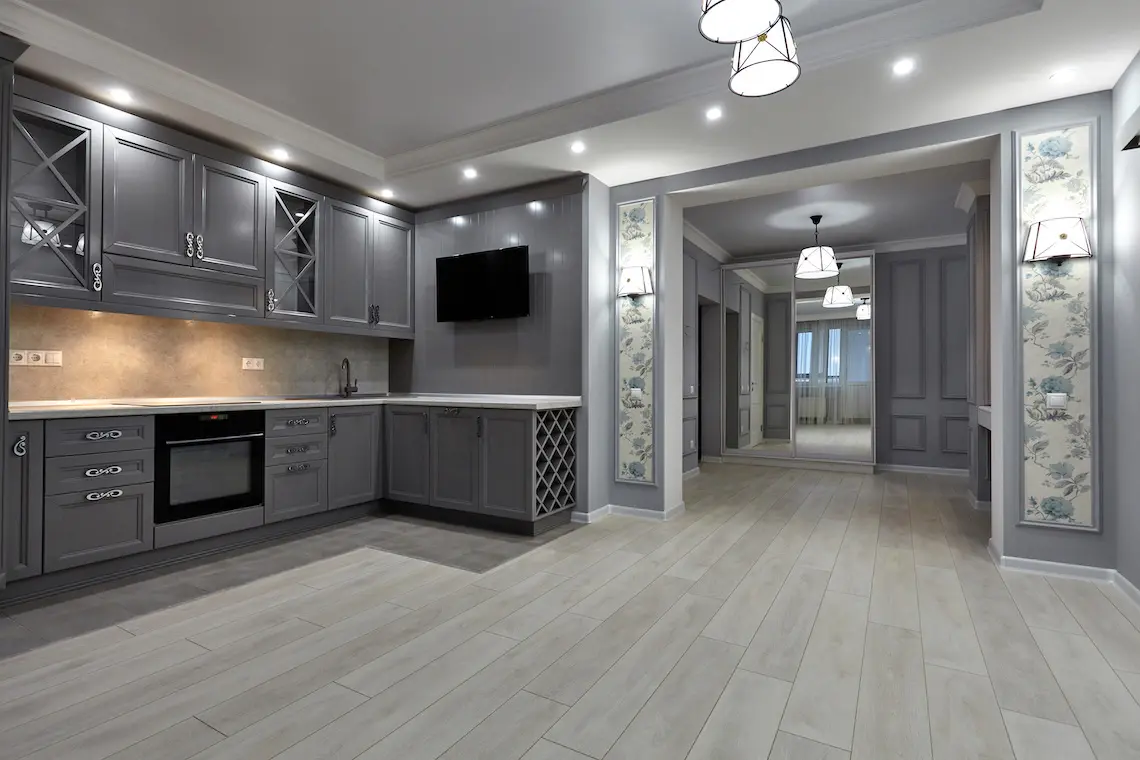 Once you've settled on your flooring choice, feel free to get in touch with Care and Repair's professionals for expert installation. Our experts have everything they need to install your new floors correctly the first time, so you can have more time for cooking and hosting dinner guests. Concrete, wood, laminates, and tile can make a significant difference in your comfort.
Whatever you decide on, count on our experts to complete the work! Our team is capable of handling even the most challenging home improvement projects.
---
Local Kitchen Remodeling Handyman In Bel Air
Your home's heart resides in the kitchen. When outdated, worn, or broken fixtures affect the look and practicality of your space, it's time for a complete renovation. Even homeowners who are familiar with the process can find this daunting. Once you've made your fixture selections, the last thing you'd like to deal with is figuring out how to install them by yourself.
This is where Care and Repair's Bel Air handyman team can help. They come prepared with the essential tools, skills, and expertise to effectively complete your renovation project. Since 2005, Kaminskiy Care and Repair has been committed to providing Bel Air homeowners with top-quality kitchen remodeling and maintenance solutions. No matter the scope, our team can tackle the job. Trust us to bring your dream kitchen to life.