Outdated, cramped bathrooms are more than just an eyesore. These things can add to your stress levels, making it a struggle to get your morning routine going or unwind after a tiring day. Our philosophy at Kaminskiy Care and Repair is simple: your bathroom should provide a comfortable atmosphere, express your unique style, and meet all its functional requirements. Our complete bathroom remodel removes old materials and fixtures and replaces them with beautiful options so you can enjoy a spa-like atmosphere right in your Westwood home. 
---
Bathroom Vanity And Cabinet Renovation In Westwood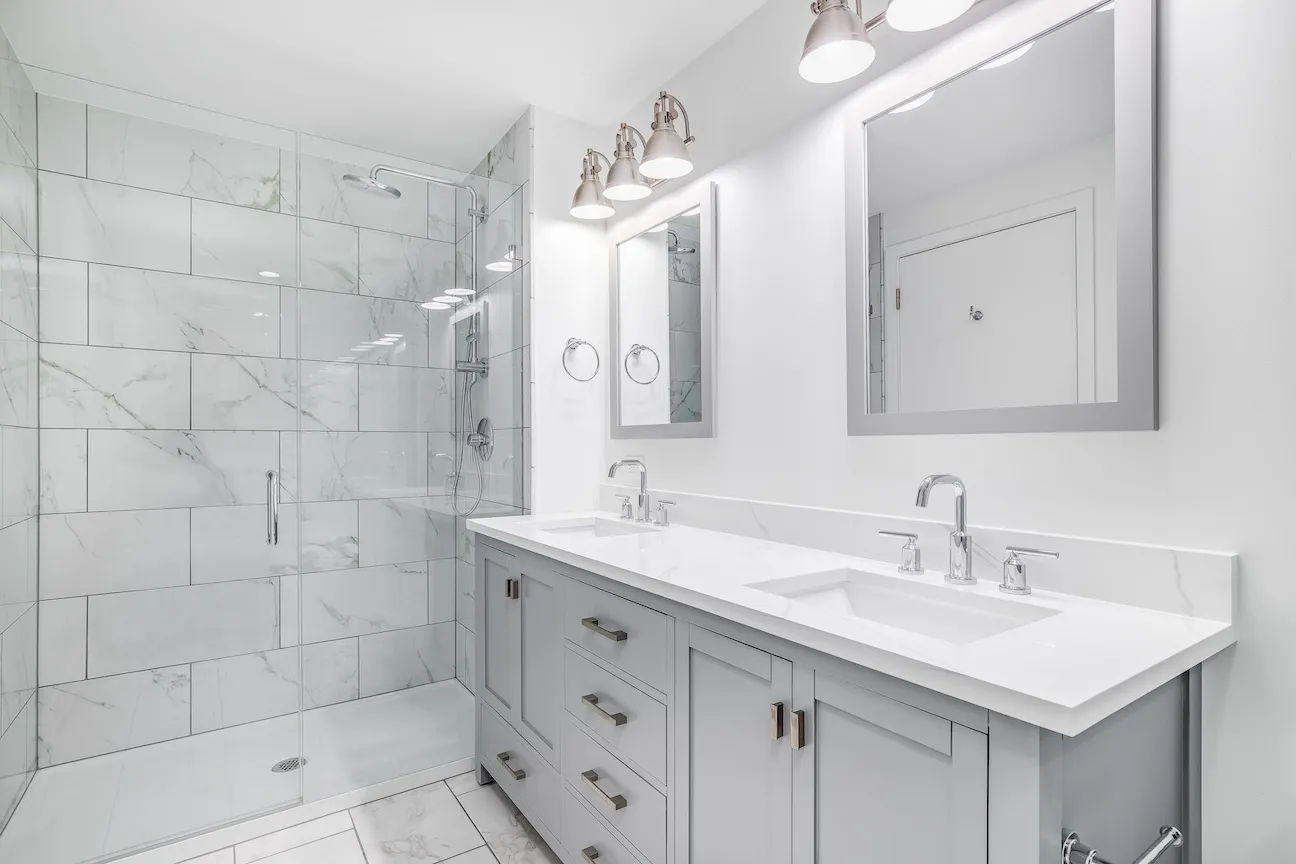 Your dream bathroom design can be greatly enhanced by choosing the ideal vanity. You have an abundance of choices, including free-standing and wall-mounted options. For a cohesive look, you have the option to pick matching mirrors, transforming the entire space. Whether you're envisioning a sleek, modern appearance or a timeless, traditional atmosphere, we have the know-how to bring it to fruition.
Cabinets that match or are color-coordinated are an excellent choice to enhance the overall design. Beyond their utility as storage, they allow you to infuse more of your personal style into your space. Choosing the right cabinets means you won't have to sacrifice the aesthetics or tidiness of the space.
Using the best tools and techniques, we are devoted to ensuring the durability of your cabinets and vanity. Our unwavering commitment to quality ensures your investment will last for decades. Whether your preference is for low-maintenance choices or a more upscale look on a budget, we're here to guide you in choosing the ideal vanity and cabinets and ensuring their professional installation. No matter your needs, Kaminskiy Care and Repair can help!
---
Shower Base And Bathtub Renovation Services In Westwood
The shower pan might not get much attention, but it's a pivotal aspect of your bathroom. Their main function is to keep water from spilling out of the shower, potentially causing harm to your bathroom's walls and other fixtures. These components act as the groundwork of the shower, tilted slightly to guide water down the drain.
One of the advantages of these pans is their ability to be tiled over or layered with waterproof flooring, allowing for a custom appearance. They can play a pivotal role in the design and renovation of this space. Our capable team can lend a hand with installing fixtures, glass, and other necessary elements to create your dream shower.
For those who enjoy a leisurely bath to de-stress after a hard day's work, improving your bathtub is the best way to breathe new life into the space. Ugly cracks or chips on the surface take away from a serene bath and in certain instances could even present safety hazards. Replacing that worn-out, broken bathtub with a new one can inject new vitality into the space. When you need a new bathtub installed, the experts at Kaminskiy Care and Repair can help!
---
Tub-to-Shower Conversions
While bathtubs can add value to a bathroom, they may not align with your lifestyle or time constraints. Children, as they mature, might outgrow their shower-tub combos and seek a style that's a better fit. Elderly couples might also desire a unit better tailored to their specific requirements. Not to mention that bathtubs can take up a lot of space. In a small bathroom, every inch counts! The simplest route to elevating your design and recovering valuable space is through tub-to-shower conversions.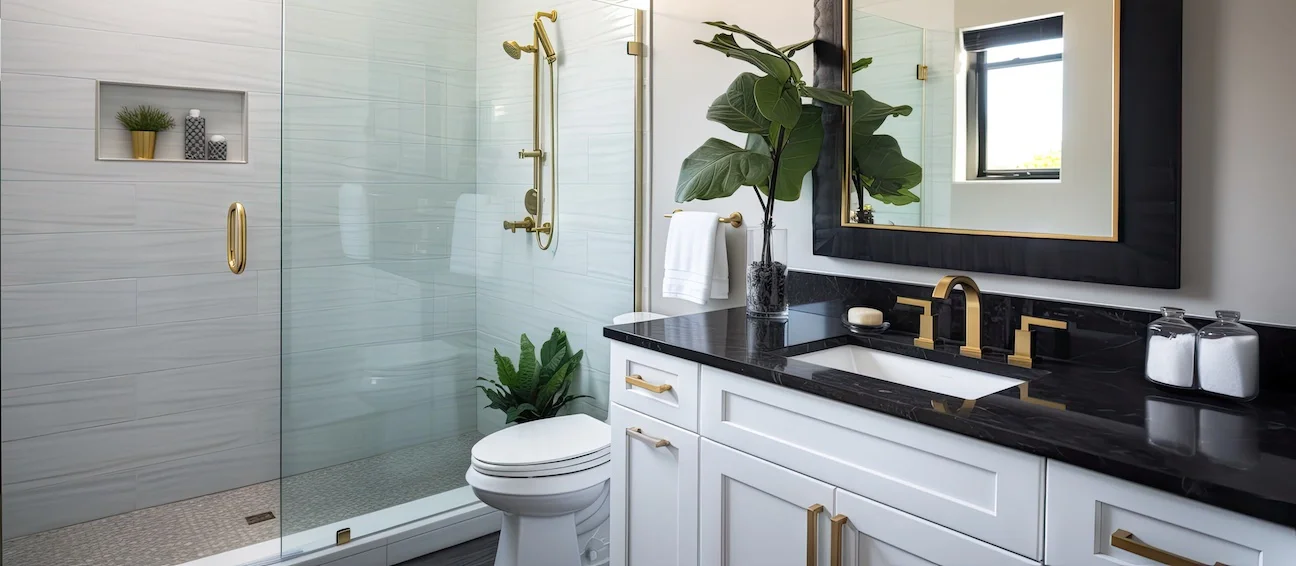 Trying to complete this project by yourself will only lengthen the process, putting more strain on you. When there's no existing showerhead in place, this project involves the intricate process of setting up new plumbing. This entails turning off the water sources, then carefully opening up the drywall to reach the existing plumbing and restoring the drywall and tile. Entrust this intricate process to the expertise of bathroom remodeling professionals like Care and Repair.
Having the right tools on hand allows a team of experts to easily remove the existing unit and ready the space for the new shower. We're ready to handle all aspects of this project, from disposing of your old tub to installing the new base and finishing the installation. Trust us to create an updated bath that fits your needs and style.
---
Westwood Bathroom Tile Installation Expert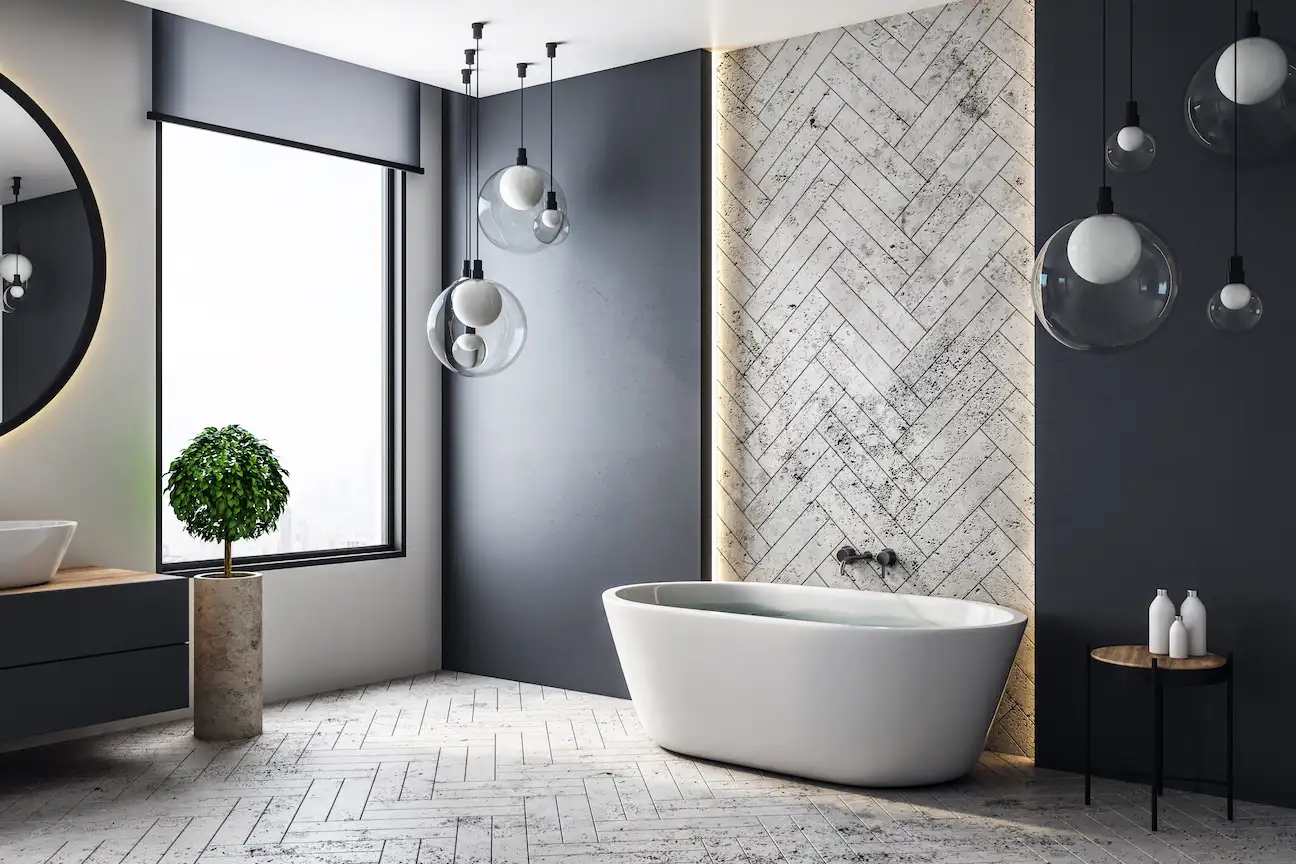 Whether adorning your floors or shower walls, a skillfully executed tile installation results in a stunning, resilient surface that's a breeze to maintain. Placing these tiles is a demanding task that calls for careful planning and preparation. The risk of obtaining unattractive tile designs is significant, especially if you don't possess the required tools and skills to bring the project to fruition.
This is notably pertinent if you have a wall surround in your shower or around your vanity. The inclusion of these tiles safeguards your bathroom walls from water damage, guaranteeing its protection regardless of frequent use. When it comes to tile materials, the choices are extensive. The options can range from natural toned stone to brightly colored ceramic and glass varieties. Once you've purchased the materials, it's crucial to secure the services of a local tile installation professional. The decision to hire a professional means you can witness your design brought to life. 
You can count on the professionals to carry out any tile installation. Kaminskiy Care and Repair has the expertise and tools to place and seal tiles perfectly, so they last for years and resist any water damage. From modern stone tiles to more traditional ceramic designs, we can get the job done.
---
Quality Bathroom Countertop Installation For Your Space
Achieving a balance between functionality and style in your bathroom design involves selecting the right countertop materials. Ensuring the longevity of this feature is crucial; it should be sealed effectively to prevent water intrusion into the walls while safeguarding cabinets and toiletries stored beneath the vanity. Whether you wish to update your current countertops or embrace a fresh style, count on the professionals to expertly handle the project.
Don't hesitate to update your bathroom's style if you notice chipped tiles, stains, or discoloration. Once you notice these problems, call the professionals to replace the unsightly old countertop with something new and more your style. Our team is well-equipped to handle even the most demanding home improvement projects, including countertop removal and installation. When you choose our services, you can still have a stylish and expensive-looking design without exceeding your budget.
---
Top-Notch Faucet and Fixture Installation and Repair Services In Westwood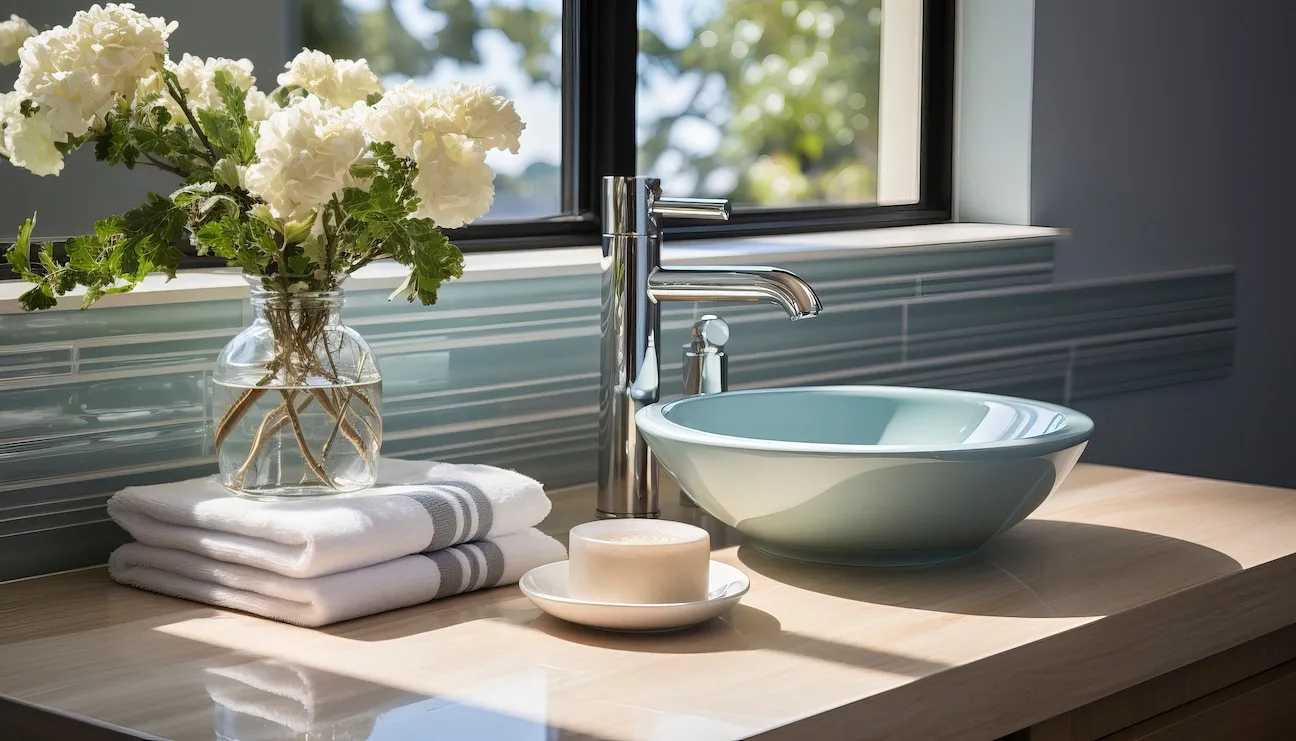 A functioning faucet is essential, whether it's for washing your hands or brushing your teeth. Unfortunately, sometimes problems occur, making your faucet malfunction. Gallons of water can be wasted due to leaks, and persistent clogs have the potential to completely disrupt your daily routine. Additionally, outdated fixtures can lead to higher monthly costs and make your home appear unappealing.
Revamping the sinks, fans, and mirrors will breathe new life into your bathroom, reigniting your passion for the space. Keep in mind, however, that the installation of these fixtures is a complex and potentially messy endeavor. Your best bet for gorgeous, correctly installed fixtures that stand the test of time is to hire a professional handyman service.
---
Reliable Bathroom Lighting Fixture Repair and Installation In Westwood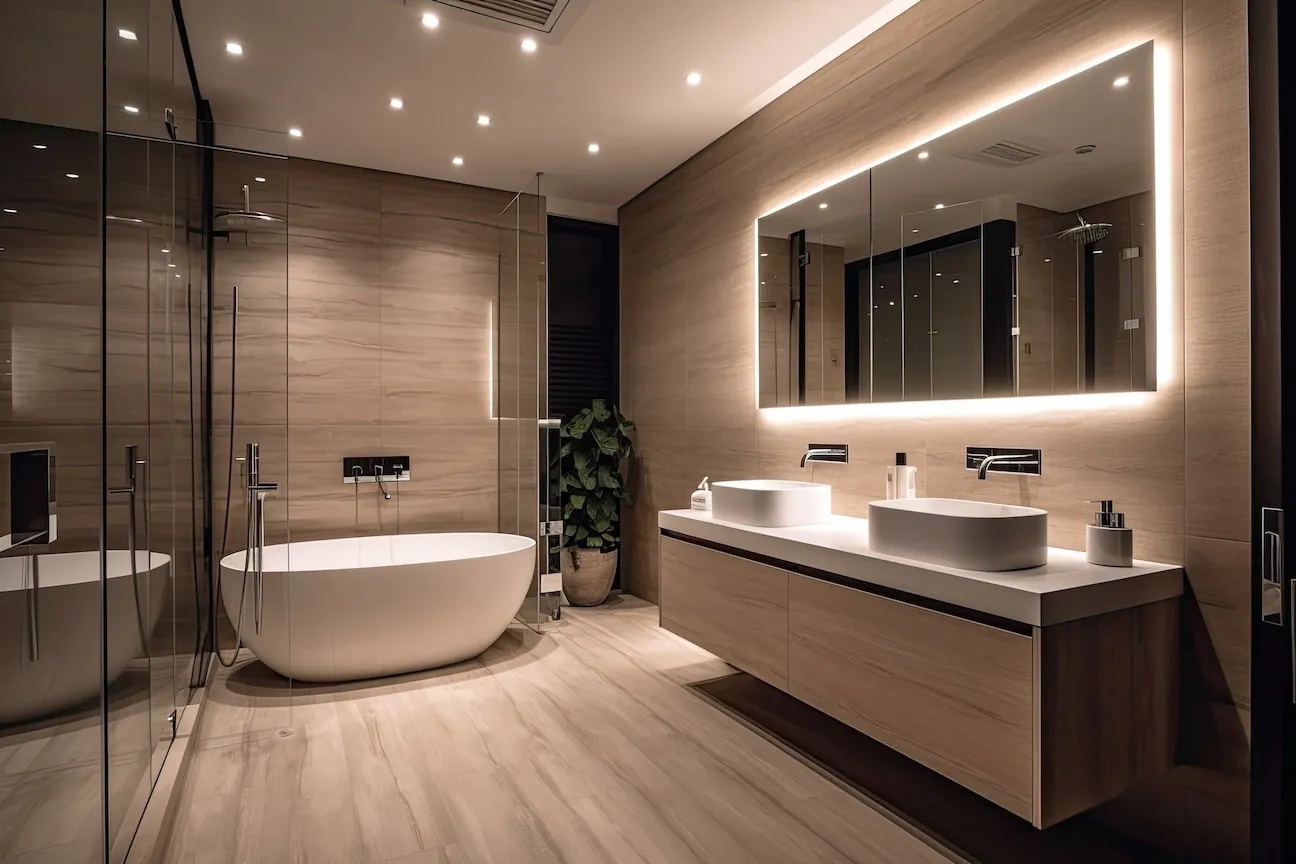 Bathroom lighting solutions are pivotal in creating a comfortable environment. Low-quality lighting can make people feel uneasy, which is why having a cozy bathroom is so important. It can also draw attention to the negative aspects of your bathroom.
There are various problems that can occur with your lighting. Dim or flickering lights can be a sign of damaged wiring. An extremely old system could cause your monthly bill to be much higher than it should be. Having outdated fixture designs could also lead to discomfort and unhappiness. Whatever your needs may be, undertaking this installation on your own is a complicated and risky process that isn't recommended.
Since these fixtures need electricity to function, diving into this project without a comprehensive grasp of electrical systems and plumbing can have disastrous consequences. Make safety a priority and entrust the job to a bathroom remodeling handyman. That way, you get the space of your dreams without the risk.
---
Professional Toilet Installation Services for Your Home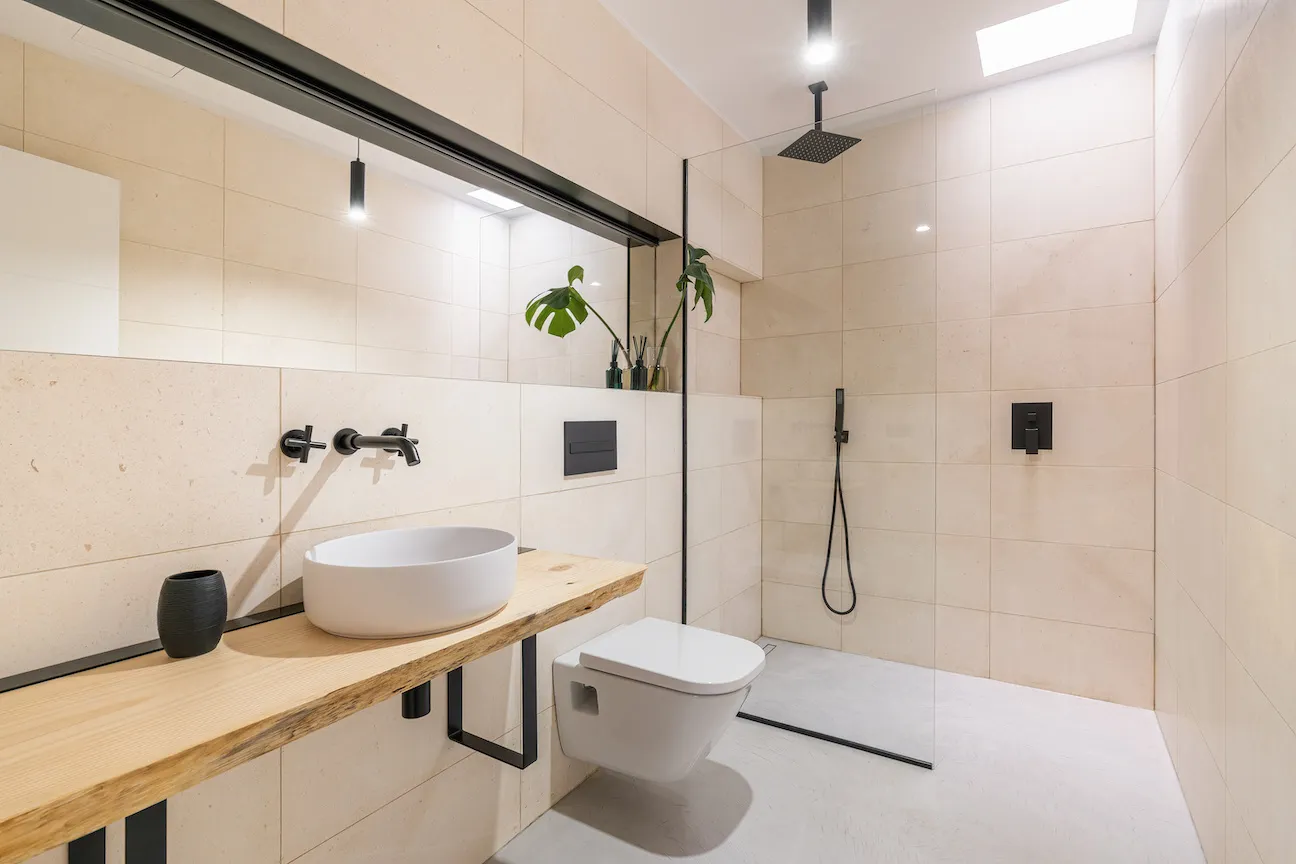 While the toilet is hardly the centerpiece of your bathroom, ensuring the one you have is fully functional and efficient is incredibly important. When your toilet regularly clogs, leaks, or breaks down, it can disrupt your daily schedule. Installing upgraded toilets in your home will guarantee that this space functions smoothly.
Replacing your toilet should be approached with caution, as most are composed of delicate porcelain that can break or crack easily. Additionally, you must address the plumbing connected to the toilet. This can lead to unpleasant odors in your bathroom. Removing the old toilet is no easy feat and entails a significant amount of both physical strength and expertise. Doing this by yourself poses a greater risk of creating a mess.
For all your toilet repair or replacement needs, the dedicated handymen at Kaminskiy Care and Repair are here to help! Whether you're replacing a single part or the entire unit, you can rely on our team to do the job.
---
Enhance Your Bathroom with the Help of Your Local Westwood Remodeling Company Today!
The process of building the bathroom oasis you want might seem challenging and require a lot of time, but it doesn't have to be a hassle. Relying on your local Los Angeles remodeling company is the safest way to ensure this project proceeds without any issues. Doing it yourself will lead to greater expenses in the long term. When you need help with installation, repair, or home improvement projects, look no further than Westwood's Care and Repair!