Old, claustrophobic bathrooms can be more problematic than they seem. They can be a source of stress, making it difficult to start your morning routine or relax after a long day. Kaminskiy Care and Repair holds the belief that your bathroom should be the epitome of comfort, while still staying true to your distinctive style and fulfilling its functional purposes. With our total bathroom renovation, we strip away the old and introduce exquisite alternatives, allowing you to bask in a spa-like atmosphere within the walls of your Temecula home.
---
Temecula Bathroom Vanity & Cabinet Renovation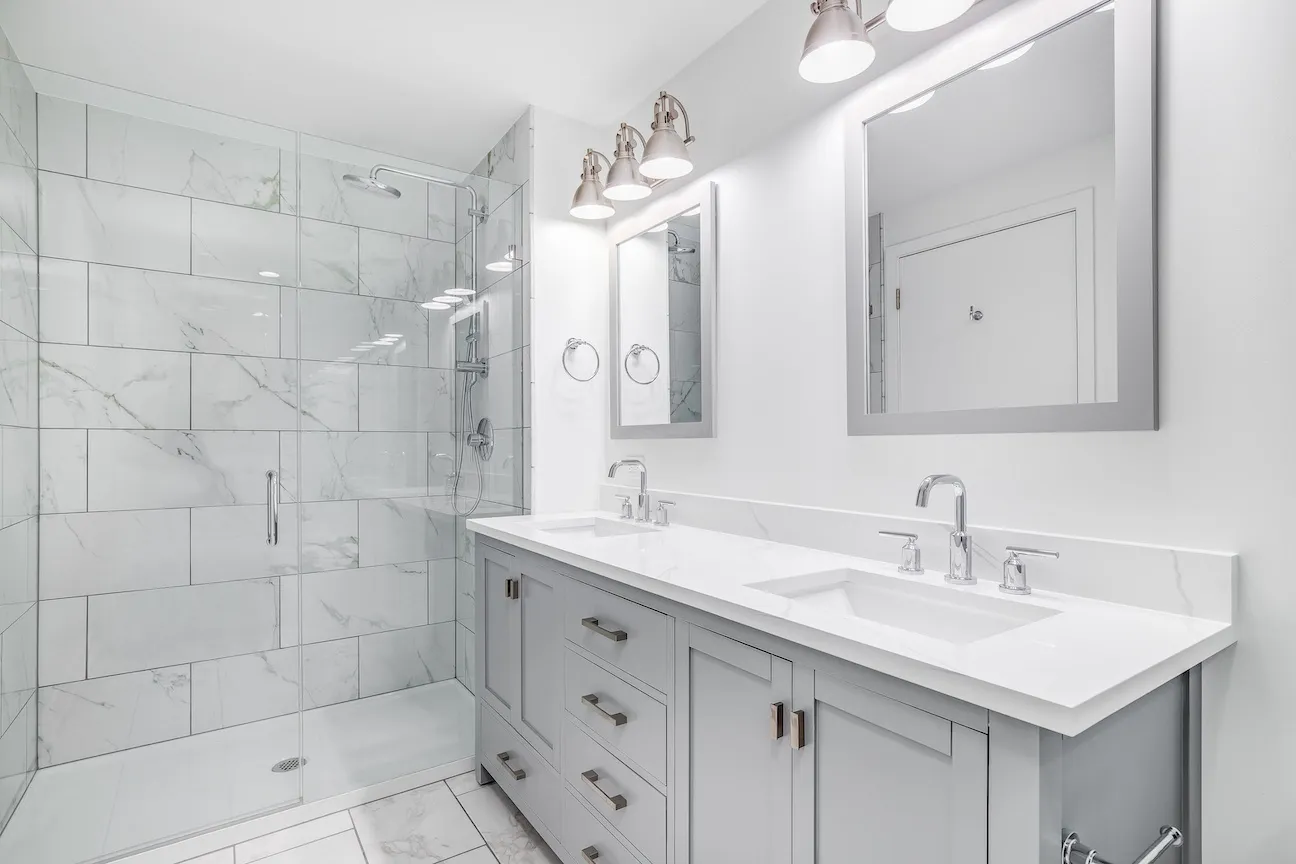 The choice of the right vanity is crucial in the design of your dream bathroom. From free-standing to wall-mounted, the possibilities are limitless. Choosing mirrors that match with your vanity choice can elevate the entire appearance of your space. No matter if you're after a cutting-edge modern design or something with a distinguished, classic feel, our handymen can help bring your dream space into reality.
Cabinets that match or are color-coordinated can greatly contribute to improved cohesion in your space. They provide functional storage and give you another opportunity to express your sense of style. The right cabinets enable you to maintain bathroom organization and aesthetics without compromise.
We uphold a commitment to excellence by utilizing premium tools and methods, so your cabinets and vanity remain resilient through daily use. Our commitment to quality means your investment will withstand the test of time. Whether your preference is for low-maintenance choices or a more upscale look on a budget, we're here to guide you in choosing the ideal vanity and cabinets and ensuring their professional installation. No matter your needs, Kaminskiy Care and Repair can help!
---
Shower Base And Bathtub Renovations
Don't underestimate the importance of the shower pan, as it's a key feature in your bathroom. Its primary job is to maintain water inside the shower, preventing any potential harm to your bathroom's drywall and other components. These also form the foundation, or base, with a slight tilt so any water is directed toward the drain.
What makes these pans fantastic is that many of them can be covered with tiles or other waterproof flooring options to achieve a personalized appearance. When you're enhancing the appearance of your space, they play a vital role in the transformation. The skilled handymen at Care and Repair are well-equipped to install the necessary elements and create the shower you've always wanted.
For individuals who enjoy a lengthy soak after a long workday, investing in a new bathtub can revitalize your living space. Unattractive cracks or chips on the surface can detract from the enjoyment of a soothing bath and, in some cases, create potential safety risks. Ditch the old one and bring in something modern and gorgeous to transform the space. For top-notch new bathtub installations, the experts at Kaminskiy Care and Repair are here to help!
---
Expert Tub-To-Shower Conversions
Bathtubs can be a wonderful addition, but they may not be everyone's preference — especially those with little time for a lengthy bath. Children, as they mature, might outgrow their shower-tub combos, and seek a style that's a better fit. As couples age, they may seek a unit that caters more effectively to their requirements. Additionally, bathtubs can occupy a considerable amount of room. Small bathrooms require careful planning, and the extra space of a bathtub may not be worth it. When it comes to design upgrades and space optimization, tub-to-shower conversions are the best option.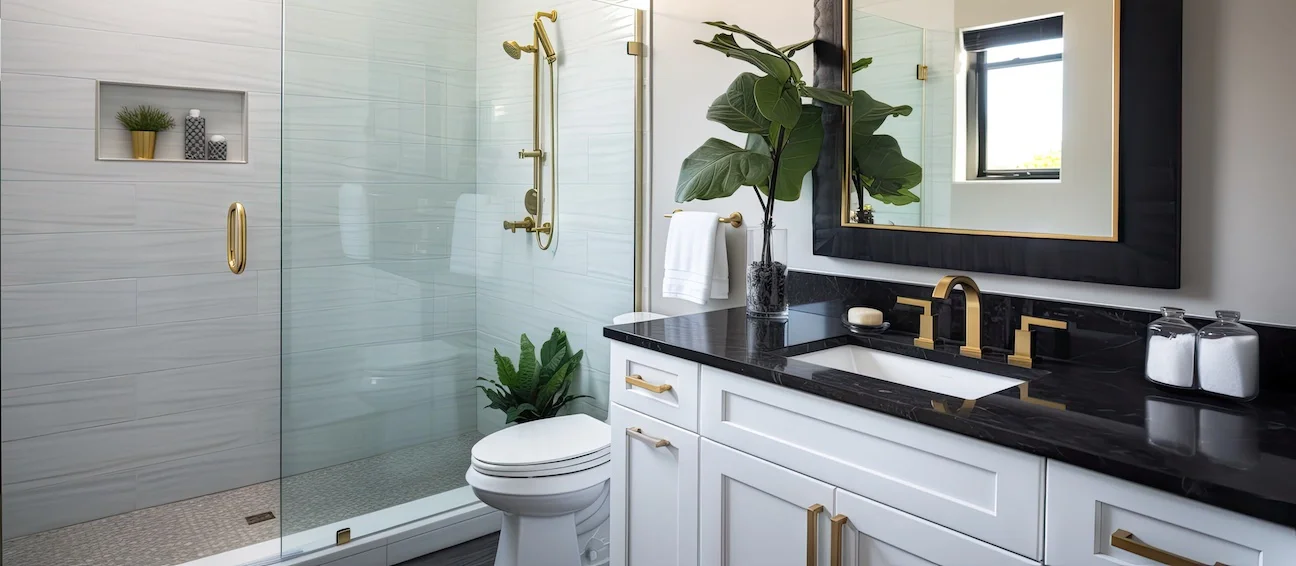 Trying to complete this project by yourself will only elongate the process, putting more strain on you. In the absence of a pre-existing showerhead, this project entails the challenging procedure of installing piping. That means shutting off water sources, cutting open drywall to access existing plumbing, and repairing the drywall and tile that had previously decorated the shower. Entrust this intricate process to the expertise of bathroom remodeling professionals like Care and Repair.
Professionals are equipped with the necessary tools to extract the existing unit and get the space ready for the new shower. From disposing of your old tub to installing the new base and finishing the installation, we can tackle every aspect of this project. We're here to ensure your new bathroom not only meets your needs but also reflects your unique style.
---
Temecula Bathroom Tile Installation Professional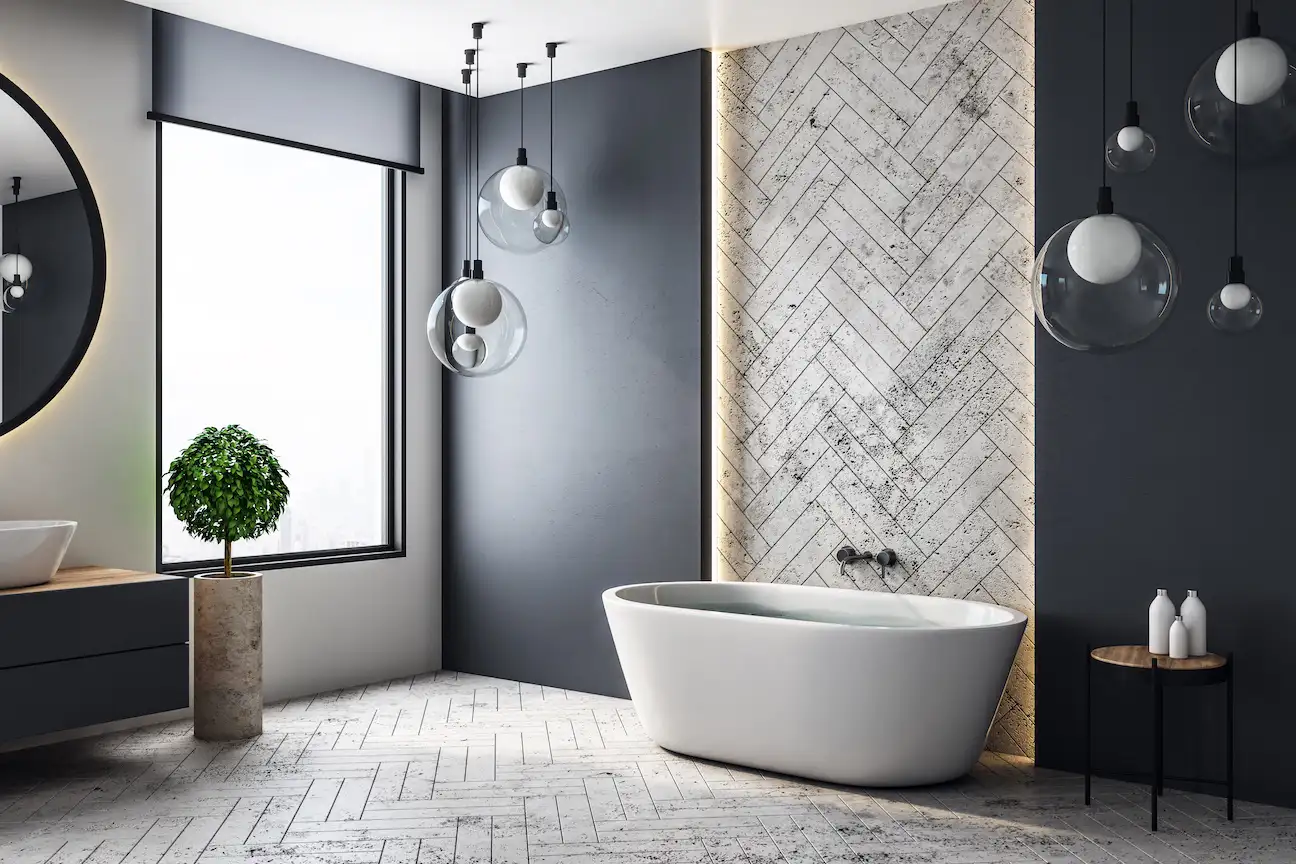 Whether on your floors or shower walls, a well-done tile installation creates a beautiful and durable surface that is easy to clean. The task of laying these tiles is anything but easy and requires meticulous preparation to make sure your tile design ends up gorgeous. It's all too common to wind up with an unattractive final design, especially when you lack the necessary tools and skills to complete the project.
This is especially the case if your room has a wall surround in your shower or around your vanity. These tiles prevent water damage to the walls, ensuring your bathroom stays in perfect condition no matter how frequently it's used. There's a diverse array of tile materials at your choosing including natural stone, ceramic, and glass. After you've determined your materials, the next important step is to engage a local tile installation expert. Bringing in a professional enables you to witness your design concepts materialize exactly how you want.
You can count on the professionals to carry out any tile installation. With Kaminskiy Care and Repair, you can rely on our expertise and specialized tools to place and seal tiles with precision. Whether your choice is contemporary stone tiles or more conventional ceramic styles, our team is fully capable of handling the project.
---
Quality Bathroom Countertop Installation for Your Space
Achieving a bathroom that's both aesthetically pleasing and efficient means taking countertop material into account. This feature should be well-sealed and built to last, preventing water from entering the walls and protecting any cabinets or toiletries stored underneath the vanity. If you're considering revamping your current countertops or opting for a fresh style, entrust the project to skilled professionals.
When you notice chipped tiles, stains, or discoloration, it's an excellent opportunity to revamp your bathroom's style. Upon noticing these problems, make sure to get in touch with the professionals to swap out the unsightly old countertop for something more in line with your style. When it comes to challenging home improvement tasks like countertop removal and installation, you can rely on our capable team. You don't have to break the bank to attain a high-end finish that makes your bathroom shine.
---
Top-Notch Bathroom Faucet and Fixture Installation and Repair Services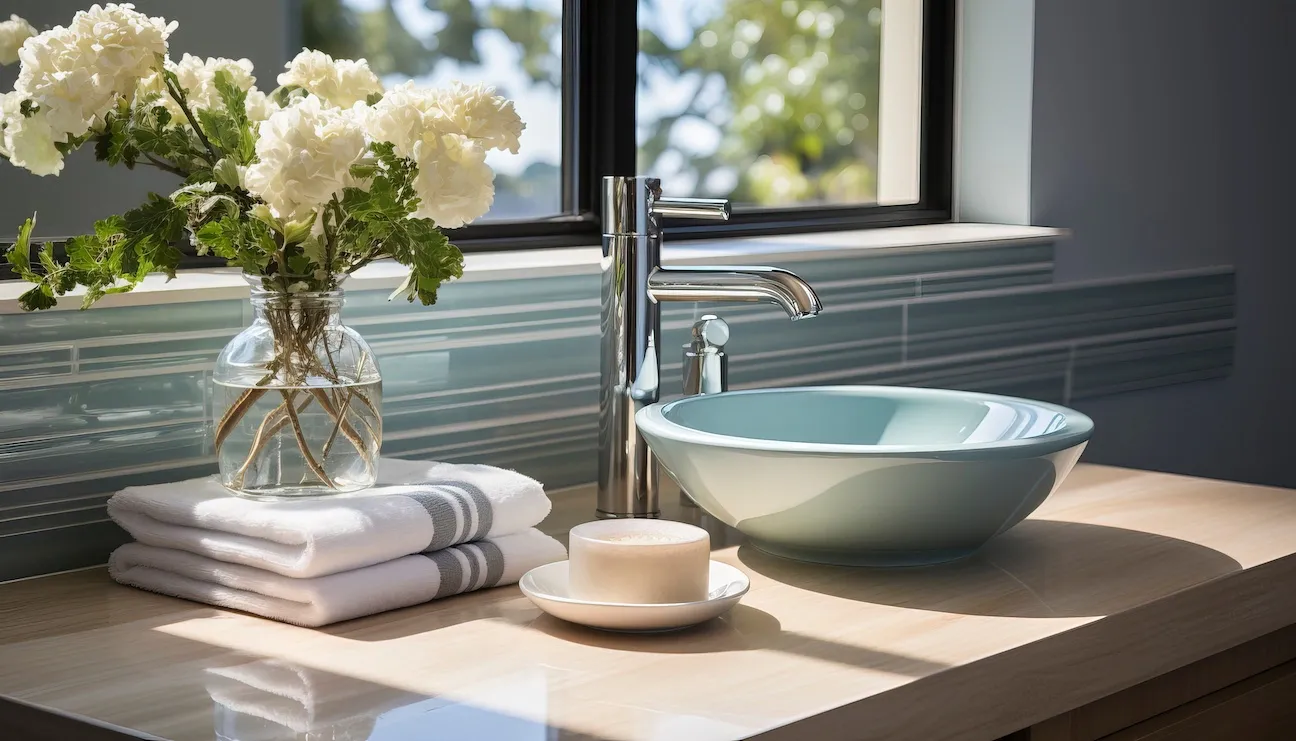 A functioning faucet is essential, whether it's for washing your hands or brushing your teeth. There are times when problems can cause your faucet to malfunction, however. The consequences of water leaks are substantial, resulting in gallons of water being wasted, while stubborn clogs can seriously disrupt your daily routine. Additionally, outdated fixtures can lead to higher monthly costs and become an unsightly feature in your home.
By renovating the sinks, fans, and mirrors, you'll infuse your bathroom with a new aesthetic that will make you appreciate the space all over again. Bear in mind, though, that the installation of these fixtures is a complex and potentially messy task that could cost you precious time and money. The best way to guarantee that your fixtures are beautiful, correctly installed, and built to last is to enlist the services of a local Temecula handyman.
---
Reliable Bathroom Lighting Fixture Repair and Installation Services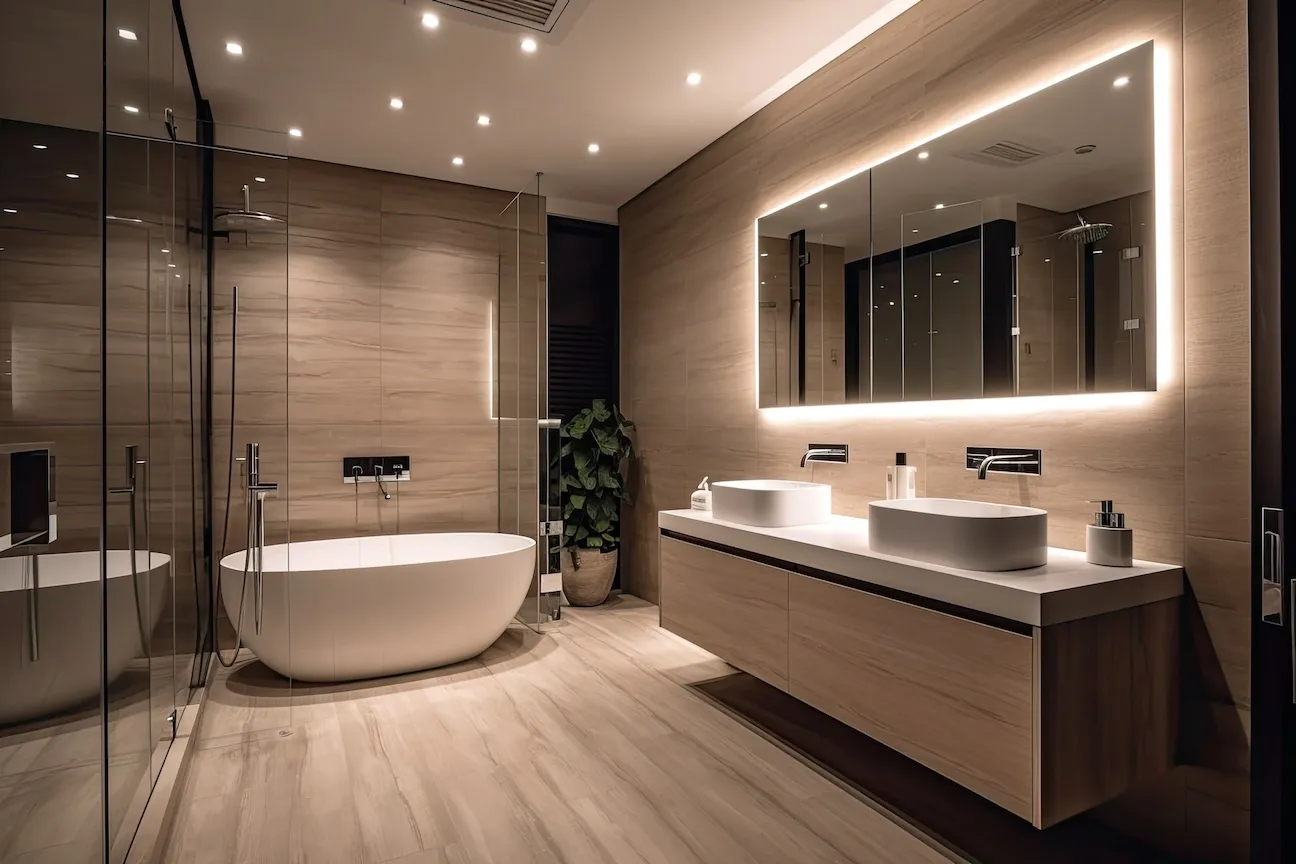 Achieving the ultimate comfort in your space hinges on selecting the right lighting solutions. Poor lighting immediately makes people feel unsafe and uneasy, and comfort is vital in any bathroom. Additionally, it can accentuate the least appealing features of your bathroom.
There are various problems that can occur with your lighting. Dim or flickering lights could be due to damaged wiring. If it's extremely old, your monthly bill might be significantly higher than it should be. Your fixtures' design being outdated could result in discomfort and unhappiness. Whatever your needs, installing them on your own is a complicated and risky process not worth trying.
Because these fixtures are powered by electricity, trying to tamper with them without a solid grasp of electrical systems and plumbing can lead to a disastrous outcome. Don't jeopardize your safety; let a bathroom remodeling handyman handle the job. This approach allows you to achieve the dream space you desire without taking any risks.
---
Expert Toilet Installation for Your Household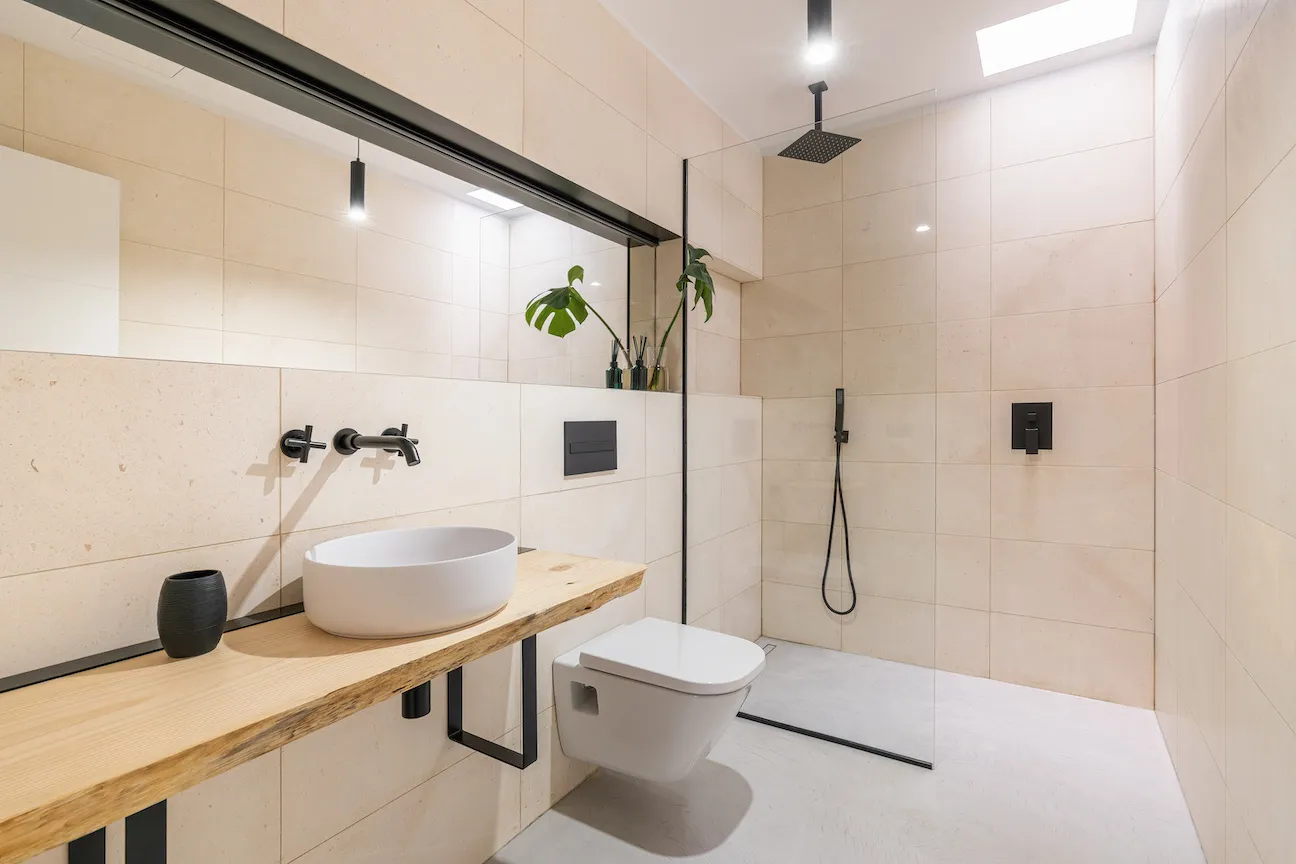 Even though the toilet isn't typically the main attraction in your bathroom, it's crucial to have one that is fully functional and efficient. Frequent toilet issues like clogs, leaks, or malfunctions can throw a wrench into your daily routine. Swapping the toilets in your home will ensure that this space operates at its best.
Replacing your toilet is risky, as most are made of delicate porcelain that can break or crack easily. Additionally, you must address the plumbing connected to the toilet. This can lead to nasty, lingering odors in your bathroom. Taking out the old toilet is a tough job that requires substantial manpower and skill. Handling this job by yourself risks a lot more mess.
Trust the professional handymen at Kaminskiy Care and Repair for any toilet repair or replacement projects. Our team is equipped to handle anything, from replacing a single part to the entire unit.
---
Start Your Bathroom Makeover with Your Local Temecula Remodeling Team Today!
Creating the bathroom oasis of your dreams can be challenging and time-consuming, but it doesn't have to be. To ensure this project proceeds without a hitch, your best course of action is to hire your local Temecula remodeling company. Doing it on your own will mean paying more in the long run. For all your installation, repair, or home improvement requirements, Care and Repair is the solution you've been looking for!