Out-of-date bathrooms are more than just an eyesore. These situations can really stress you out, making it tough to kickstart your morning routine or decompress after a hectic day. At Kaminskiy Care and Repair, we're firm believers that your bathroom should offer the utmost comfort while staying true to your personal style and fulfilling practical needs. Our full bathroom remodeling services involves the removal of old materials and fixtures, replacing them with stunning alternatives, ensuring you can experience a spa-like retreat right in your San Marcos home. 
---
Bathroom Vanity and Cabinet Renovation Services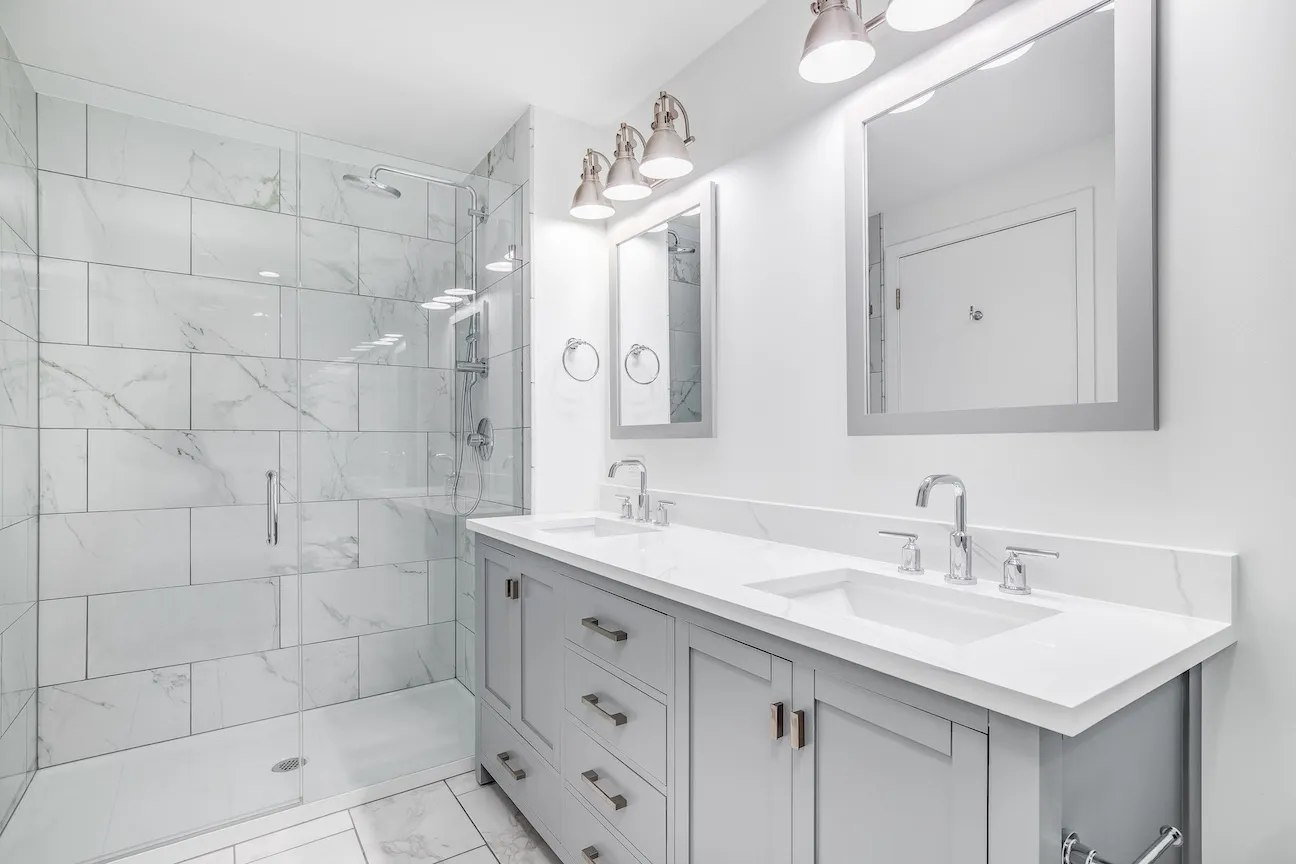 The choice of the right vanity is crucial in the design of your dream bathroom. From free-standing to wall-mounted, the possibilities are limitless. For a cohesive look, you have the option to pick matching mirrors, transforming the entire space. Whether your goal is to create a streamlined, modern ambiance or a timeless, traditional feel, we're equipped to make your vision come to life.
To achieve a more unified appearance, you can't go wrong with cabinets that either match or are color-coordinated. Cabinets serve a dual purpose, offering storage and a canvas to express your style. With carefully selected cabinets, you can ensure bathroom orderliness without losing out on visual appeal.
We take great pride in utilizing top-notch tools and methods to guarantee the longevity of your cabinets and vanity in the face of everyday wear and tear. We take pride in our commitment to quality, guaranteeing your investment's longevity. If you're in search of vanities and cabinets that are easy to clean, or if you're looking to add a touch of elegance without overspending, our team can help you select the right options and take care of the installation process.
---
Shower Base And Bathtub Renovation Services In San Marcos CA
The shower pan is one of your bathroom's most important but overlooked features. Their main function is to keep water from spilling out of the shower, potentially causing harm to your bathroom's walls and other fixtures. These components act as the groundwork of the shower, tilted slightly to guide water down the drain.
Many of these pans are highly versatile, allowing you to tile over them or apply waterproof flooring to achieve a personalized style. In your bathroom remodeling process, these shower pans are a crucial element to consider. With our expertise, we can help install the shower features you've always wanted.
For those who relish the idea of unwinding with a soothing soak after work, replacing your bathtub can rejuvenate your living space. Unsightly cracks or chips on the surface can detract from the appeal of a calming bath and pose safety concerns in some cases. Replacing your broken, outdated bathtub with something new will breathe a new life into the space. If you're in the market for a new bathtub installation, look no further than the skilled handymen at Kaminskiy Care and Repair!
---
Professional Tub-To-Shower Conversions
Bathtubs can be a great feature, but not everyone wants one or has time to wait for the tub to fill for a long soak. With time, children can outgrow their shower-tub combinations and yearn for a style that resonates with them now. With age, couples may wish to have a unit that better accommodates their needs. Bathtubs are also massive, taking up a considerable amount of this room's floor space. In smaller spaces, every inch counts! Tub-to-shower conversions are the easiest way to upgrade a design and regain lost space.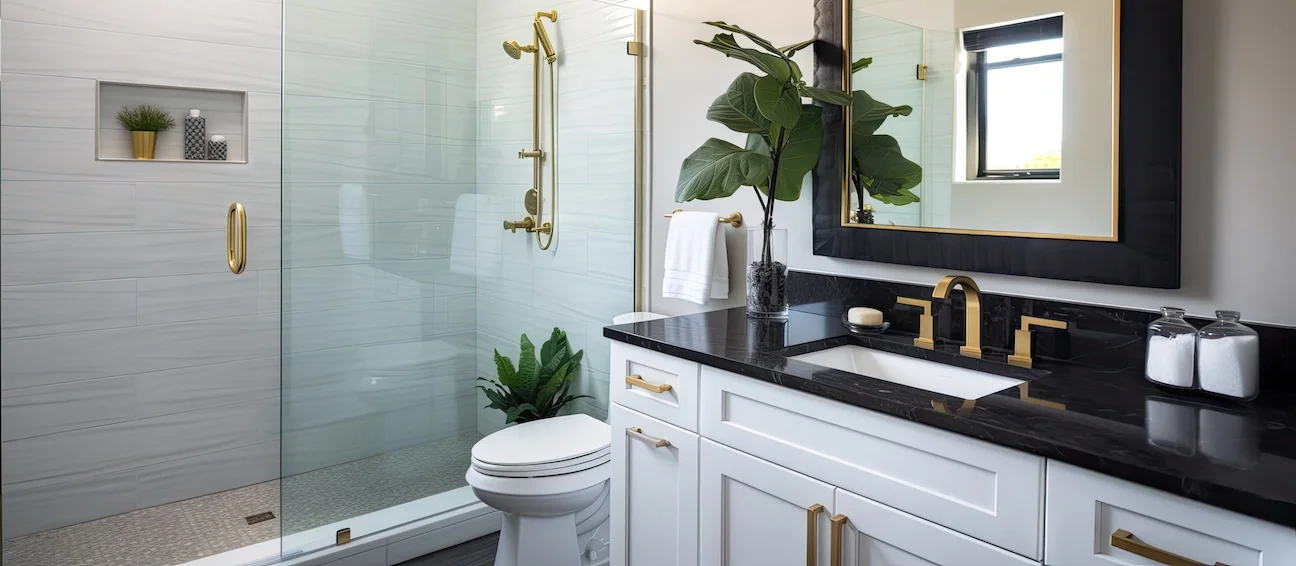 Tackling this project alone only takes more time out of your already busy schedule. Without a pre-existing showerhead, this project demands installing new piping. In order to carry out this project effectively, you'll need to shut off your home's water temporarily, perform precise cuts in the drywall to access the existing plumbing, and proficiently repair both the drywall and tile. Bathroom remodeling experts are better suited to handle this intricate process.
Professionals have the essential tools to efficiently take apart the existing shower and prepare the space for the new unit. You can count on us to oversee every facet of this project, including the removal of your old tub, the installation of the new base, and completion of the entire installation process. We're here to ensure your new bathroom not only meets your needs but also reflects your unique style.
---
San Marcos CA Bathroom Tile Installation Expert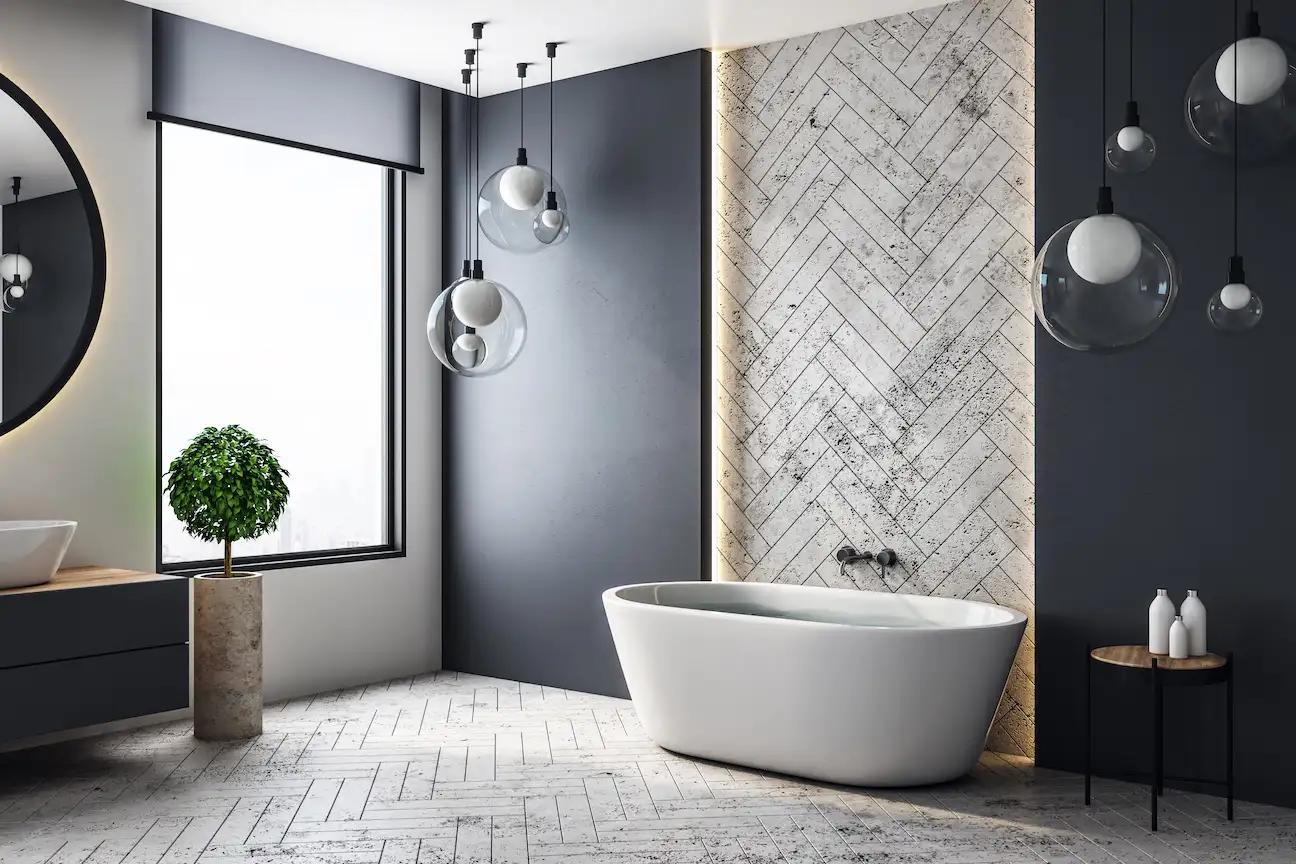 Whether applied to your floors or shower walls, a professional tile installation creates a gorgeous, sturdy surface that's easy to keep spotless. Placing these tiles is a demanding task that calls for careful planning and preparation. It's far too easy to wind up with less-than-desirable tile designs, especially if you lack the tools and skills to do the project right.
This holds particularly true if you opt for a wall surround in your shower or around your vanity. By using these tiles, you can shield your walls from water damage, regardless of how often the bathroom is used. Tile materials come in a wide variety, including choices like polished stone, ceramic, and glass. Once you've made your material selections, it's time to seek out a local tile installation service. Hiring a professional remodeling service allows you to see your design come to life exactly as you want them to. 
The intricate details of tile installation are best left to the experts. Kaminskiy Care and Repair has the expertise and tools to place and seal tiles perfectly, so they last for years and resist any water damage.  Regardless of whether you want polished stone tiles or more conventional ceramic options, we have the knowledge and skill to get it done.
---
Trusted Bathroom Countertop Installation Experts
Achieving a balance between functionality and style in your bathroom design involves selecting the right countertop materials. This particular feature must be well-sealed and engineered for durability, effectively keeping water at bay from the walls and preserving the cabinets and toiletries under the vanity. Whether you wish to update your current countertops or embrace a fresh style, count on the professionals to expertly handle the project.
If you've noticed chipped tiles, stains, or discoloration in your bathroom, it's time for a style upgrade. Upon noticing these problems, make sure to get in touch with the professionals to swap out the unsightly old countertop for something more in line with your style. When it comes to demanding home improvement projects like countertop removal and installation, our team is up for the task. When you choose our services, you can still have a stylish and expensive-looking design without exceeding your budget.
---
Comprehensive Faucet and Fixture Installation and Repair In San Marcos CA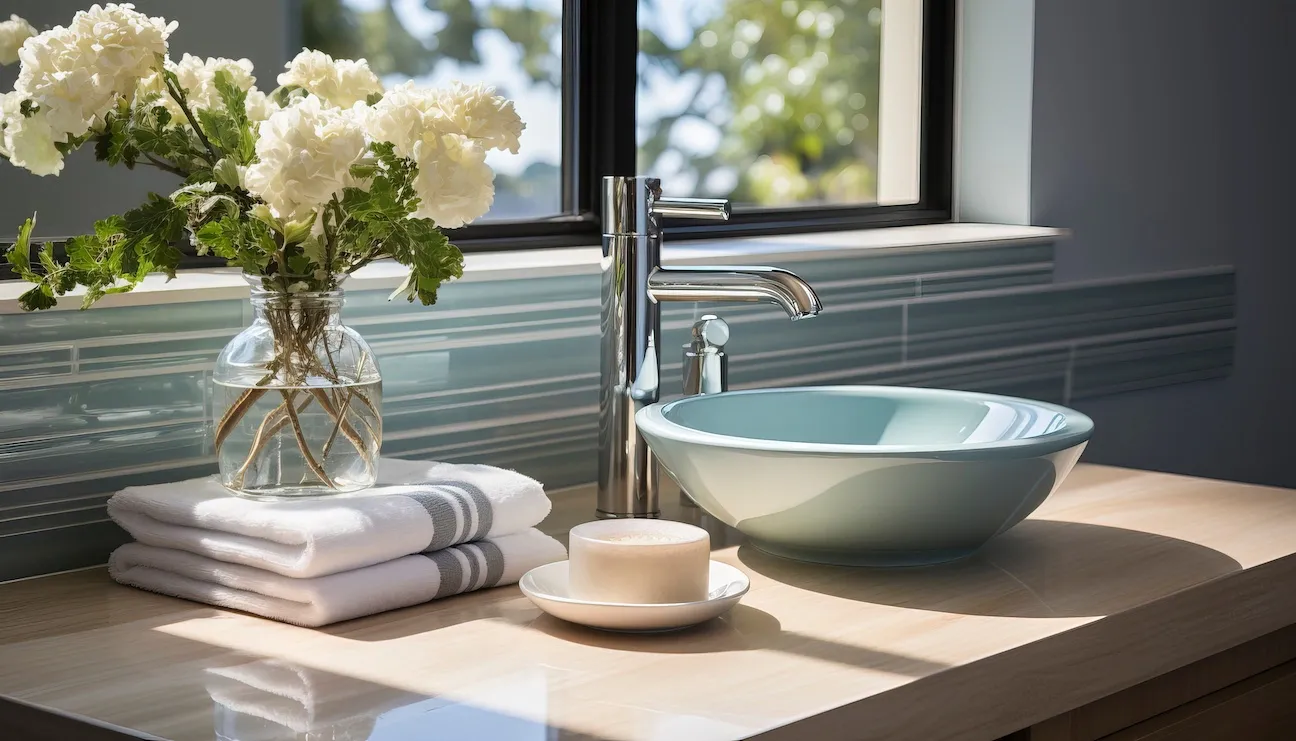 From handwashing to tooth brushing, having a well-functioning faucet is key to keeping you and your family feeling clean. Unfortunately, problems crop up that can cause your faucet to malfunction. The consequences of water leaks are substantial, resulting in gallons of water being wasted, while stubborn clogs can seriously disrupt your daily routine. These outdated fixtures can contribute to elevated monthly costs and create an eyesore in your home.
Transforming the sinks, fans, and mirrors will create an entirely new ambiance in your bathroom, making you fall in love with it again. Undertaking the installation of these fixtures is a complicated process, especially on your own, and might result in even more expensive repairs. Selecting a professional handyman service is the smart choice to ensure your fixtures are not only visually appealing but also expertly installed and long-lasting.
---
Bathroom Lighting Fixture Experts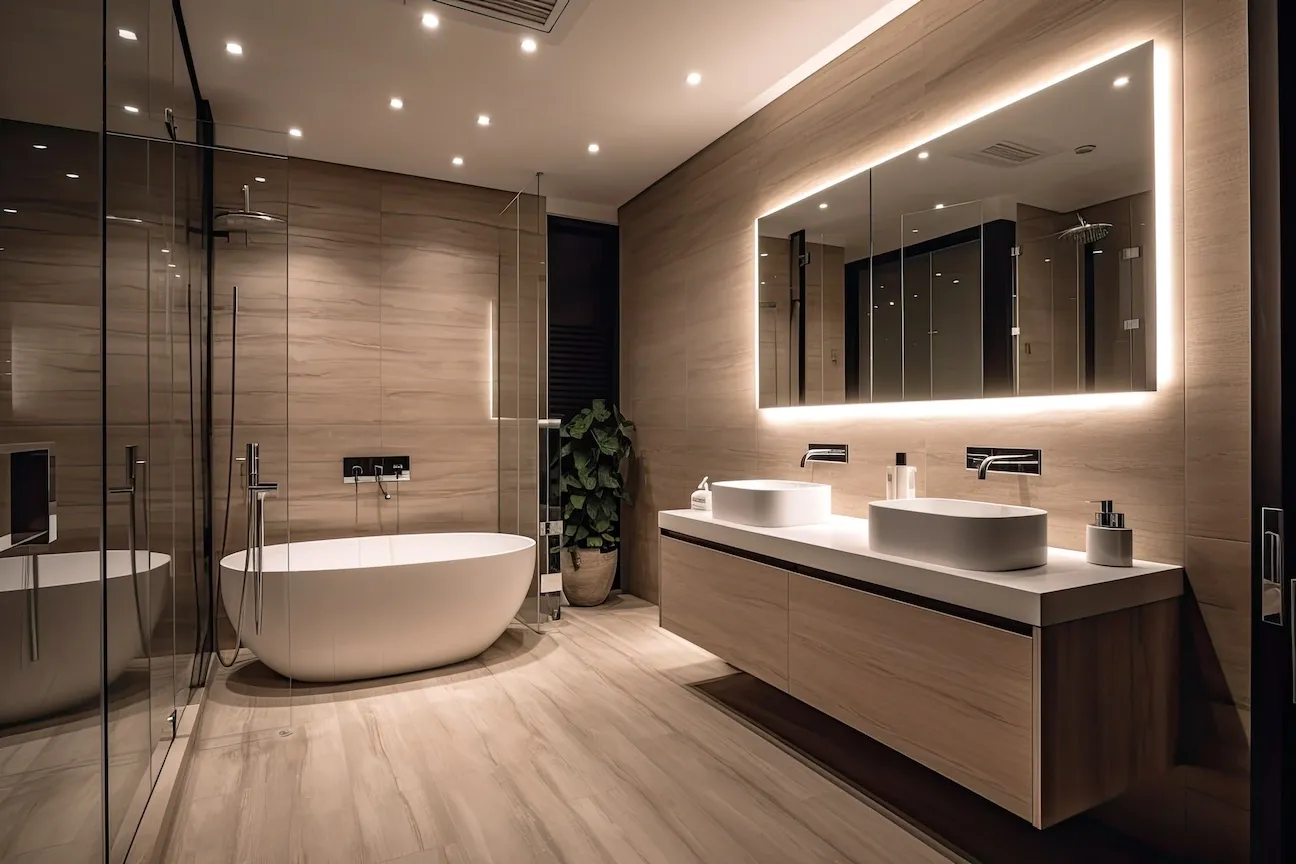 Lighting solutions are one of the most essential things regarding comfort. Poor lighting immediately makes people feel unsafe and uneasy, and comfort is vital in any bathroom. Additionally, it can accentuate the least appealing features of your bathroom.
Your lighting may experience a multitude of problems. Flickering or dim lights may be the result of broken wiring. If it's extremely outdated, your monthly bill could be considerably more expensive than it should be. Outdated fixture designs could contribute to discomfort and unhappiness. Installing them on your own, regardless of your project needs, is a complex and hazardous task that's best avoided.
Due to the electrical components involved, attempting to work on these fixtures without a comprehensive grasp of electrical systems and plumbing can lead to disastrous consequences. Don't jeopardize your safety; let a bathroom remodeling handyman handle the job. This approach allows you to achieve the dream space you desire without taking any risks.
---
Expert Toilet Installation for Your Household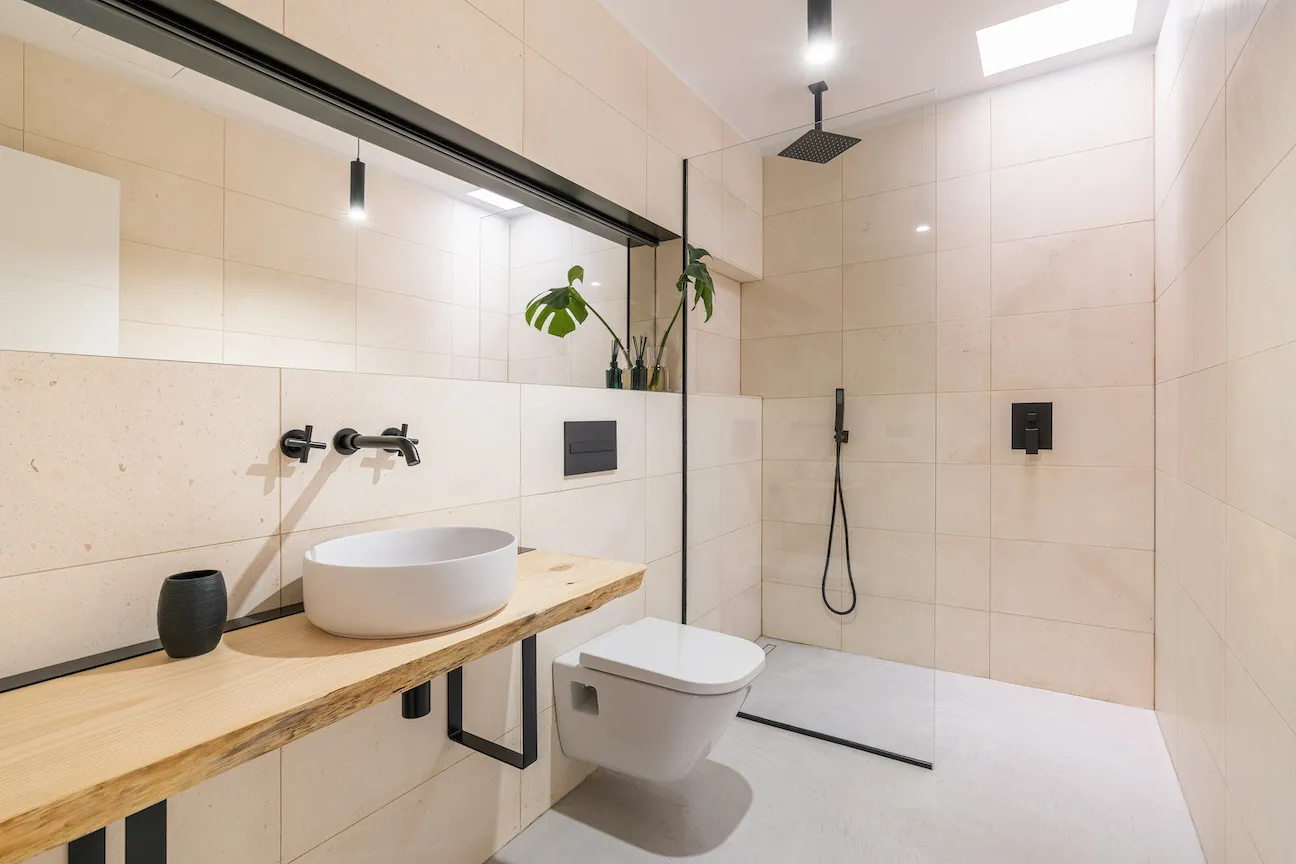 Though the toilet might not be the star of your bathroom, having one that is fully functional and efficient is highly important. Frequent toilet issues like clogs, leaks, or breakdowns can interfere with your daily routine. Upgrading the toilets in your home will ensure this space is fully functional.
Replacing your toilet should be approached with caution, as most are composed of delicate porcelain that can break or crack easily. Additionally, you must address the plumbing connected to the toilet. This can lead to unpleasant odors in your bathroom. Removing the old toilet is no easy feat and entails a significant amount of both physical strength and expertise. Doing this on your own might create a huge mess.
When it comes to toilet repair or replacement, you can count on the experienced handymen at Kaminskiy Care and Repair. Whether it's a single part or the entire unit that needs replacement, our team has got you covered.
---
Elevate Your Bathroom with the Help of Your Local San Marcos CA Remodeling Company Today!
The process of building the bathroom oasis you want might seem challenging and require a lot of time, but it doesn't have to be a hassle. Your local remodeling company is the best way to ensure this project goes without any issues. Taking it on by yourself will lead to increased expenses in the long term. Rely on Care and Repair for assistance with installation, repair, or home improvement projects in San Marcos or the surrounding areas.