As we're a home repair company in San Marcos, you're probably wondering why we even have gutter cleaning as a service since we never get rain here in beautiful Southern California. The reality of the matter is, having clean gutters is a beneficial task for home maintenance no matter the weather. Leaves and debris still accumulate and add weight to your gutters. Then, eventually the gutters break and pull away from the facade and soffit. Facades and soffits are the outer components of the roof that hold the gutter. So, even without the rain in San Marcos, make sure you get your gutters inspected!
Below are a list of frequently asked questions concerning gutter cleaning.
---
Gutter Cleaners In San Marcos
Gutter cleaning is cleaning the gutters that surround your roof. This includes getting rid of leaves and other debris and flushing out the entire system. After a thorough washing, your rain gutters will perform much better when channeling rainwater towards the downspout and preventing any problems from arising.
---
Do I have to clean my gutters all the time?
Rain gutter cleaning in San Marcos is an important task that needs done at least once a year. When leaves and debris get left inside the gutter, water can't escape the area and will pool into the soffits and put pressure on the fascia. This can cause the fascia and soffit to detach from the roof, resulting in damage. In general, you should clean it at least two times a year. Also, try to have the service done during the fall and winter as leaves and debris can freeze, creating frozen pools alongside your roof. This can be dangerous for those passing by underneath.
So, if it has been a while since your last gutter cleaning, there's never been a more perfect time!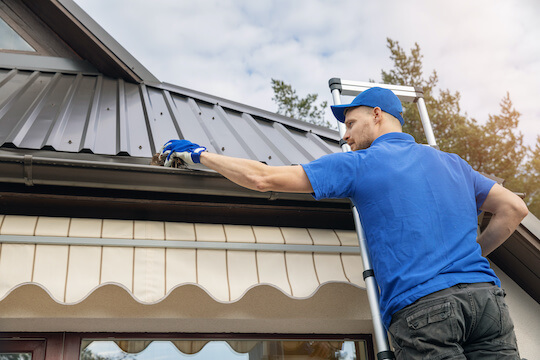 ---
Can I clean my gutters myself?
You can absolutely do it yourself. However, you really probably wouldn't want to. Cleaning your gutters is not easy and is dangerous. Therefore, we always advise seeking out a professional. For example, one of the most dangerous aspects of gutter cleaning is going up a ladder. Without being extremely careful, you can severely injure yourself and have to be out of work for a while. There are 164,000 emergency room injuries and 300 deaths every year from ladders! So, this is definitely not something to be taken lightly.
Luckily, you don't have to risk it as we can happily provide this service for you. Care and Repair Handyman Services are professionals trained in all areas and have successfully conducted thousands of services just like this.
---
Keeping Debris Out Of Your San Marcos Home's Gutters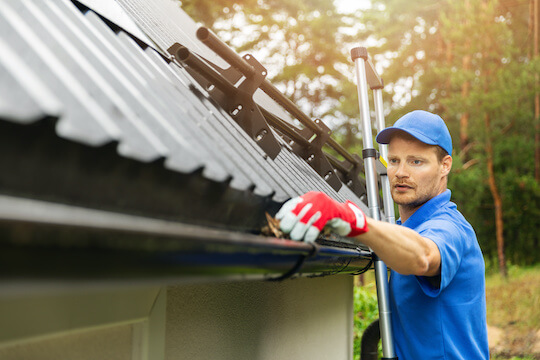 One option is to buy gutter guards from your local hardware store. While that won't completely keep everything away, it will prevent leaves from piling up and sticking to the roof. However, be sure to still regularly check your gutter guards for optimal performance.
There are also many different types of gutter guards. Heated coils are great for cold winters but may not work in other climates. So, do your homework and feel free to ask us any questions! Exterior house repairs are definitely not easy, and you don't want to damage the integrity of your home.
---
San Marcos Gutter Cleaning Handyman
You've already found it! Kaminskiy Care and Repair Handyman Services in San Marcos is the one-stop shop for home repairs in San Marcos. We give free quotes for all our services for both home and commercial properties.
To conclude, don't forget about cleaning those gutters and find a well-qualified professional who can assist your individual needs.
We serve all San Diego and would love to hear from you. So, give us a call and ask about our services. We'll answer all of your questions and provide you with phenomenal service.