Old, and small bathrooms aren't just unsightly, they truly are not functional. These things can add to your stress levels, making it a struggle to get your morning routine going or unwind after a tiring day. At Kaminskiy Care and Repair, we believe your bathroom should provide the most comfortable atmosphere, while still reflecting your unique style and meeting practical requirements. Through our comprehensive renovation, we replace outdated materials and fixtures, allowing you to create your very own at-home bathroom oasis in San Diego County.
---
Bathroom Vanity and Cabinet Renovation In San Diego County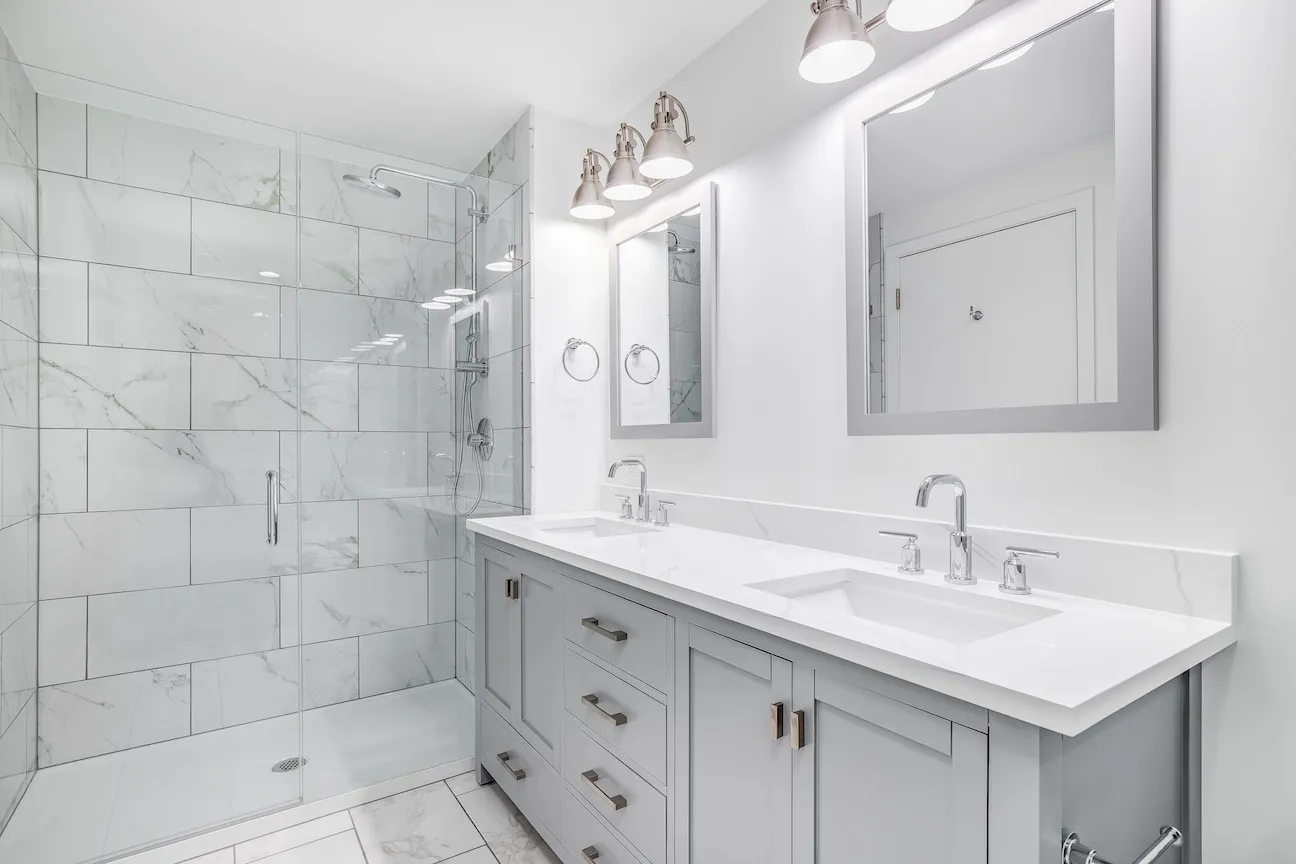 When it comes to designing your dream bathroom, the right vanity choice can be a game-changer. The possibilities are boundless, ranging from free-standing to wall-mounted or floating options. For a cohesive look, you have the option to pick matching mirrors, transforming the entire space. Whether your aim is a sleek, modern look or something more classic and timeless, our experts can turn your vision into reality.
Choosing cabinets that match your vanity is an amazing way to create a cohesive look. You can rely on them for storage while using them as a means to express your unique style. Choosing the right cabinets means you won't have to sacrifice the aesthetics or tidiness of the space.
Our team is dedicated to employing the finest tools and craftsmanship to make certain your cabinets and vanity stand up against everyday use. Count on our dedication to quality to ensure your remodeling project remains enduring and timeless. Whether you're looking for low-maintenance options or aiming for a touch of luxury without breaking the bank, we're here to assist you in discovering the ideal vanity and cabinets, as well as handling their installation.
---
San Diego County Bathtub And Shower Base Renovations
The shower pan is one of your bathroom's most important but overlooked features. They are responsible for keeping water contained within the shower area, preventing potential damage to the rest of your bathroom. They serve as the foundation, constructed with a slight incline to make sure all water goes into the drain.
One of the advantages of many of these pans is their ability to be tiled over or layered with waterproof flooring, allowing for a custom appearance. In your bathroom remodeling process, these shower pans are a crucial element to consider. Our team is capable of installing the necessary features to make your dream shower a reality.
For those who cherish a relaxing bath after a long day at work, upgrading your bathtub can breathe new vitality into this space. Unattractive cracks or chips on the surface can detract from the enjoyment of a soothing bath and, in some cases, create potential safety risks. Ditch the old one and bring in something modern and gorgeous to transform the space. Kaminskiy Care and Repair can help you upgrade, install, or replace your bathtub!
---
Best Tub-To-Shower Conversions in San Diego
Bathtubs can certainly elevate a bathroom's appeal, but they aren't always a priority for everyone, especially those with limited time. As kids grow up, they may find that their shower-tub combinations no longer suit their tastes and desire a more grown-up setup. As couples grow older, they may find themselves wanting a unit that better aligns with their changing needs. Bathtubs can also consume a significant portion of this space. In a compact bathroom, you need to make use of every inch! Tub-to-shower conversions are the easiest way to upgrade a design and regain lost space.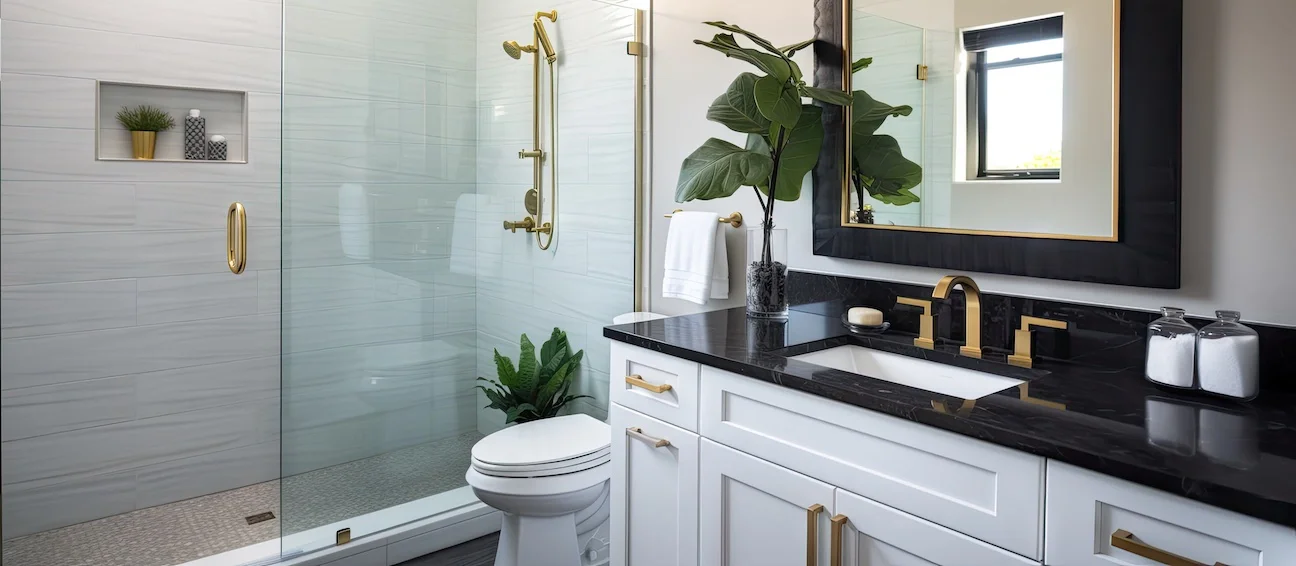 Handling this project without any professional help will cost you a lot more time and effort. If there's no existing showerhead to work with, this project will require the complex process of installing new plumbing. This entails turning off the water sources, then carefully opening up the drywall to reach the existing plumbing, and restoring the drywall and tile. This intricate process is best managed by skilled bathroom remodeling experts.
Professionals are equipped with the necessary tools to extract the existing unit and get the space ready for the new shower. You can count on us to oversee every facet of this project, including the removal of your old tub, the installation of the new base, and completion of the entire installation process. You can rely on us to craft a modern bathroom that perfectly aligns with your perfect space.
---
Best Floor Tiles, Wall Tiles, and Panels For Your Bathroom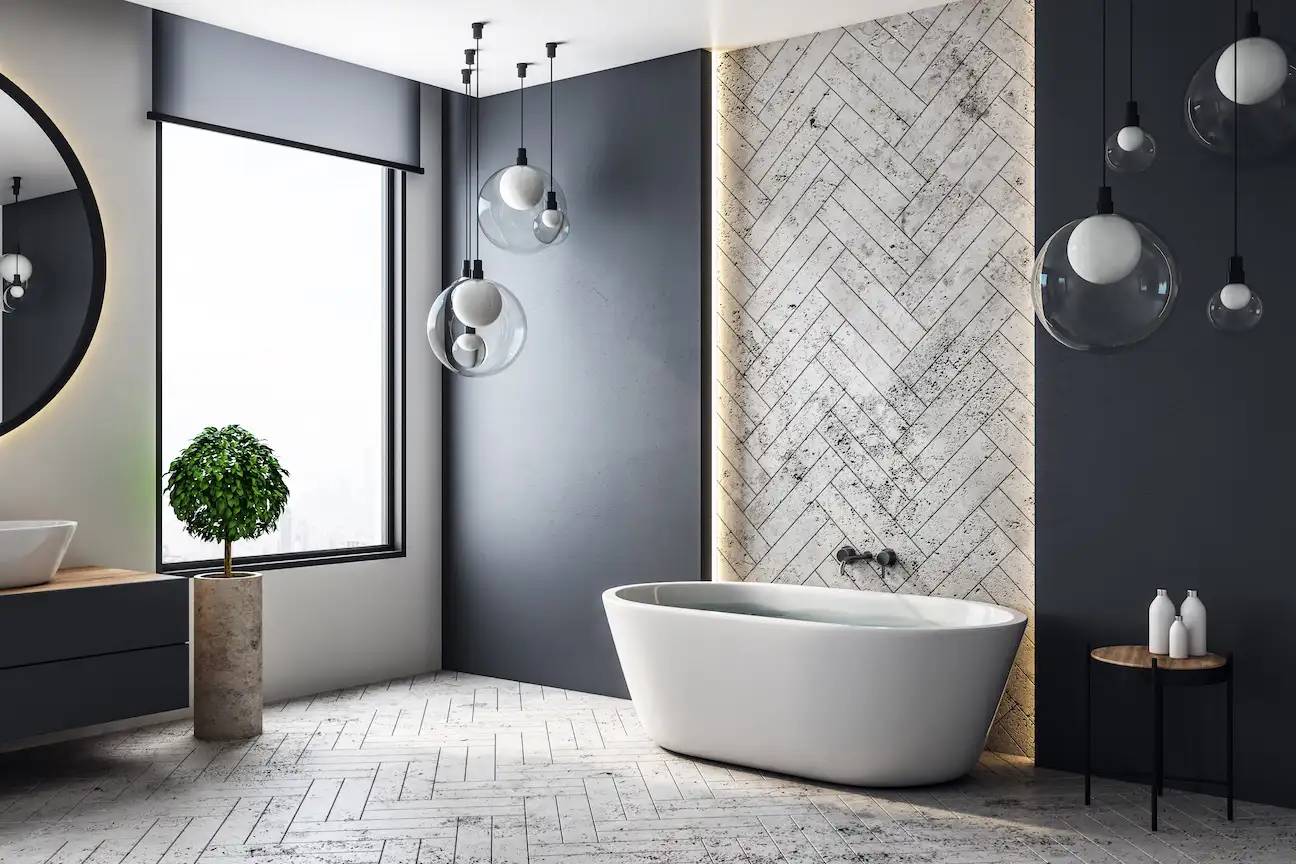 Be it on your floors or shower walls, a well-executed tile installation produces a lovely and robust surface that can be effortlessly maintained. Placing these tiles is a demanding task that calls for careful planning and preparation. The risk of obtaining unattractive tile designs is significant, especially if you don't possess the required tools and skills to bring the project to fruition.
This is especially true if you choose to do a wall surround in your shower or around your vanity. These tiles serve as a protective shield, preventing water damage to your bathroom walls and keeping it in pristine condition. There are a wide range of materials, from natural stone to ceramic or glass styles. After you've determined your materials, the next important step is to engage a local tile installation expert. Enlisting the services of a professional ensures that your vision for the space becomes a reality, just the way you envisioned it.
The intricate details of tile installation are best left to the experts. Rely on Kaminskiy Care and Repair's proficiency and specialized equipment for flawless tile installation and sealing, offering years of resilience and safeguarding against water damage. Whether your choice is contemporary stone tiles or more conventional ceramic styles, our team is fully capable of handling the project.
---
Professional Bathroom Countertop Installation Services For San Diego County Homes
Achieving a balance between functionality and style in your bathroom design involves selecting the right countertop materials. The effectiveness of this feature's seal and its durability are vital; they prevent water from entering the walls and preserve the condition of cabinets and toiletries located beneath the vanity. If you're thinking about revitalizing your current countertops or embracing a new style, rely on the professionals to take care of the project.
Don't hesitate to update your bathroom's style if you notice chipped tiles, stains, or discoloration. Once these problems catch your attention, it's time to get in touch with professionals for a countertop replacement that aligns with your personal style. Our team is up for the challenge when it comes to your home improvement needs, including countertop removal and installation. When you choose our services, you can still have a stylish and expensive-looking design without exceeding your budget.
---
Expert Services for Faucet and Fixture Installation and Repair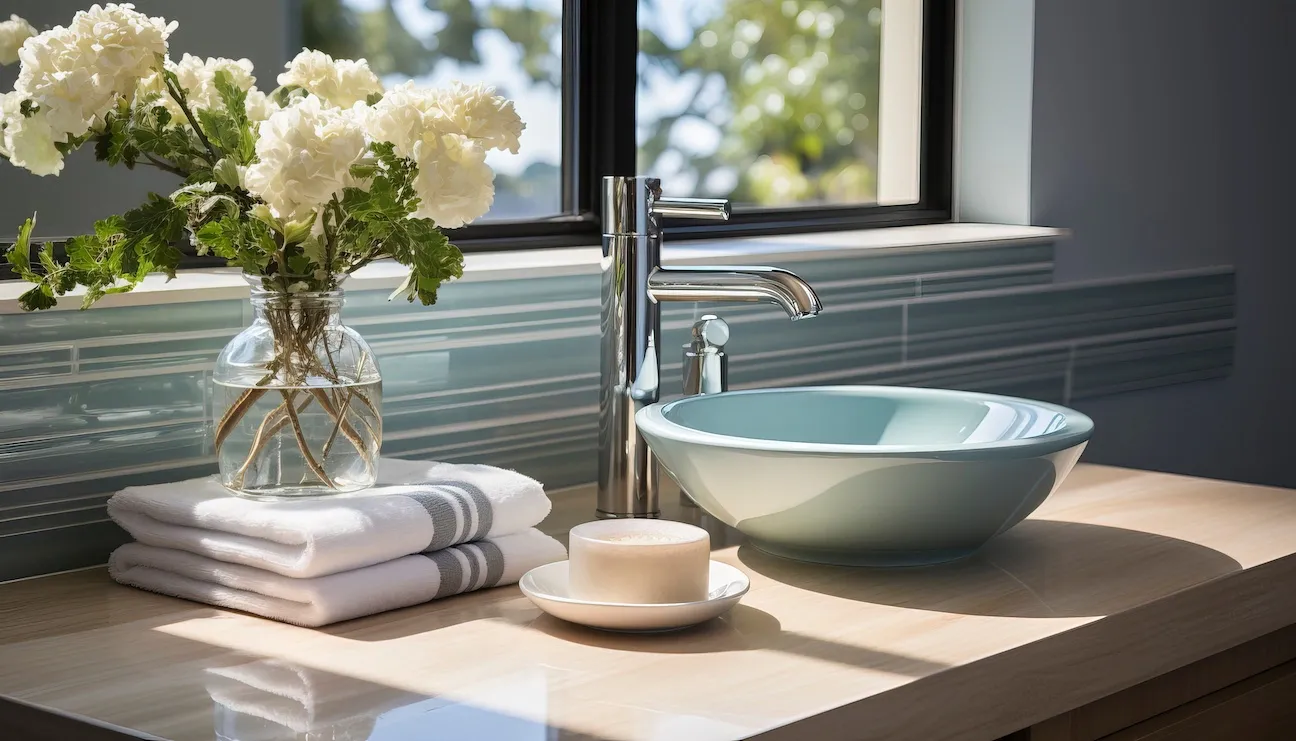 A functioning faucet is essential, whether it's for washing your hands or brushing your teeth. Your taps can encounter a range of issues, though. The impact of water leaks can be substantial, resulting in gallons of water being wasted, while stubborn clogs can bring your daily routine to a standstill. Having outdated fixtures can also result in higher monthly bills and contribute to the unattractiveness of your space.
By renovating the sinks, fans, and mirrors, you'll infuse your bathroom with a new aesthetic that will make you appreciate the space all over again. Still, keep in mind that the installation of these fixtures is a complex and potentially messy process, meaning one mistake can leave you with a costly mess to clean up. For fixtures that are beautiful, correctly installed, and designed to last, hiring a professional handyman service is the way to go.
---
Bathroom Lighting Fixture Upgrades
Lighting solutions play a fundamental role in ensuring comfort. Dim lighting can make individuals feel uneasy and cause them to struggle getting ready in the morning, emphasizing the critical role of comfort in any bathroom. It can also further highlight the worst aspects of your bathroom.
Your lighting may experience a multitude of problems. Flickering or dim lights may be the result of broken wiring. If it's extremely outdated, your monthly bill could be considerably more expensive than it should be. Having outdated fixture designs could also lead to discomfort and unhappiness. No matter your needs, undertaking this installation project by yourself is a complex and risky endeavor not worth the effort.
Since these fixtures need electricity to function, diving into this project without a comprehensive grasp of electrical systems and plumbing can have disastrous consequences. Make safety your priority and opt for a bathroom remodeling handyman to get the job done. By choosing this route, you can create the dream space you want without being exposed to risks.
---
Toilet Installation and Upgrade For Your San Diego County Home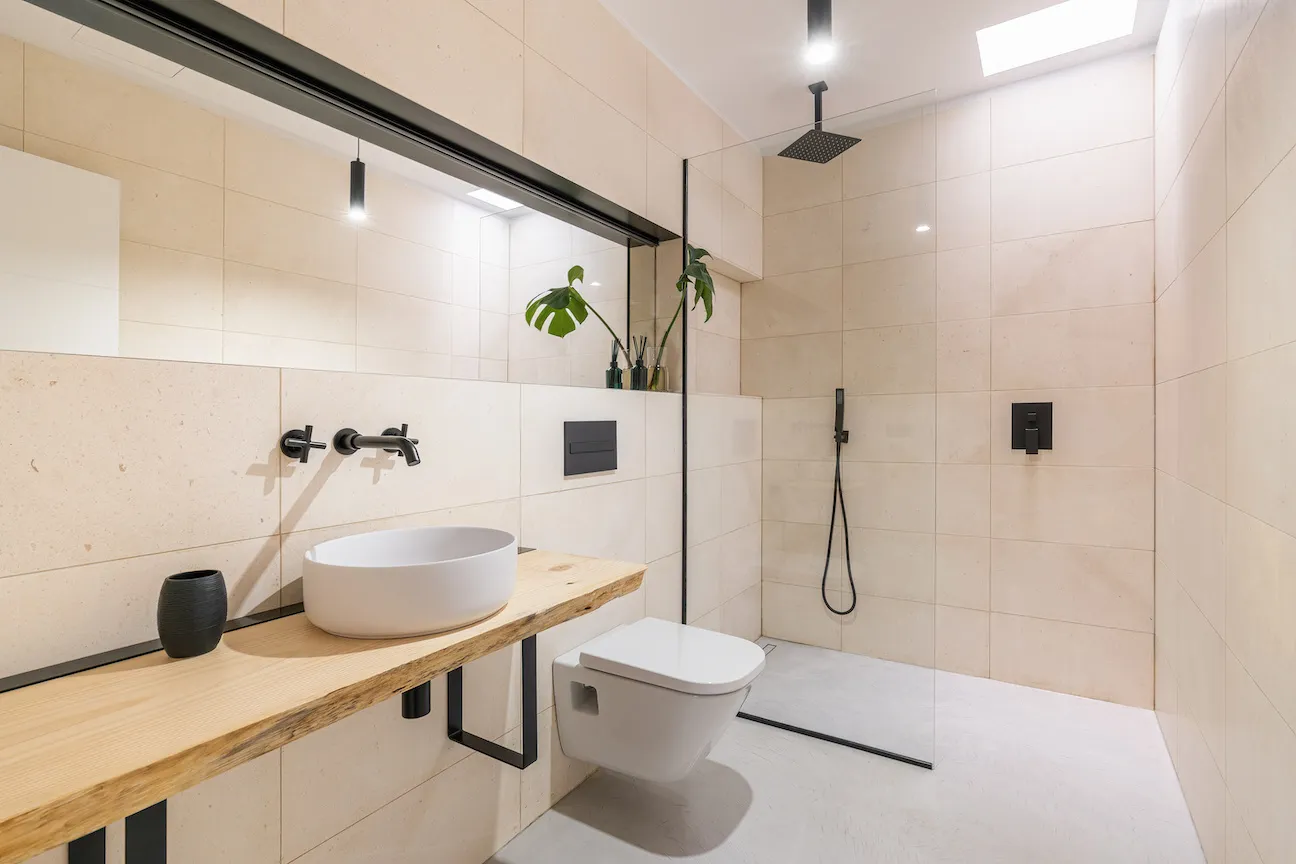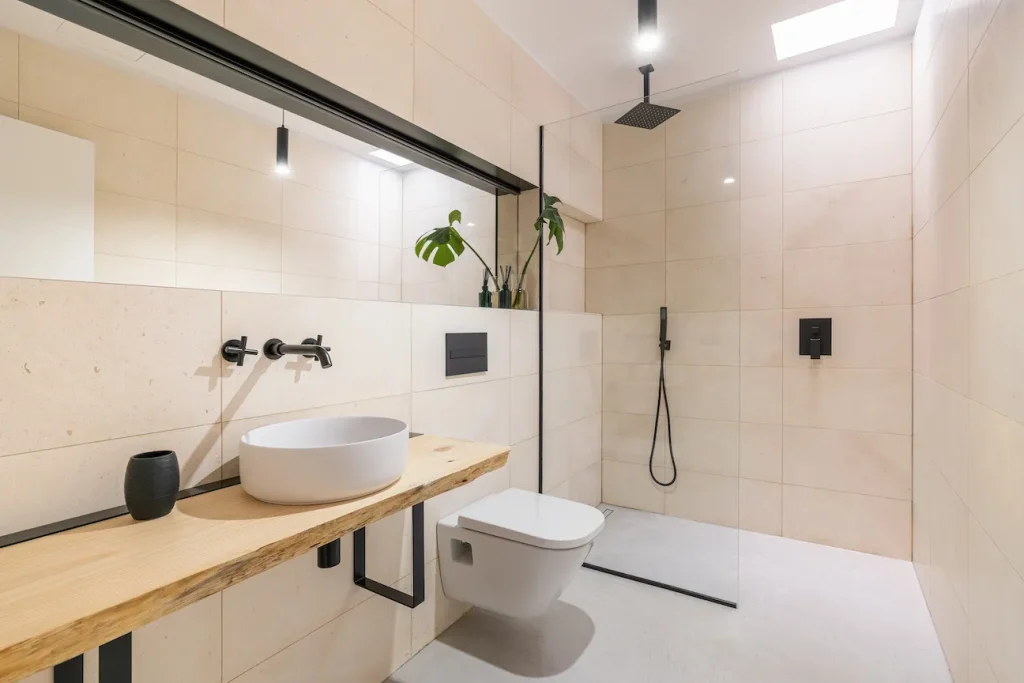 While the toilet may not be the most glamorous feature of your bathroom, having a fully functional and efficient one is crucial. A toilet that regularly clogs, leaks, or breaks down will upset your daily routine. Upgrading the toilets in your home will ensure this space is fully functional.
Replacing your toilet can be risky since most are crafted from fragile porcelain that can easily break or crack. You'll also need to deal with the plumbing linked to the toilet. This could result in disgusting smells lingering in your bathroom. Removing the old toilet is also a difficult process that requires a lot of manpower and skill. Doing this job by yourself raises the risk of creating more mess.
When you require toilet repair or replacement, trust the capable handymen at Kaminskiy Care and Repair to get the job done. Whether you need a single part or the whole unit replaced, our team can handle it.
---
Hire Your Local San Diego County Bathroom Remodeling Company Today!
While it may seem like crafting the bathroom oasis of your dreams is difficult and time-consuming, it doesn't have to be. Relying on your local San Diego County remodeling company is the safest way to ensure this project proceeds without any issues. Handling it on your own will cost more in the long run. For installation, repair, or home improvement tasks, Care and Repair is the one to trust!