Out-of-date bathrooms are more than just an eyesore. Dealing with these things every day can be super stressful, making it hard to begin your day or unwind after a long one. At Kaminskiy Care and Repair, we believe your bathroom should provide the most comfortable atmosphere, while still reflecting your unique style and meeting functional requirements. With our extensive renovation process, we remove outdated materials and fixtures, creating your own personal bathroom sanctuary for you. 
---
Upgrade Bathroom Vanity and Cabinets With Your Bathroom Remodel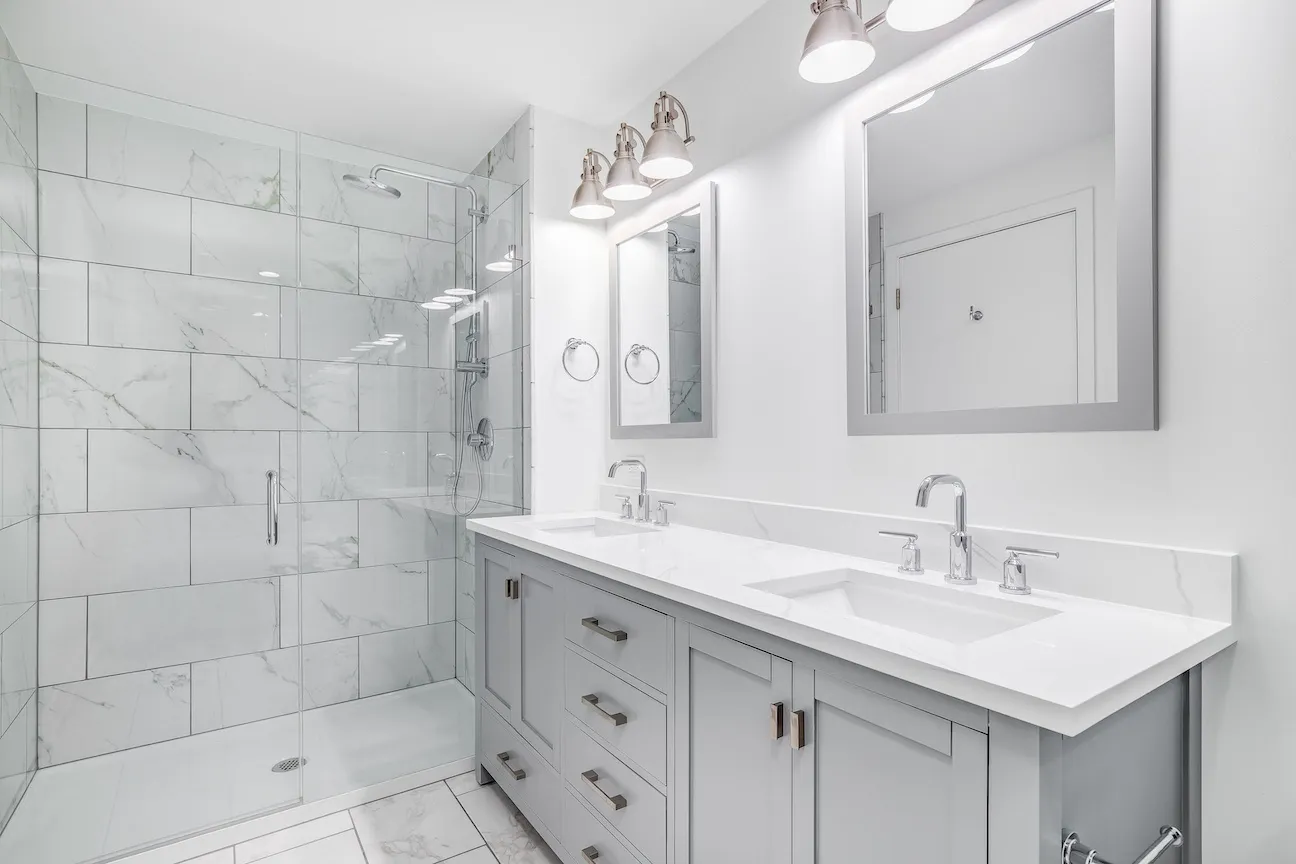 A well-chosen vanity can be the key to bringing your dream bathroom design to life. From free-standing to wall-mounted, the possibilities are limitless. Choosing mirrors that compliment your vanity can significantly improve the overall look of your space. Whether you're aiming for a sleek and modern look or something more traditional and timeless, we have the expertise to bring your vision to life.
Cabinets that match or are color-coordinated are an excellent choice to enhance the overall design. With these, you not only get functional storage but also a chance to display your style. With the right cabinets, you can keep your bathroom neat and everything in its place without sacrificing visual appeal.
Our team prides itself on using only the best tools and techniques to enhance the look of your bathroom and ensure your cabinets stand up to repeated use. Our commitment to quality means your investment will withstand the test of time. Whether you're in the market for low-maintenance choices or desire a more luxurious look while staying within your budget, our team is here to guide you in finding the perfect vanity and cabinets and getting them set up so they last generations. Call our Irvine office today! 
---
Bathtub and Shower Base Upgrades
Despite its significance, the shower pan is a frequently overlooked part of your bathroom. Its primary function is to keep water from escaping the shower, preventing any harm to your bathroom's walls or other elements. These components also serve as the floor, designed with a slight incline to ensure that water flows toward the drain.
The wonderful aspect of these pans is their versatility; many models allow you to tile over them or install waterproof flooring to achieve a customized aesthetic. When upgrading your space's look, these pans are just part of the process. We have the expertise to install the necessary components and make your dream shower a reality.
For those who enjoy a leisurely bath to de-stress after a hard day's work, improving your bathtub is the best way to breathe new life into the space. Unsightly cracks or chips on the surface can detract from the appeal of a calming bath and pose safety concerns in some cases. Discard the old one and welcome in something fresh and modern to enhance the design of the space. Should you find yourself in need of a new bathtub installation, you can count on Kaminskiy Care and Repair's experienced team for assistance.
---
Tub-To-Shower Conversions In Irvine
Bathtubs can certainly elevate a bathroom's appeal, but they aren't always a priority for everyone, especially those with limited time. As your kids transition into adulthood, they may outgrow their shower-tub combinations and crave a more mature style to mirror that. Aging couples may wish for a unit more suited to their needs. Not to mention that bathtubs can take up a lot of space.  In smaller spaces, every inch counts! The simplest route to elevating your design and recovering valuable space is through tub-to-shower conversions.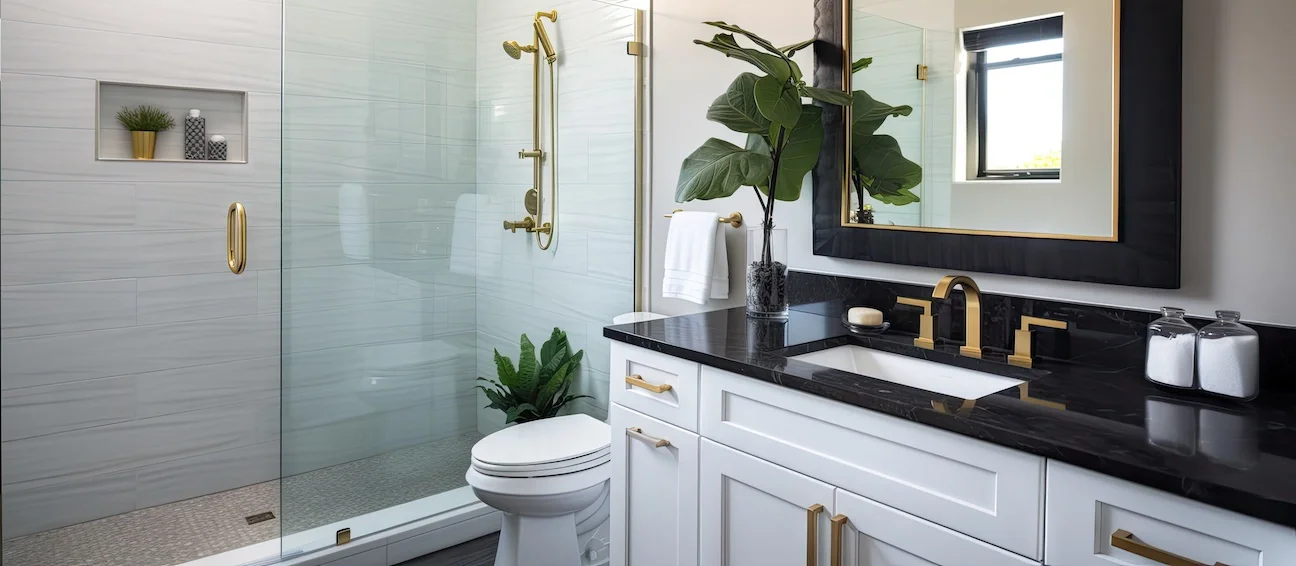 Taking on this project alone will only result in more time being taken away from your already busy agenda. Without a pre-existing showerhead, this project demands installing new piping. That means shutting off water sources, cutting open drywall to access existing plumbing, and repairing the drywall and tile that had previously decorated the shower. This intricate process is best managed by skilled bathroom remodeling experts.
Equipped with the proper tools, professionals can efficiently remove the existing unit and prepare the space for the new one. Whether it's disposing of your old tub, setting up the new base, or completing the installation, we're prepared to take care of every detail in this project. We're here to ensure your new bathroom not only meets your needs but also reflects your unique style.
---
Irvine Bathroom Tile Installation Expert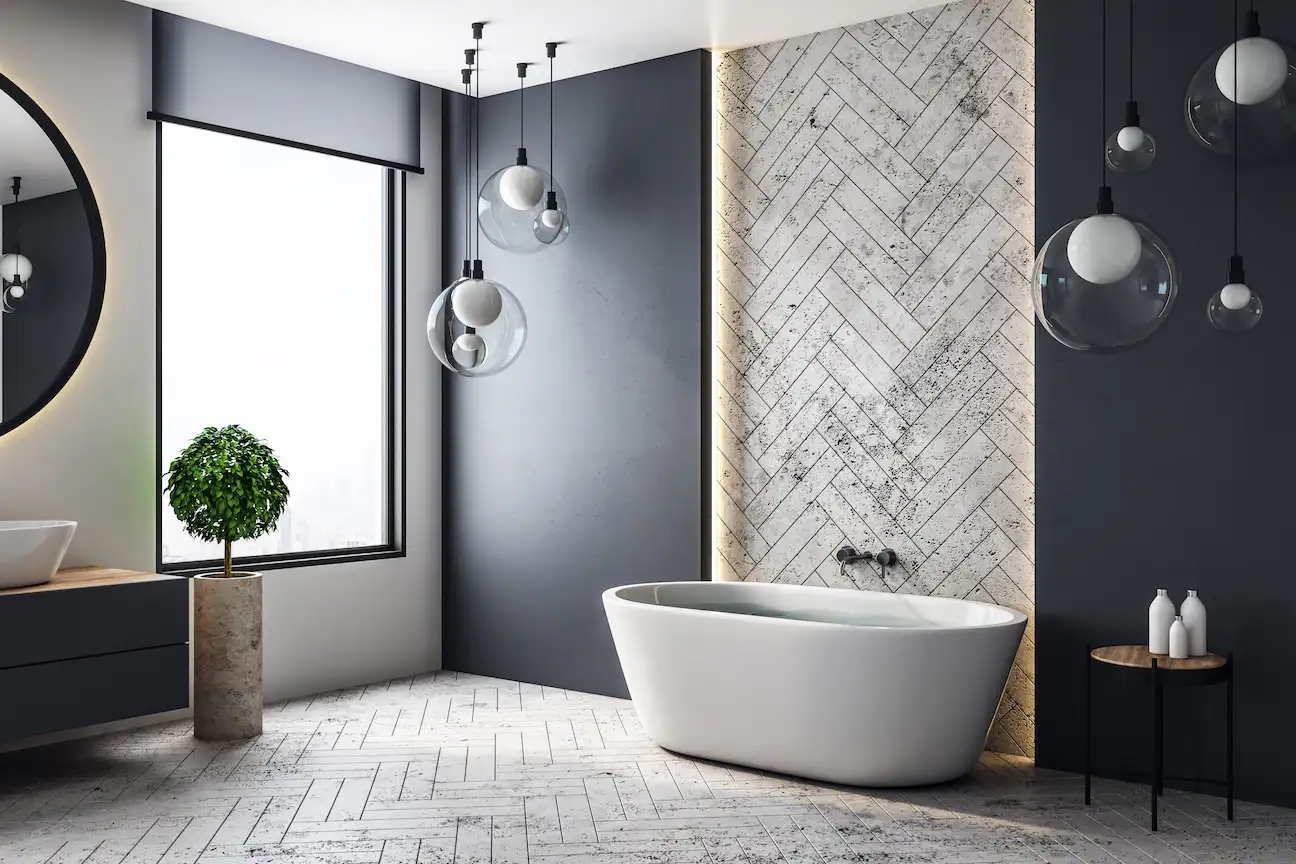 Whether adorning your floors or shower walls, a skillfully executed tile installation results in a stunning, resilient surface that's a breeze to maintain. Laying these tiles is a significant undertaking, requiring thorough preparation to guarantee a successful outcome. The likelihood of obtaining unattractive tile designs is high, especially if you don't possess the necessary tools and expertise to complete the project.
This is especially the case if your room has a wall surround in your shower or around your vanity. These tiles prevent water damage to the walls, ensuring your bathroom stays in perfect condition no matter how frequently it's used. You have a plethora of tile materials to select from, spanning natural stone to ceramic and glass options. Once you've purchased the materials, securing the services of a local tile installation professional is crucial. Bringing in a professional allows you to watch your design concepts come to fruition exactly how you want them to. 
You can count on the professionals to carry out any tile installation. Rely on Kaminskiy Care and Repair's proficiency and specialized equipment for flawless tile installation and sealing, offering years of resilience and safeguarding against water damage. Whether your choice is contemporary stone tiles or more conventional ceramic styles, our team is fully capable of handling the project.
---
Professional Bathroom Countertop Installation Services
Achieving a bathroom that's both aesthetically pleasing and efficient means taking countertop material into account. This feature should be well-sealed and built to last, preventing water from entering the walls and protecting any cabinets or toiletries stored underneath the vanity. Whether you wish to update your current countertops or embrace a fresh style, count on the professionals to expertly handle the project.
Chipped tiles, stains, and discoloration are also great reasons to update your bathroom's style. As soon as you detect these problems, get in touch with professionals to swap out the unsightly old countertop for a new one that reflects your taste. Our team is up for the challenge when it comes to your home improvement needs, including countertop removal and installation. When you choose our services, you can still have a stylish and expensive-looking design without exceeding your budget.
---
Expert Services for Faucet and Fixture Installation and Repair In Irvine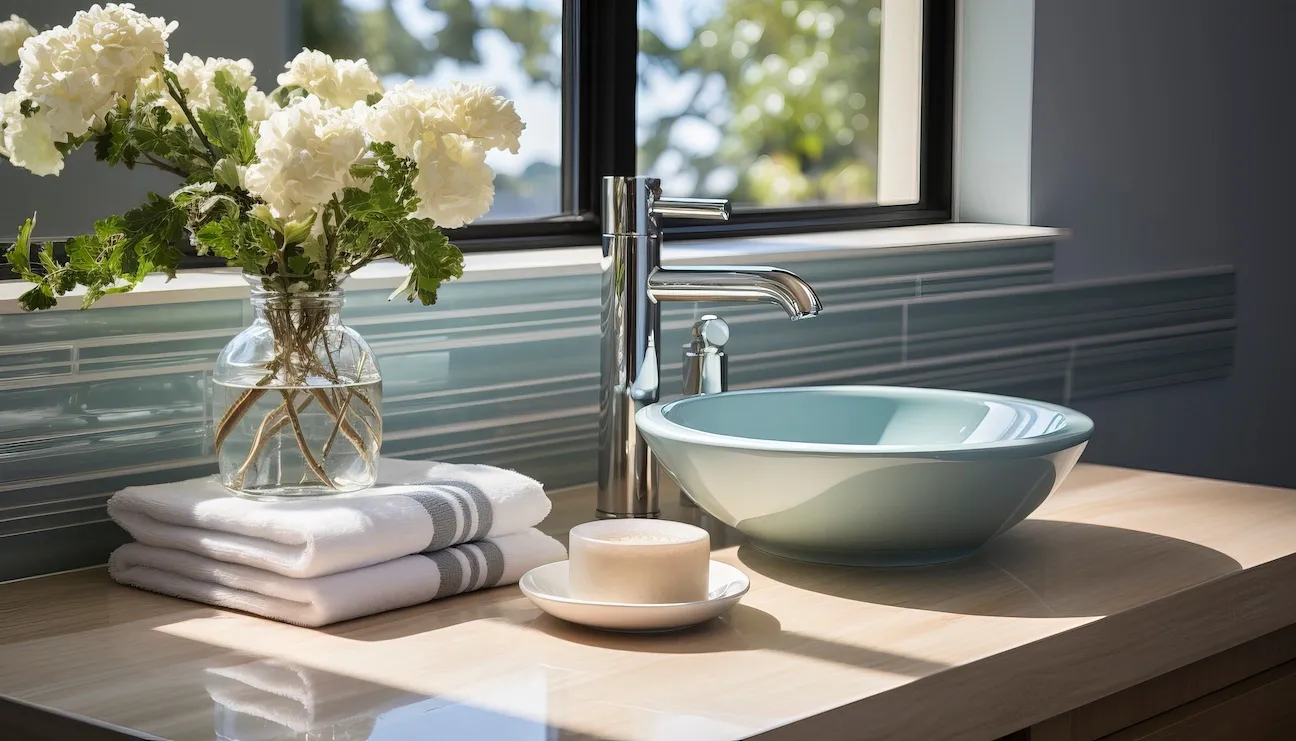 Bathroom faucets get a lot of use, from washing your hands to brushing your teeth, so it should work flawlessly an look stunning while doing so. Unfortunately, sometimes problems occur, making your faucet malfunction. The consequences of water leaks are substantial, resulting in gallons of water being wasted, while stubborn clogs can seriously disrupt your daily routine. Additionally, outdated fixtures can lead to higher monthly costs and make your home appear unappealing. 
Revamping the sinks, fans, and mirrors will breathe new life into your bathroom, reigniting your passion for the space. Keep in mind, however, that the installation of these fixtures is a complex and potentially messy endeavor. For fixtures that are beautiful, correctly installed, and designed to last, hiring a professional handyman service is the way to go.
---
Expert Bathroom Lighting Fixture Repair and Installation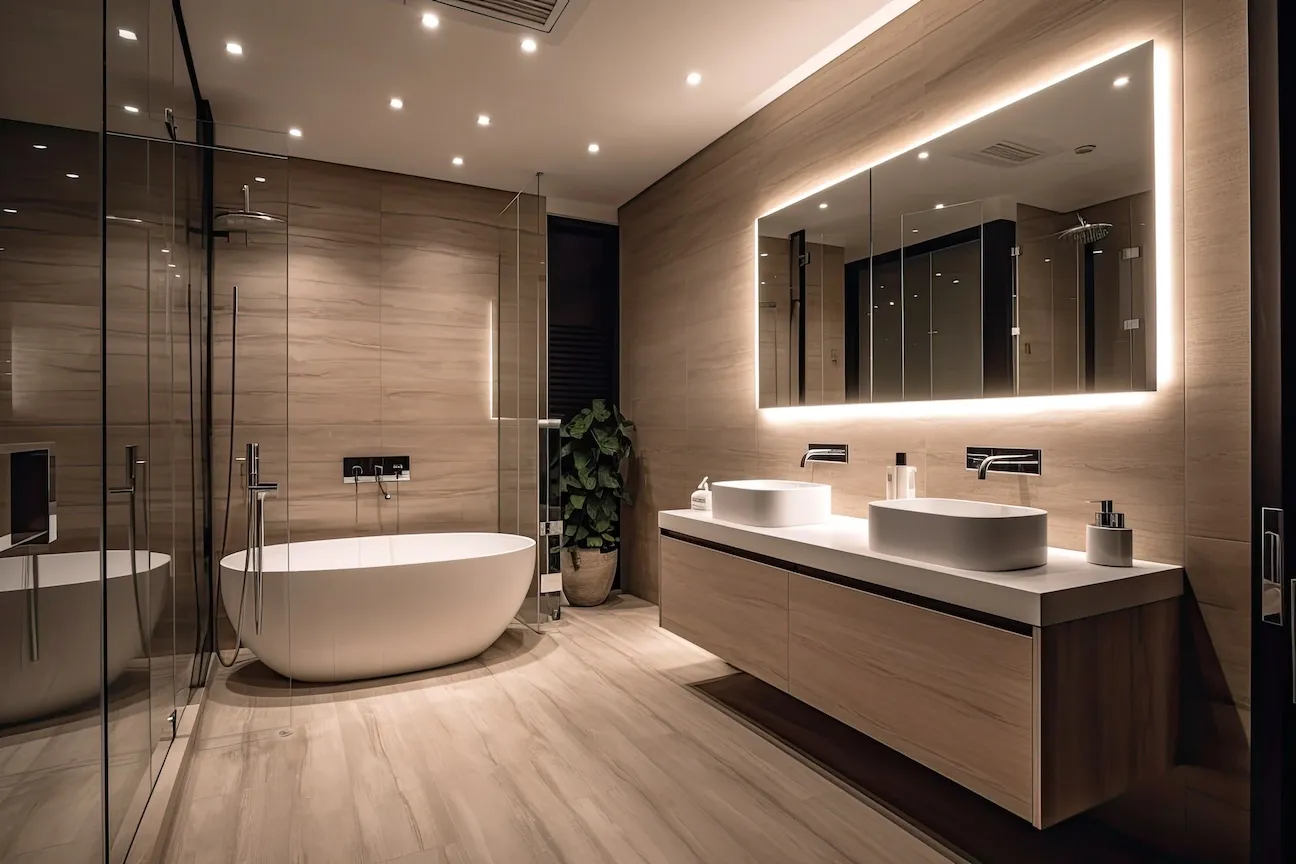 Lighting solutions are one of the most essential things regarding comfort. Low-quality lighting can make people feel uneasy, which is why having a cozy bathroom is so important. It can also make the least pleasing aspects of your bathroom stand out.
There are various problems that can occur with your lighting. Dim or flickering lights can be a sign of damaged wiring. An extremely old system could cause your monthly bill to be much higher than it should be. Having outdated fixture designs could also lead to discomfort and unhappiness. Whatever your needs may be, undertaking this installation on your own is a complicated and risky process that isn't recommended.
Since these fixtures need electricity to function, diving into this project without a comprehensive grasp of electrical systems and plumbing can have disastrous consequences. Don't jeopardize your safety; let a bathroom remodeling handyman handle the job. That way, you get the space of your dreams without the risk.
---
Home Toilet Installation Services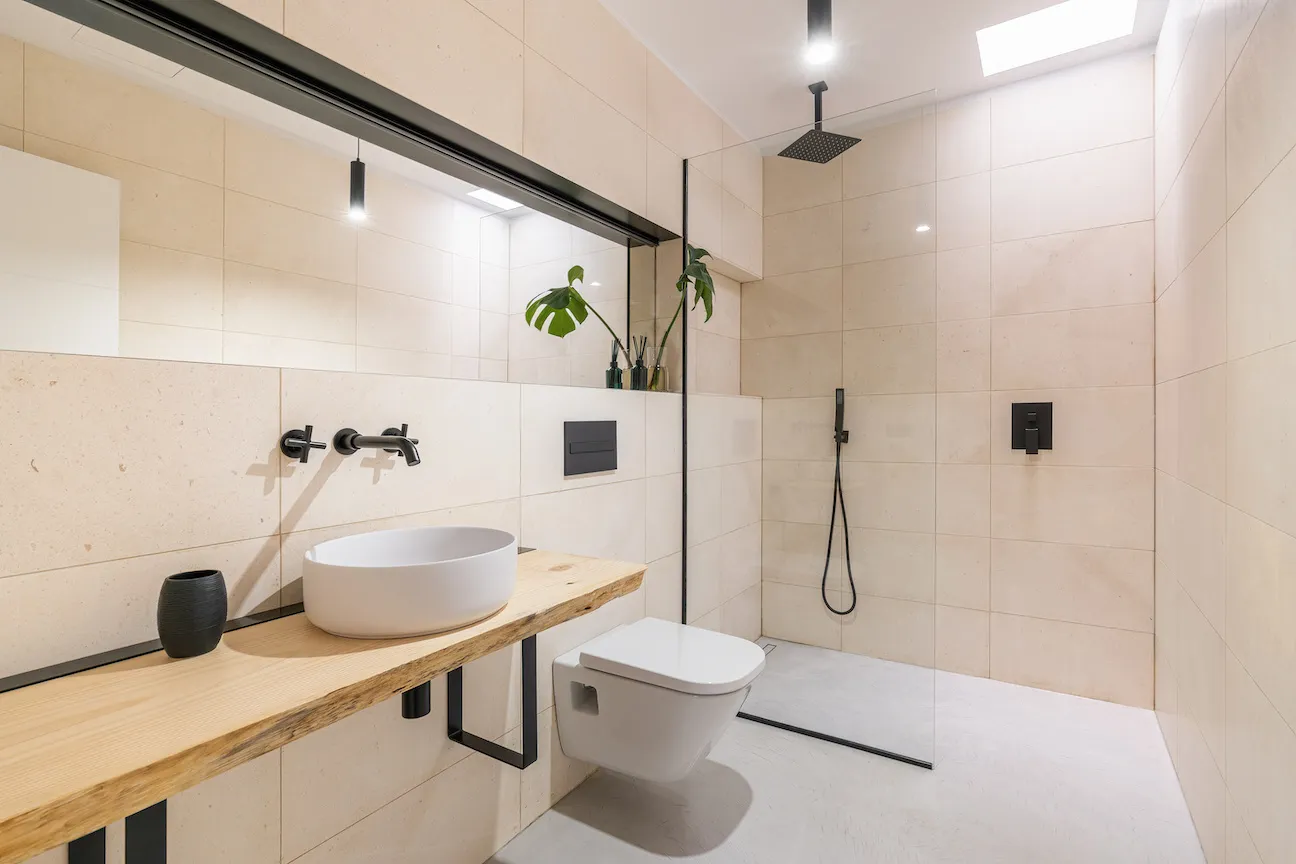 Even though the toilet doesn't steal the spotlight in your bathroom, ensuring it is fully functional and efficient is vital. Frequent toilet clogs, leaks, or malfunctions can disrupt your daily routine. Installing upgraded toilets in your home will guarantee that this space functions smoothly.
Replacing your toilet should be approached with caution, as most are composed of delicate porcelain that can break or crack easily. Also, there's the plumbing running from the toilet that requires attention. As a consequence, your bathroom may smell awful if work is not done well. Removing the old toilet is also quite challenging and demands both physical strength and skill. Trying to do this on your own might make the mess even worse.
Trust the professional handymen at Kaminskiy Care and Repair for any toilet repair or replacement projects. If you need to replace a single part or the entire unit, our team is up to the task.
---
Hire The Best Local Irvine Bathroom Remodeling Company Today!
The process of building the bathroom oasis you want might seem challenging and require a lot of time, but it doesn't have to be a hassle. To make sure this project goes smoothly, it's a good idea to hire your local Jersey City remodeling company. Taking care of it by yourself will end up being more expensive over time. For installation, repair, or home improvement projects, Care and Repair is your trusted choice!