Outdated, cramped bathrooms aren't just unsightly. They can be a source of stress, making it difficult to start your morning routine or relax after a long day. Kaminskiy Care and Repair holds the belief that your bathroom should be the epitome of comfort, while still staying true to your distinctive style and fulfilling its functional purposes. With our total bathroom renovation, we strip away the old and introduce exquisite alternatives, allowing you to bask in a spa-like atmosphere within the walls of your Carmel Valley home.
---
Expert Bathroom Cabinet And Vanity Renovation Services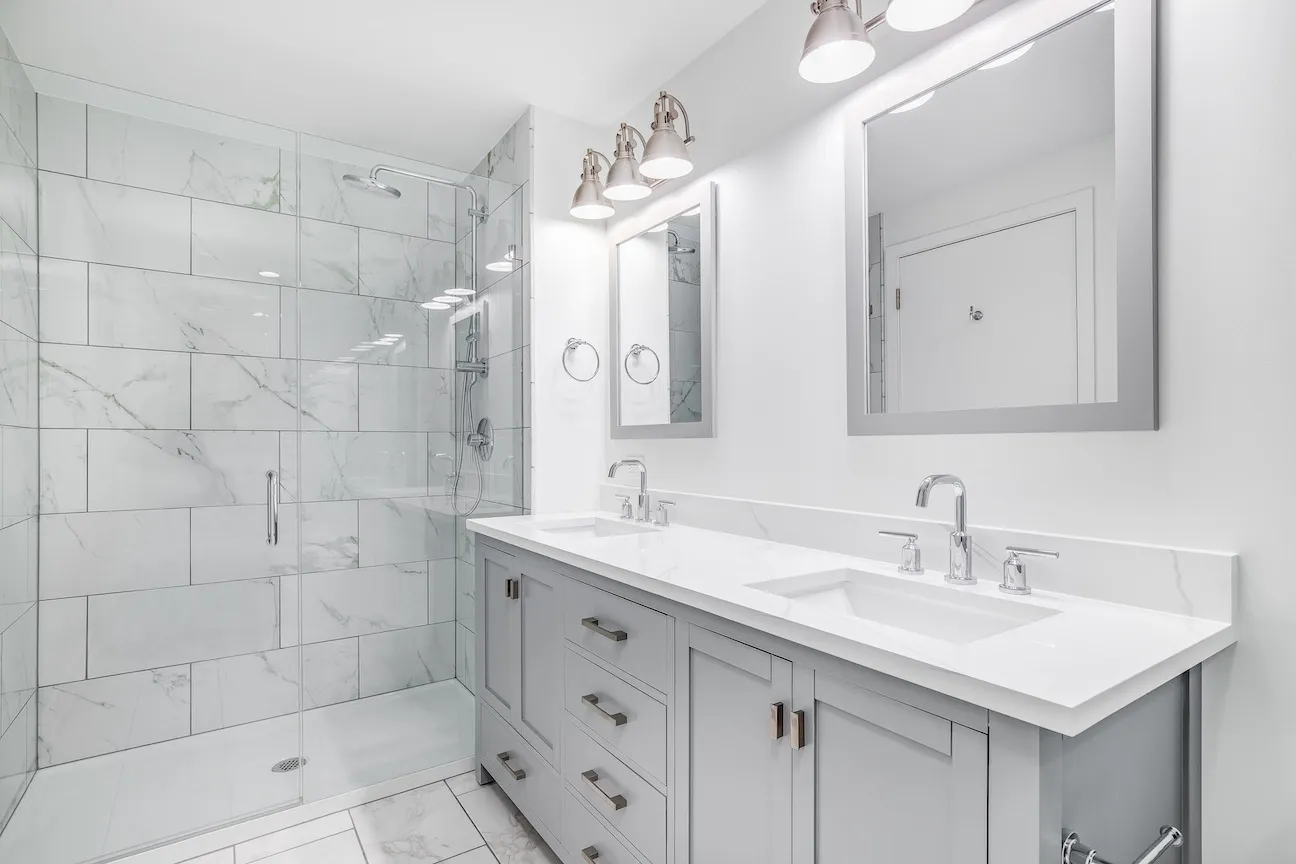 Your dream bathroom design can be greatly enhanced by choosing the ideal vanity. From free-standing to wall-mounted, the possibilities are limitless. You can even achieve a unified and stylish space by choosing mirrors that match your selected vanity. Whether your goal is to create a streamlined, modern ambiance or a timeless, traditional feel, we're equipped to make your vision come to life.
To create a more cohesive design, cabinets that either match or are color-coordinated are a fantastic option. You can rely on them for storage while using them as a means to express your unique style. With appropriately chosen cabinets, you can ensure a clutter-free bathroom while retaining its attractive look.
Using the best tools and techniques, we are devoted to ensuring the durability of your cabinets and vanity. Our commitment to quality means your investment will withstand the test of time. Whether you want something easy to clean or a little more upscale on a budget, we can help you find the best vanity and cabinets and install them for you.
---
Shower Base And Bathtub Renovation Services In Carmel Valley
Even though it's often overlooked, the shower pan is a fundamental element of your bathroom. They serve the important function of containing water within the shower and preventing potential damage to the rest of your bathroom. They also function as the foundation, featuring a gentle incline to guide water towards the drain.
What makes these pans fantastic is that many of them can be covered with tiles or other waterproof flooring options to achieve a personalized appearance. When you're enhancing the appearance of your space, they play a vital role in the transformation. Our team can also help install fixtures, glass, and other features to create the shower you've always wanted.
If you love a long soak after work, replacing your bathtub can bring more life into your space. The appearance of obvious cracks on the surface diminishes the appeal of a tranquil bath and may cause safety hazards. Ditch the old one and bring in something modern and gorgeous to transform the space. When it's time for a new bathtub installation, trust the expertise of the professionals at Kaminskiy Care and Repair.
---
Carmel Valley Tub-To-Shower Conversion Services
Although bathtubs can be a desirable amenity, not everyone has the inclination or time to spare for a leisurely soak. When children mature, they can outgrow their shower-tub setups and begin to appreciate a more mature style. As couples grow older, they may wish for a unit that is more tailored to their evolving needs. Not to mention that these features take up a massive portion of the space. In a small bathroom, every inch counts! When it comes to design upgrades and space optimization, tub-to-shower conversions are the best option.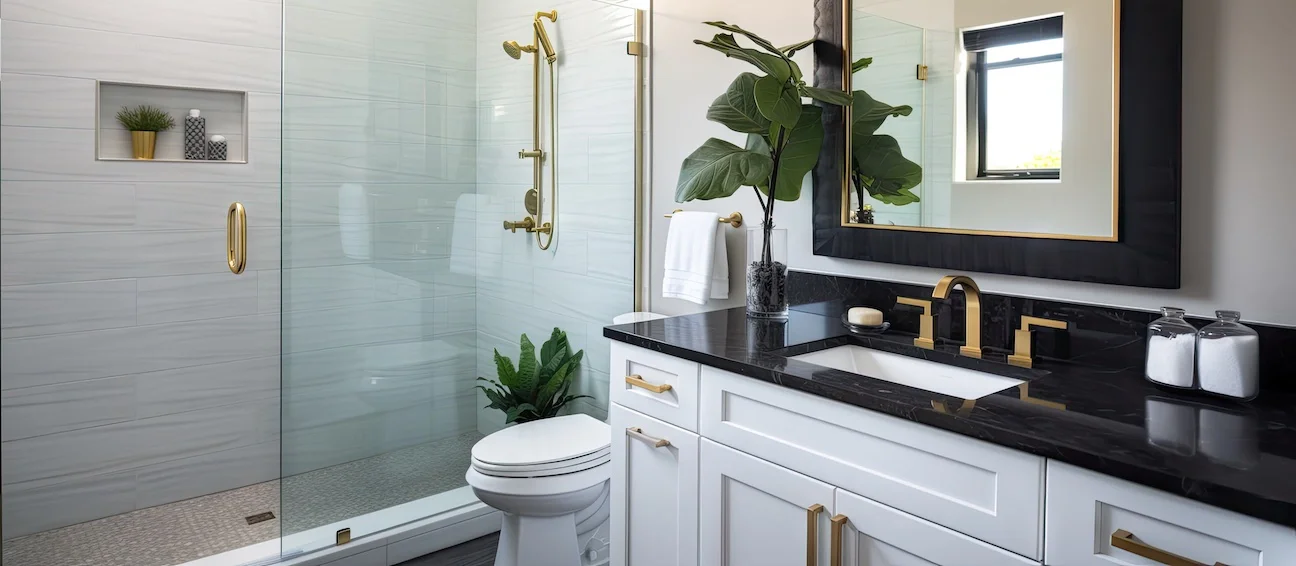 Handling this project without any professional help will cost you a lot more time and effort. When there's no existing showerhead in place, this project involves the intricate process of setting up new plumbing. Executing this project involves shutting off your home's water supply, performing precise cuts in the drywall to access the existing plumbing, and seamlessly restoring both the drywall and tile. This intricate process is better left to the skills of bathroom remodeling specialists.
Professionals are equipped with the necessary tools to extract the existing unit and get the space ready for the new shower. Whether it's disposing of your old tub, setting up the new base, or completing the installation, we're prepared to take care of every detail in this project. You can rely on us to craft a modern bathroom that perfectly aligns with your perfect space.
---
Bathroom Floor Tile, Wall Tile, And Panel Installation in Carmel Valley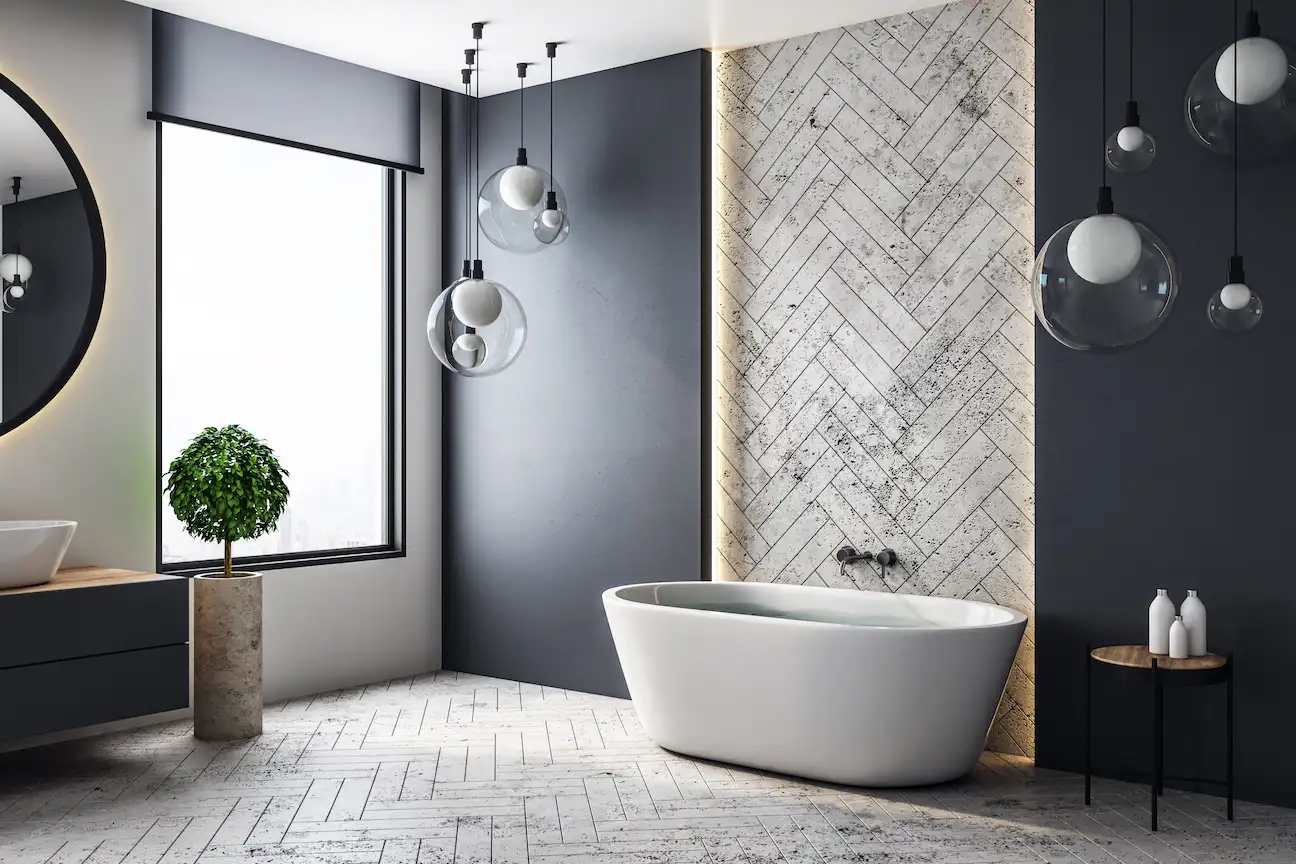 A professionally done tile installation yields an attractive and long-lasting surface that's simple to keep clean. Placing these tiles is a demanding task that calls for careful planning and preparation. It's quite easy to end up with unsightly finished products, particularly if you don't have the essential tools and expertise to finalize the project.
This holds particularly true if you opt for a wall surround in your shower or around your vanity. With these tiles, your bathroom walls stay protected from water damage, ensuring its pristine appearance even with heavy usage. There's a diverse array of tile materials at your choosing including natural stone, ceramic, and glass. After you've determined your materials, the next important step is to engage a local tile installation expert. Hiring a professional grants you the ability to see your design ideas come to life.
Leave the hard work to the professionals. At Kaminskiy Care and Repair, we possess the knowledge and equipment to flawlessly install and seal tiles, ensuring their long-lasting durability. Whether you prefer contemporary stone tiles or classic ceramic patterns, we're ready to complete the task.
---
Bathroom Countertop Refresh
Crafting a bathroom that's as stylish as it is practical hinges on your choice of countertop materials. This component must be well-sealed and designed for longevity, effectively keeping water out of the walls and protecting cabinets or toiletries stored beneath the vanity. Whether you want to refresh your existing countertops or swap them out for a new style, trust the professionals to handle the project.
Chipped tiles, stains, and discoloration are also great reasons to update your bathroom's style. As soon as you detect these problems, get in touch with professionals to swap out the unsightly old countertop for a new one that reflects your taste. Our team is up for the challenge when it comes to your home improvement needs, including countertop removal and installation. Our services can help you achieve a stylish design that only looks expensive while keeping within your budget.
---
Expert Services for Faucet and Fixture Installation and Repair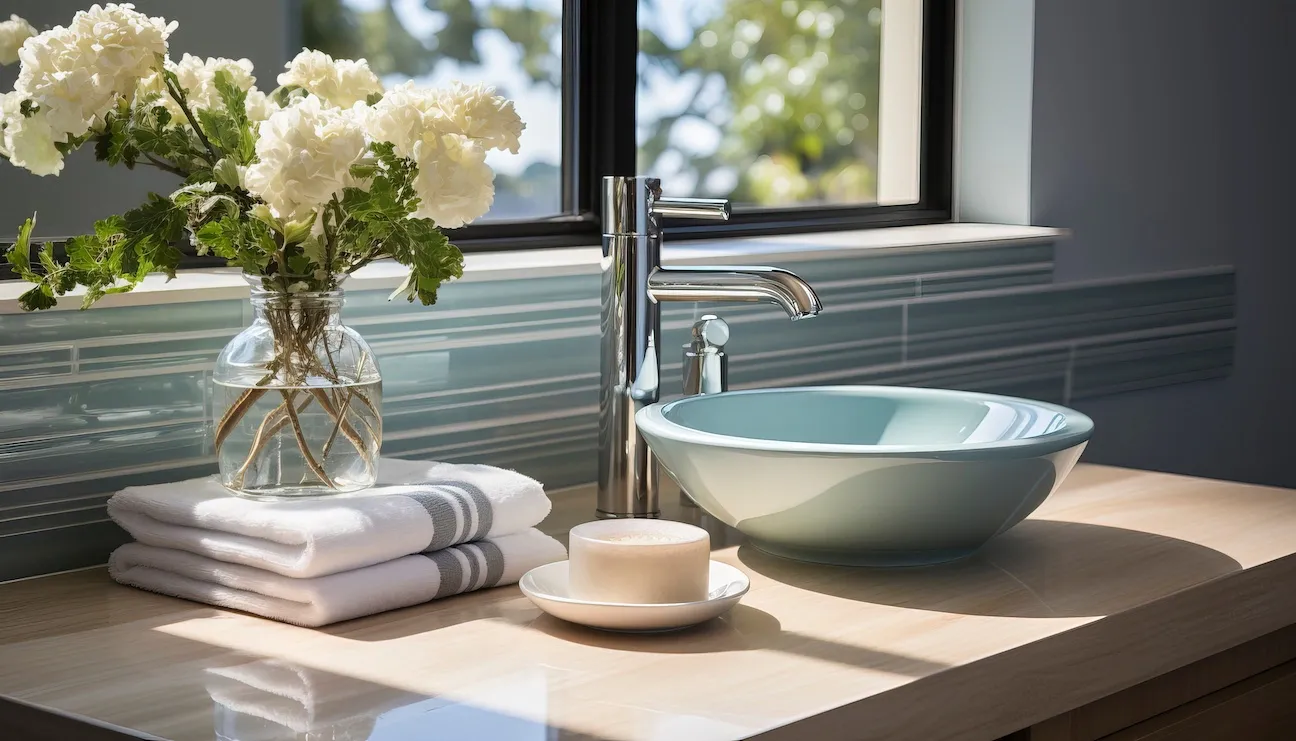 A functioning faucet is essential, whether it's for washing your hands or brushing your teeth. Unfortunately, sometimes problems occur, making your faucet malfunction. The impact of water leaks can be substantial, resulting in gallons of water being wasted, while stubborn clogs can bring your daily routine to a standstill. Also, outdated fixtures can cost you more monthly and create an eyesore in your home.
Giving the sinks, fans, and mirrors a makeover will completely transform your bathroom, reigniting your love for the space. It's important to remember, though, that the installation of these fixtures can be a complex and potentially messy process. Choosing a professional handyman service is the most effective means of ensuring that your fixtures are visually appealing, properly installed, and last a long time.
---
Quality Bathroom Lighting Fixture Repair and Installation For Carmel Valley Homes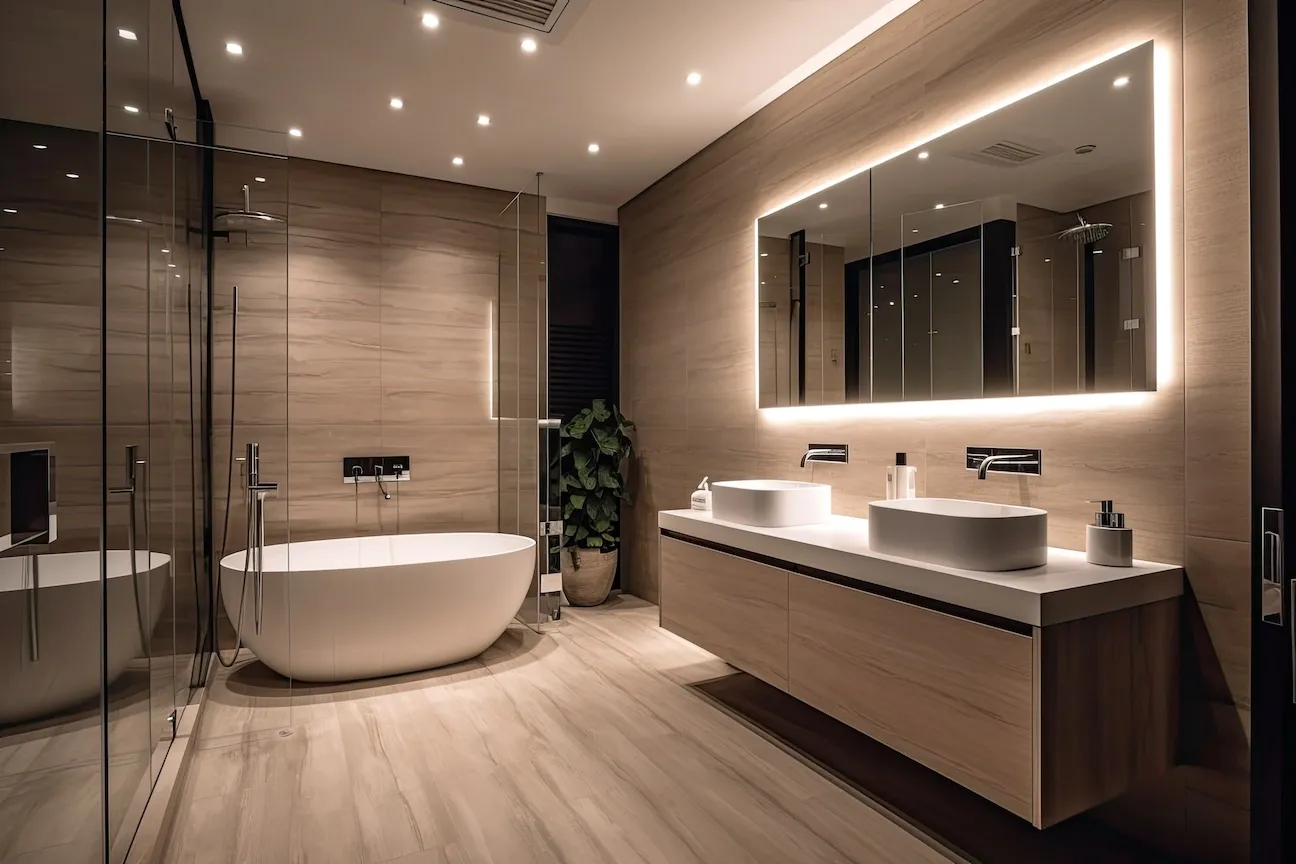 Lighting solutions are one of the most essential things regarding comfort. Poor lighting can make people feel uncomfortable and make it hard for them to get ready in the morning, underlining the important role of comfort in a bathroom. It can also draw attention to the negative aspects of your bathroom.
Lighting is prone to a range of problems. Dim or flickering lights could be due to damaged wiring. Your monthly bill could become significantly more expensive than it should be if the system is incredibly old. Your fixtures' outdated design may cause discomfort and unhappiness. Regardless of your needs, trying to install them on your own is a challenging and potentially risky task not worth attempting.
Because these fixtures require electricity, delving into them without an extensive knowledge of electrical systems and plumbing is a disaster waiting to happen. Make safety your priority and opt for a bathroom remodeling handyman to get the job done. This strategy allows you to achieve the dream space you've always wanted without any associated risk.
---
Home Toilet Removal And Installation Solutions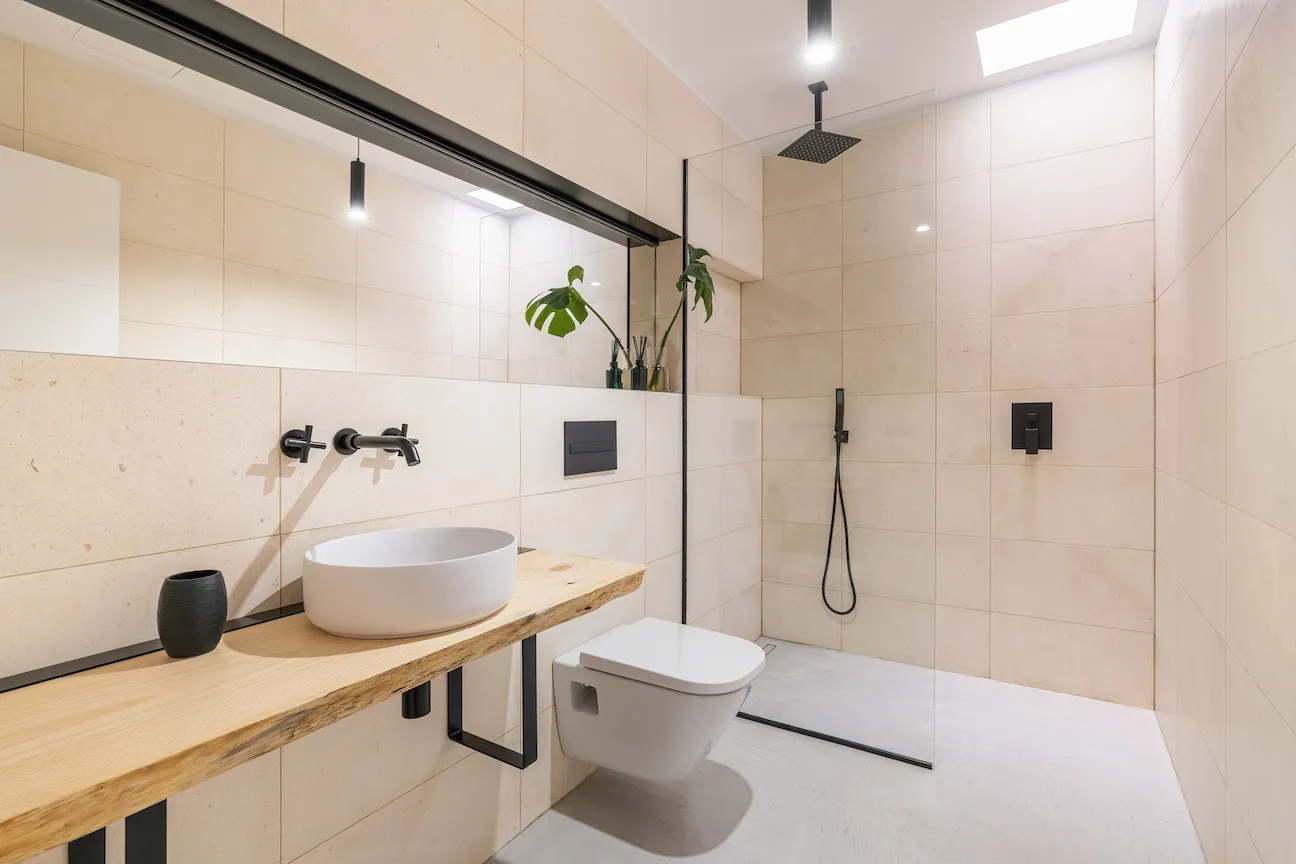 While the toilet is hardly the centerpiece of your bathroom, ensuring the one you have is fully functional and efficient is incredibly important. Frequent toilet clogs, leaks, or malfunctions can disrupt your daily routine. Installing upgraded toilets in your home will guarantee that this space functions smoothly.
Replacing your toilet involves some risk, mainly because many toilets are composed of delicate porcelain that is easily breakable or prone to cracking. Also, there's the plumbing running from the toilet that requires attention. This could result in disgusting smells lingering in your bathroom. The process of old toilet removal is difficult and requires a significant amount of skill and manpower. Trying to manage this job by yourself can lead to a messier result.
The handymen at Kaminskiy Care and Repair are here to help you with any toilet repair or replacement you need! Whether it's a single part or the entire unit that needs replacement, our team has got you covered.
---
Transform Your Bathroom with Help from Your Local Carmel Valley Remodeling Company Today!
Crafting the ideal bathroom oasis can be a challenging and time-consuming project, but it doesn't have to be. Your local Carmel Valley remodeling company is the best way to ensure this project goes without any issues. Taking it on by yourself will lead to increased expenses in the long term. When you need help with installation, repair, or home improvement projects, look no further than Care and Repair!