As a local repair company in Rancho Bernardo, one of the services that we offer is gutter cleaning. Some may overlook this given this is sunny San Diego after all. However, even without rain, keeping your gutters maintained and cleaned is very important! Leaves and debris will still continue to pile up over time and add weight that your gutters were not designed to hold. Not only that, but over time this will cause the gutters to break apart and tear away from the facade and soffit. Facades and soffits refer to the outer edges of the roof that hold the gutter. So, even without the rain in Rancho Bernardo, still look after your gutters.
The following are questions that people tend to have when it relates to gutter cleaning:
---
What is Gutter Cleaning?
Gutter cleaning is essentially just the cleaning that takes place. This includes removing leaves, debris, and other items and a flush of the system. After a full washing, your rain gutters will do a better job of channeling rainwater towards the downspout to stop flooding that could occur.
---
Routine Gutter Cleaning In Rancho Bernardo
Rain gutter cleaning in Rancho Bernardo is an important service that should be done at least yearly. Another problem that occurs is when leaves and debris get stuck inside the gutter, water will flood the area and pool into the soffits or weigh down on the fascia. This can cause the fascia and soffit to detach from the roof, creating damage. Preferably, you should clean it twice yearly. It is also crucial to perform during the fall and winter because leaves and debris can become solid, creating ice around your roof. This can be quite dangerous for the people underneath.
So, if it has been a while or if you have never had a cleaning, now may be the right time.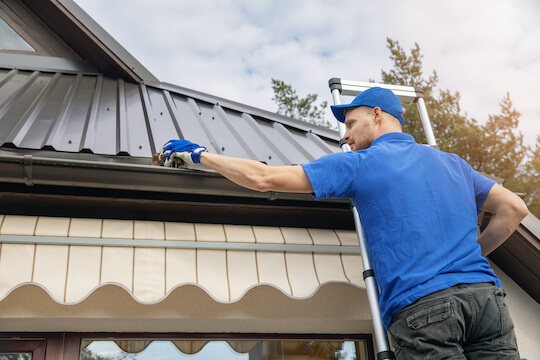 ---
Can I clean my gutters myself?
Yes, you can. However, that is usually not the best option. That's due to the fact that cleaning gutters is challenging and a bit dangerous. So, ideally, you'd want a professional with all the tools and training to handle it. Regarding safety, one of the more dangerous aspects of gutter cleaning is going on a ladder up to the roof. Without being extremely careful, you could severely injure yourself and have complications. Each year there are an estimated 164,000 emergency room treated ladder injuries and 300 deaths. So, please do your due diligence before attempting.
However, if you are in the local vicinity, this is not a problem. That's because we can take care of it for you. Repair Handyman Services are seasoned in this work and do the job appropriately.
---
Keeping Leaves And Debris Out Of Your Rancho Bernardo Gutters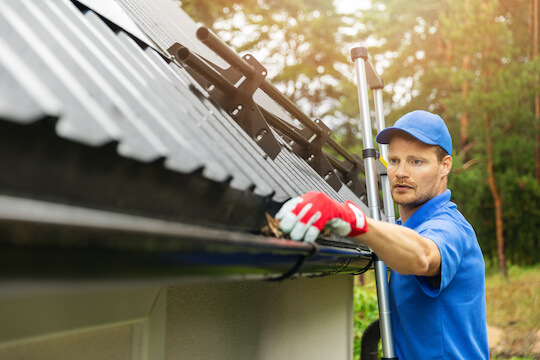 Good question! You can purchase gutter guards from your local home-improvement shop. While that won't completely protect your gutters from collecting leaves and other debris, it will certainly minimize it. However, still check and clean your gutters periodically.
There are also a multitude of guards for different climates and settings. Heated coils are available for cold weather but might not work under certain conditions. Therefore, do some research and find the ones that work best for you! Exterior house repairs are not easy to do and small errors can destroy the foundation of your house if you're not careful.
---
Your Rancho Bernardo Gutter Cleaners
You can call us! Kaminskiy Care and Repair Handyman Services is easily one of the best local handyman services you'll find in Rancho Bernardo. We provide free quotes for all our repairs and general tasks around your house or commercial property, including gutter cleaning!
It's easy to overlook gutter cleaning, especially with such beautiful weather. However, let us take care of it for you so you never have to.
We service all San Diego and would love to get to know your situation. So, give us a call and ask about our services. We'll answer your questions get you amazing service we know you'll love!