Since we're a local repair company in Solana Beach, you may be surprised to find out that we offer gutter cleaning services. The truth is, keeping your gutters clean is necessary in all climates. Leaves and debris build up over time and put on unneeded weight. Over time, this causes the gutter to come apart and tear away from the facade and soffit. Facades and soffits are essentially the outer edges of the roof that hold the gutter. So, be sure to frequently check those gutters for any damage or leakage!
Here is a list of questions we think you might have regarding gutter cleaning:
---
Solana Beach Gutter Cleaners
Gutter cleaning is doing a full cleaning of all the gutters on the roof. This includes removing leaves and debris and doing a flush of the entire system. After performing the washing, your rain gutters will do a better job of guiding the rainwater towards the downspout and stopping any damage from occurring.
---
Do I have to clean my gutters on a regular basis?
Yes. Rain gutter cleaning in Solana Beach is an important service that should be done yearly. Leaves and debris get stuck inside the gutter and flood the area and pool into the soffits and fascia. This can cause the fascia and soffit to unhook from the roof, leaving behind damage. Generally speaking, you should perform a cleaning twice a year. These should also be performed during the fall and winter months as leaves and debris freeze, creating a potential hazardous situation.
Knowing all this, be sure to get your gutters cleaned if it's been a while.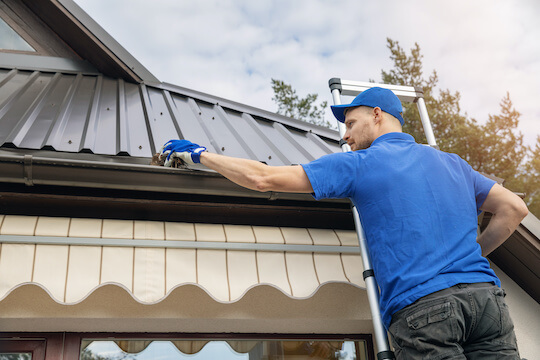 ---
Can You Clean Your Solana Beach Gutters Alone?
Absolutely! Though, we don't recommend it as it's usually not the best option. That's because Cleaning gutters is a bit of a tough job. Leaving it up to a professional is always the best route to go. Especially with regards to safety, you never want to take a chance. For example, the most dangerous part of gutter cleaning is going up a ladder. Without the proper measures taken, you can get injured. Each year there are 164,000 emergency room injuries and 300 deaths! Therefore, this is definitely not something to mess around with.
Luckily, you don't have to worry about any of these obstacles as we can easily take care of this for you. Care and Repair Handyman Services are trained professionals are happy to assist.
---
How do I keep my gutters from getting dirty?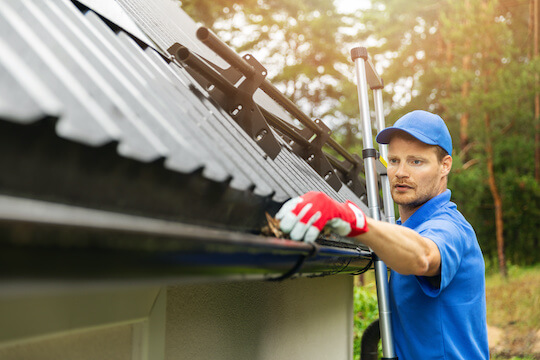 Gutter guards are a great option and can be bought from your local hardware store. While they won't completely protect your gutters picking up leaves and debris, it will definitely help with any buildup. Still, be sure to routinely inspect your gutters for any damage or leakage.
There are several varieties of gutter guards depending on the season and climate. Heated coils are great for cold winters but may not work well for others. Therefore, take some time to do research and make sure you're asking the right questions! Exterior house repairs are no laughing matter and tiny mistakes can compromise the integrity of your house if you're not careful.
---
Your Solana Beach Gutter Cleaners
We're a great option! Kaminskiy Care and Repair Handyman Services is one of the best local handyman services you'll get in Solana Beach. We give free estimates for all renovations for homes and commercial properties.
Never worry about getting your gutters cleaned again! With our rain gutter cleaning service, you can go about your days as we take care of the messy work.
We serve all of the local San Diego area so feel free to give us a call and ask about our services. We'll provide you with a free quote and assist you with any other needs you might have.