When Lafayette homeowners are ready for a new look, the kitchen is usually where they begin. As the main area of every home, it's only natural that most people start with updating this room. Remember, they set the stage for family gatherings and dinner parties. Regrettably, even the most immaculate kitchens won't stay that way forever.
As is the case with other frequently visited rooms, this area might need some extra effort to keep everything functioning as it should. The idea is to make it a welcoming and cozy area that doesn't sacrifice functionality. Problems like faulty plumbing, cabinets in disrepair, or outdated fixtures can influence your ability to use this space effectively, resulting in a dated and uninspiring appearance.
We understand the significance of a well-functioning kitchen at Kaminskiy Care and Repair. With our years of experience in home improvement and maintenance, we can help you achieve the space you have always wanted. If you need cabinet replacement or are planning a total kitchen transformation, our expert team in Lafayette can manage your most challenging projects.
---
Kitchen Island Installation Handyman Services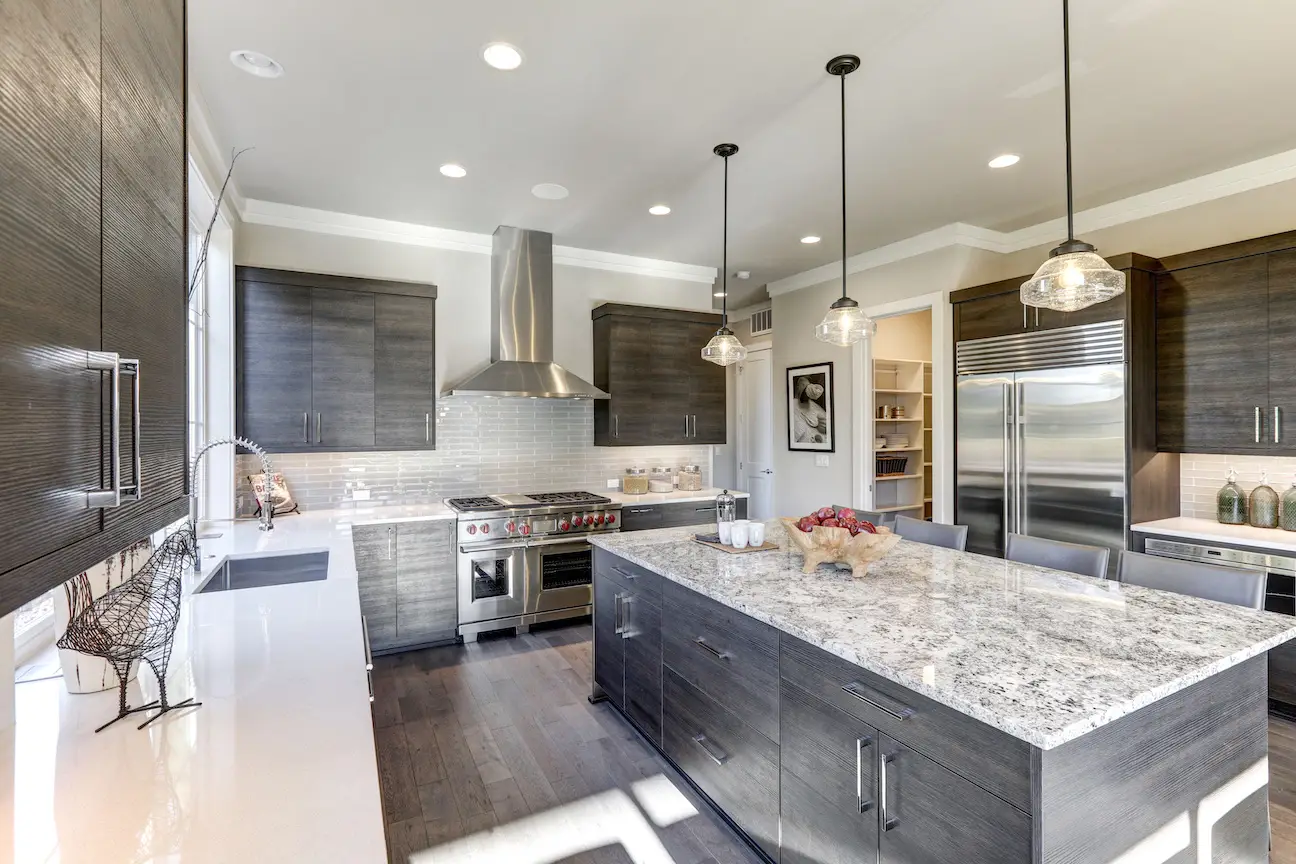 When it comes to updating your kitchen space, islands are worthwhile investments. With their addition of vital countertop and storage space, they elevate practicality and convenience, serving as a central feature of the space. In addition, they create extra workspace for food preparation during social events, keeping the kitchen from getting too crowded. Some units can even add additional seating or serve as a natural hangout spot for friends and family.
Islands can differ in size, shape, and their intended purpose. With options such as built-in seating or the capability to hold appliances like a spare fridge, islands can be a key factor in enhancing your kitchen's functionality and efficiency. Your island can be adapted to meet your needs and harmonize with the size or shape of the room. Once you find that perfect piece, call the experts to help install it!
Our team is well-versed in handling all types of islands, from prefabricated designs to custom pieces crafted to your specific needs. We have years of experience in installing every aspect of an island, countertops included. Allow us to manage the most difficult parts of your home improvement project!
---
Countertop Installation For Lafayette Homes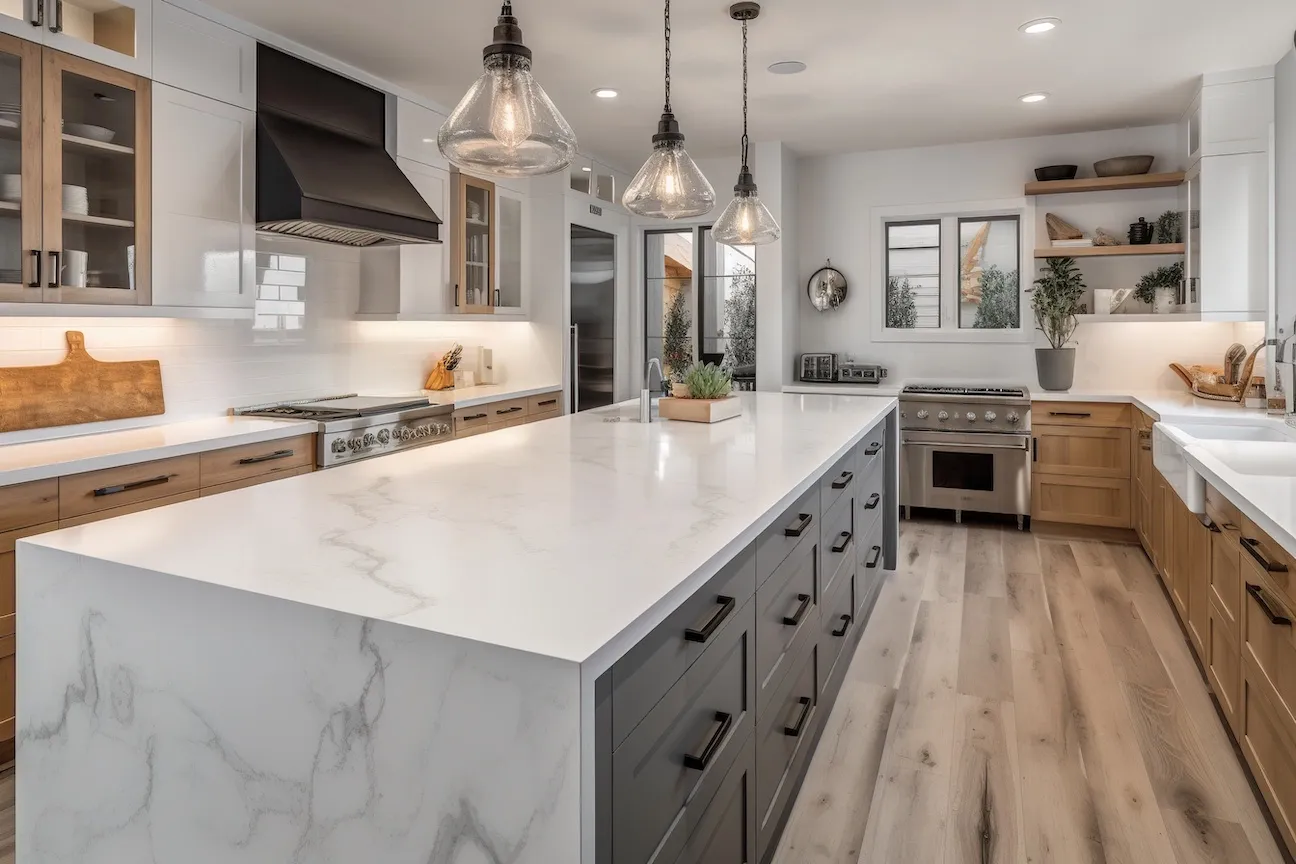 The kitchen counter is where everything important gets done. From meal prep to the art of baking, countertops endure plenty of use. This is what makes them indispensable for realizing your dream kitchen, especially if you're an avid cook. Cracked or otherwise damaged surfaces can affect how well you can prepare your meals, with uneven surfaces making it more difficult to chop. If the material is damaged, it can collect food particles and bacteria, posing a potential threat to health. To make matters worse, damaged countertops can lead to harm to the cabinets beneath them. When you see a crack on any surface, it's crucial to reach out to the experts for a replacement.
Counters account for the bulk of the usable space in the kitchen. These critical features are easily forgotten, yet choosing something that's both durable and stylish can work wonders in making your kitchen feel brand new. You would be amazed at the positive impact it can have.
Because there are many different materials available, it's now easier than ever to find one that fits your budget and meets your needs. What you want is a product that can endure your messiest experiments and simplify the cleaning process. Whether it's wood, marble, quartz, or another material, our experts can install your new counters efficiently, allowing you to get back to enjoying your space.
---
Kitchen Faucet Installation Handyman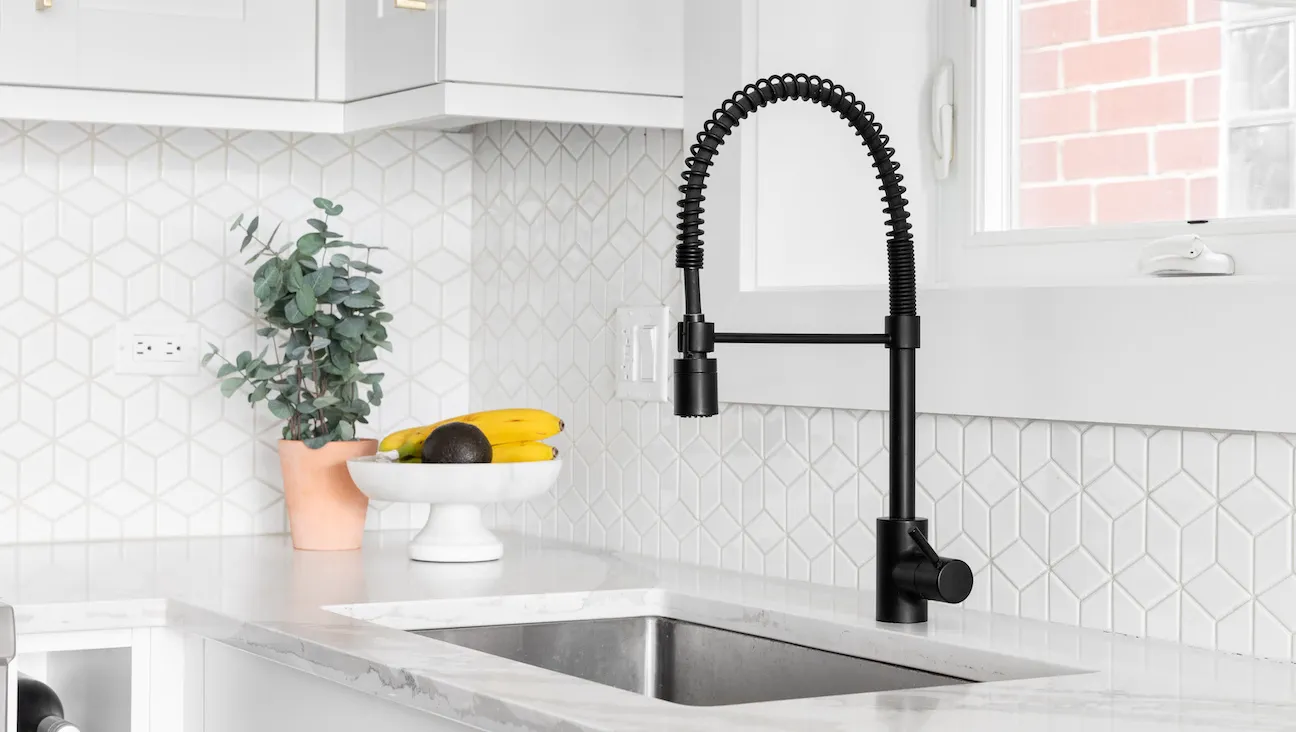 Your kitchen's plumbing is just as critical as the plumbing in your bathroom. Most fridges have water dispensers, and it's essential to connect the dishwasher to the existing pipes to ensure it functions as it should. It's essential to have running water for your sinks, as it allows you to clean dishes, your hands, or items from your recent grocery store visit.
When you notice leaks in your faucets or pipes, encounter poor water pressure, or find rust and mineral buildup, it's essential to call in professionals to bring these fixtures back to proper working order. A broken faucet can lead to a cluttered home, especially when dirty dishes start piling up in the sink.
Trust the professionals on our local handyman team in Lafayette CA to get the job done. Whether you need a completely new faucet installed or a few leaks taken care of, our team has the knowledge to finish everything as efficiently possible, so you can go back to enjoying your home. Our assistance also extends to replacing your old or malfunctioning garbage disposal.
Replacing your faucet isn't limited to situations where it's broken. From time to time, a simple fixture update can work wonders for your kitchen's design. Give your space a makeover to represent your current tastes or embrace emerging trends. You will be surprised at what a difference it can make!
---
Kitchen Cabinet Installation In Lafayette CA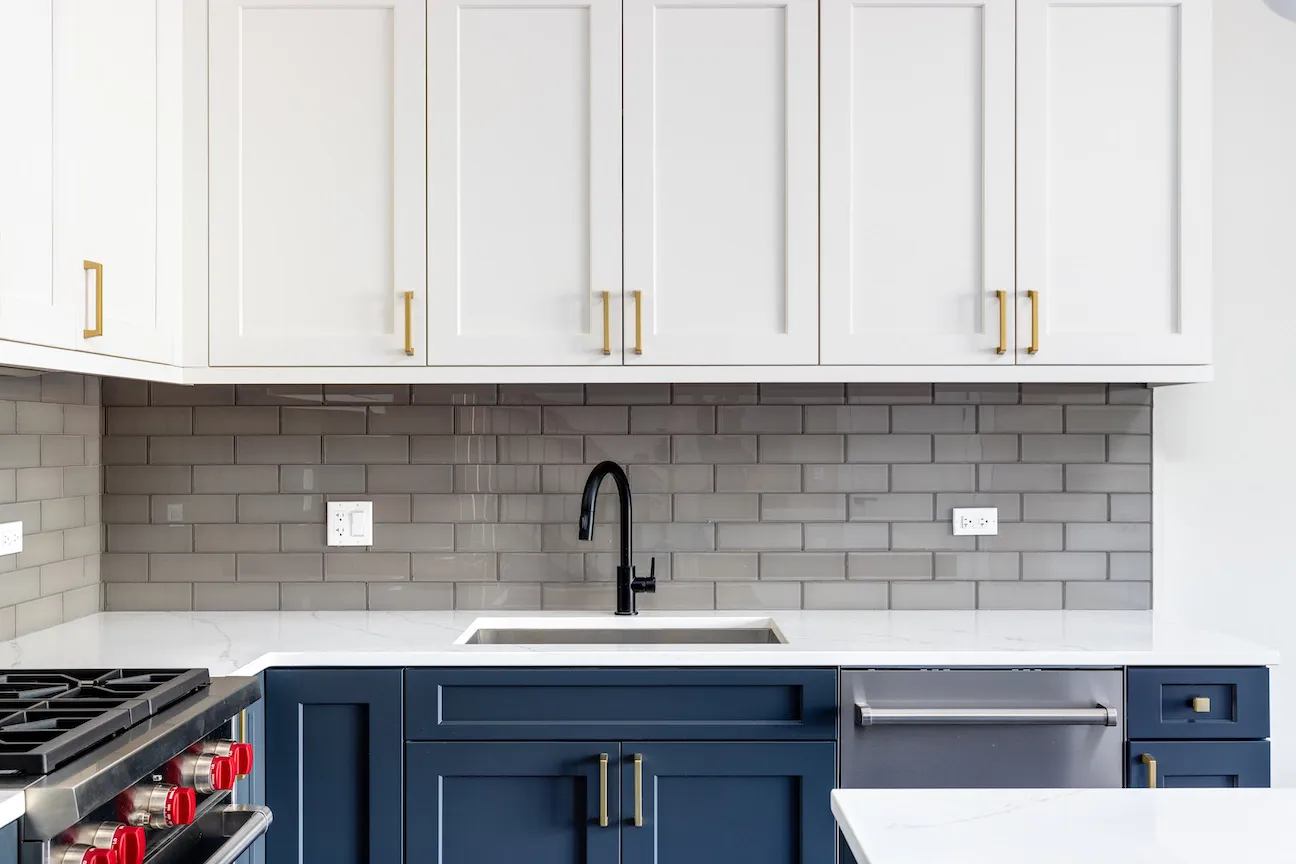 Cabinets are vital in ensuring a kitchen's practicality. They provide useful storage for all those things you do not want out on your counter. Given the vast selection of tools, toys, and technologies available to home cooks, it's important to have a designated storage area to keep everything organized.
Kitchen Cabinets offer an additional layer of defense to protect your tools. Unfortunately, this also means that these units are the first to exhibit signs of damage. Water and mold can damage your cabinets, leading to warping or cracking of the doors. Furthermore, it can lead to shelves being uneven and drawers that won't shut properly. At the earliest indication of damage, contact the experts to replace these cabinets.
Even if your units are not damaged, replacing them can give your kitchen a stylish, updated look. Today's cabinets provide options in terms of styles, colors, and finishes. With an array of options to choose from, you can customize them to fit your desired look. Additionally, you can opt for stronger materials, such as oak, which can enhance the charm of your overall interior design.
Regardless of why you want to switch out your kitchen cabinets, Kaminskiy Care and Repair is here for you. You can have peace of mind knowing our expert team can handle the removal and installation of various styles and types without any hassle.
---
Kitchen Sink Repair And Installation
While sinks play a crucial role, they are often taken for granted in the kitchen. While not in plain sight, they can still have an influence on the aesthetics and functionality of your kitchen. Replacing your cabinets and faucets may bring new life to the room, but they won't do much if you do not also have a fully functioning sink. Cracks or unsightly stains on sink surfaces can diminish the space's overall beauty.
You might also want to opt for a larger sink to better match your lifestyle. No matter which material or type you choose, our handymen can smoothly handle the removal of your old model and the installation of a new one! When you install a new sink, it's also a great opportunity to inspect for potential issues, such as plumbing or the existing faucet system. Our professionals are equipped with the right tools and experience to handle this complicated project, so you don't have to.
---
Local Lafayette Handyman For Backsplash and Tile Installation
When you're enhancing the look and ambiance of your kitchen, it's crucial to consider the backsplash above your countertops. Their role is to defend your walls against any spills, grease stains, or cooking incidents that might harm them. Not only are these installations practical, but they provide another opportunity for you to show off your design style.
Tiles or marble backsplashes that are damaged or cracked cannot provide adequate protection for your walls. Additionally, they become visually unappealing and can lend a shabby quality to your kitchen. When you replace these elements, you have the opportunity to introduce color or another design element, enhancing your cooking and entertainment area. Interesting embellishments like this can turn a good design into a remarkable one.
The sheer number of options in the market can make it hard to pick one. The last thing you'd want is to spend extra time on their installation, particularly after dedicating a lot of time, or even days, considering style options. When it comes to backsplashes, the process can also be difficult because you are fighting against gravity and need to make sure they are spaced evenly. Rather than trying to do this work yourself, let our handyman team take care of it all for you.
---
Kitchen Flooring Installation Handyman
A kitchen renovation wouldn't be finished without enhancing your flooring. Considering all the effort you've invested in creating a more inviting space, you wouldn't want badly installed floor tiles or wood to spoil the appearance. Replace those outdated pieces with something completely new to refresh your space. It can result in a significant transformation, especially when matched with our other remodeling services.
When you've settled on your flooring preference, don't hesitate to contact the experts at Care and Repair for professional installation. Our experts have everything they need to properly put in your new floors the first time, so you can spend more time cooking and hosting dinner guests. Concrete, wood, laminates, and tile can greatly impact your comfort.
We're capable of handling even the most extensive home improvement projects.
---
Local Kitchen Remodeling Handyman In Lafayette
Your kitchen is the focal point of your Lafayette home. Outdated, worn, or damaged fixtures can hinder the appearance and functionality of your space, making a complete renovation necessary. Even the most seasoned homeowners can find this overwhelming. After you've picked out all your new fixtures, the last thing you want to is to attempt a DIY installation.
This is where Care and Repair's handyman team can help. They come prepared with the essential tools, skills, and expertise to effectively complete your renovation project. Kaminskiy Care and Repair has been delivering high-quality kitchen remodeling and maintenance services to Lafayette homeowners in the region since 2005. No matter how big or small, our team can take care of it. We're here to ensure your dream kitchen becomes a reality.