If you are a homeowner in the Pleasanton, California area, and you have noticed some problems with your home, you need repairs quickly and efficiently. Maybe the bathroom is starting to leak, or the kitchen sink isn't draining correctly or your drywall needs repaired. All of these things can start to add up, and you are not sure where to start
As a homeowner, it can be extremely irritating to encounter these issues. Not only do you have the hurdle of locating an experienced handyman available to resolve your problem, but they also need to fit you in and appear when promised. We specialize in a wide array of repairs and installations to get your home ready for whatever you need — from electrical work to bathroom renovations, plumbing services, drywall repair projects, and even window and door installation.
At Kaminskiy Care and Repair, we prioritize our commitment to providing a wide variety of handyman services to ensure we can help everyone who calls. Our expert handymen can handle whatever you need, from plumbing replacements to the installation of new electrical fixtures. Kaminskiy knows the significance that a home has, so we prioritize treating it with the same care and consideration as we would our own.
Kaminskiy Care & Repair offers fast, reliable, and beautiful home improvement services for homeowners all throughout the east Bay Area. Contact us today to discuss your home's repair needs and we will get the job done right the first time!
---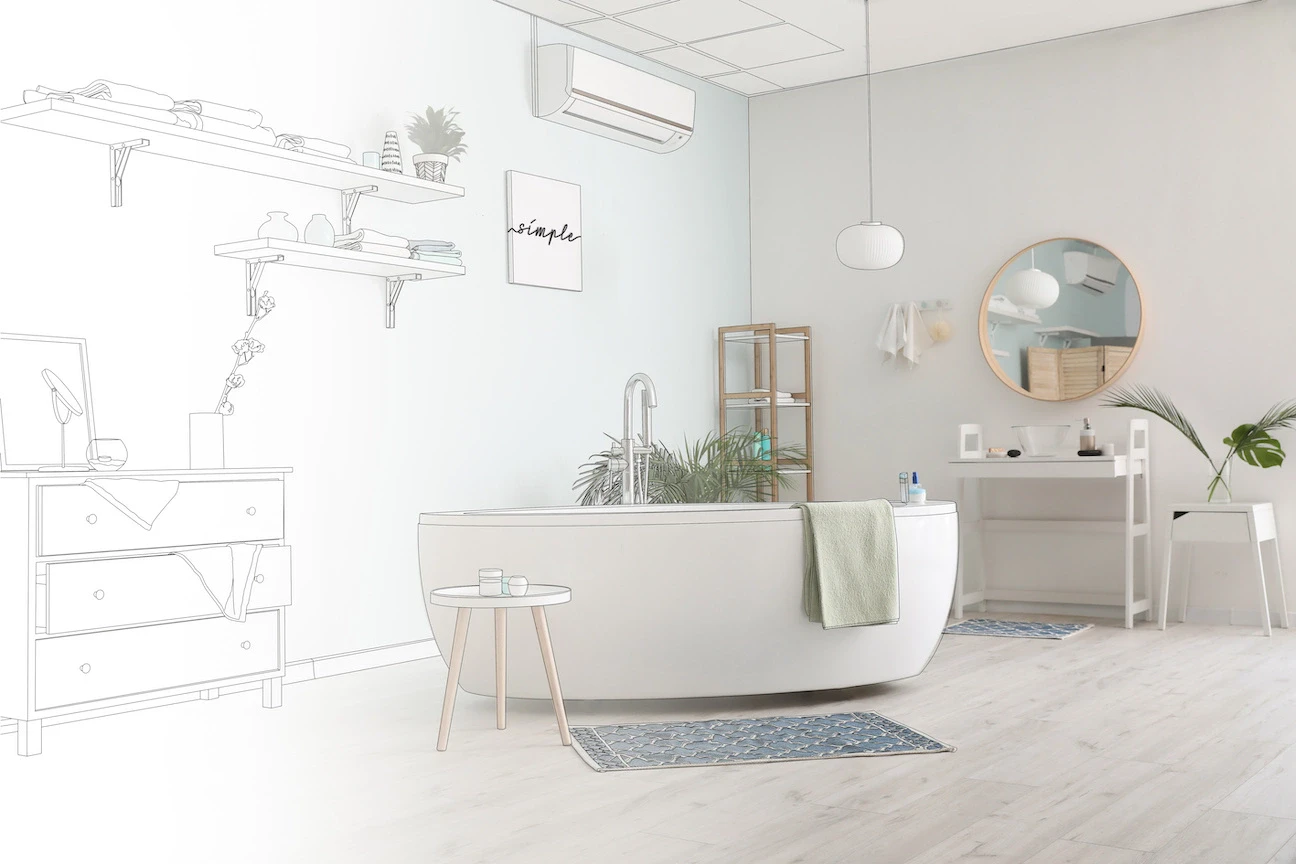 Is your bathroom in need of a facelift? Or, does your faucet leak, leading to higher water bills? Bathrooms are one of the most used rooms in the house. Your family and any guests utilize the bathroom extensively.
Issues with your bathroom's plumbing can cause larger issues down the line or foul odors leaking from the room, and no one likes using bathrooms with broken fixtures.
While outdated bathrooms may still serve their purpose, it doesn't negate the fact that they are in dire need of renovation. Old and outdated fixtures in your bathroom oasis can create discomfort for your guests. Your enjoyment of the space could also be effected. Remodeling this room is the easiest way to refresh your love for your property and provide a comfortable space for your guests.
Without a thorough knowledge of these systems, something is bound to go wrong, costing you even more money.
Hiring professional handyman who specializes in bathroom remodeling is the recommended solution to ensure the smooth and successful completion of your home improvement projects. Contact us for extensive bathroom improvement services!
Our experienced team can help! We specialize in installation, replacement, and repair services for fixtures like tiles, faucets, toilets, and more. Not only can we stop any pesky leaks, but we also give your bathroom the care it needs to look great for years.
---
Pleasanton Kitchen Repairs and Remodeling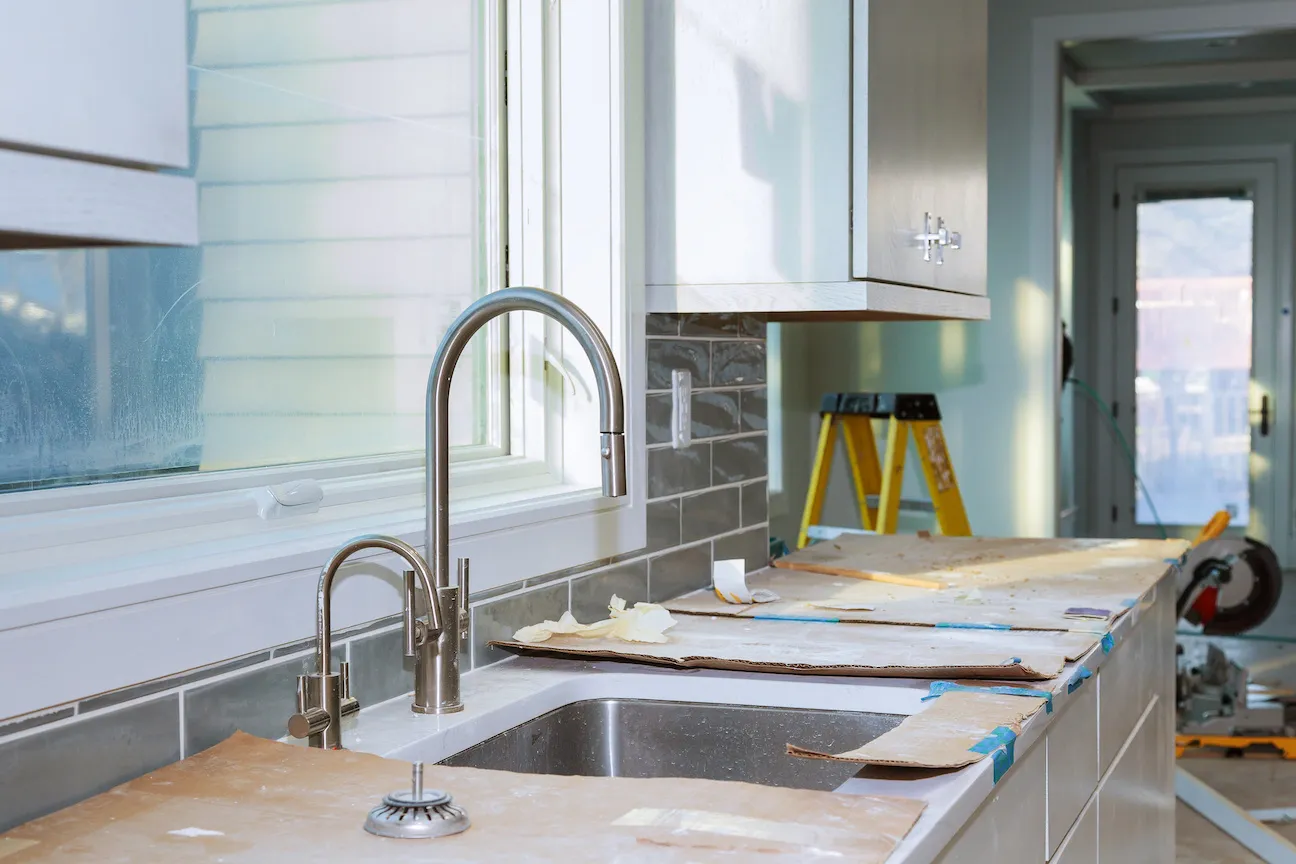 It should go without saying that the heart of the home is key in creating a welcoming place for you, your family, and your friends to hand out. Outdated or broken fixtures will do nothing but push people away from hanging out at your house and make making food needlessly difficult.
With our professional handyman services, you can remodel your kitchen quickly and on a budget. Whether it is the sink, cabinets, countertops, or even appliances needing attention, Kaminskiy Care & Repair can provide cost-effective solutions that won't break the bank. We can replace and install any new fixtures or cabinets you might need!
---
Electrical Handyman Services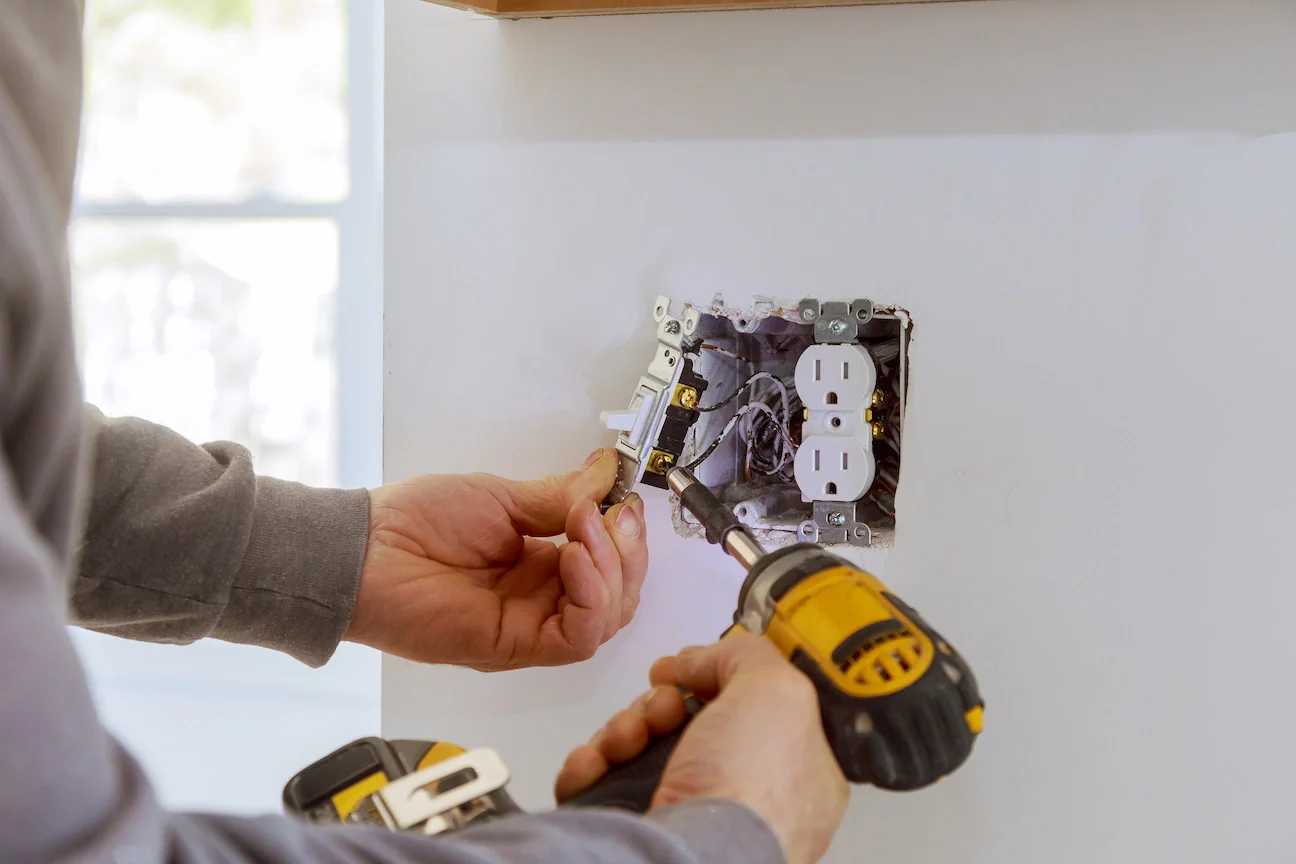 Installing electrical fixtures or repairs wiring issues is not something an untrained person should be doing. Improperly connecting wires or leaving anything loose greatly increases chances of your electrical getting more damaged and starting fires.
Getting a trained professional on the job is the best way to fix your Pleasanton house's electrical without risk of further damage.
Our team of experts is here to help you with any electrical repair job, from installing light switches and outlets to circuit breaker replacements.
We strive to ensure your home meets all current safety requirements so your family can stay secure for years ahead! Leave your toughest electrical jobs to the professionals.
---
Handyman Plumbers In Pleasanton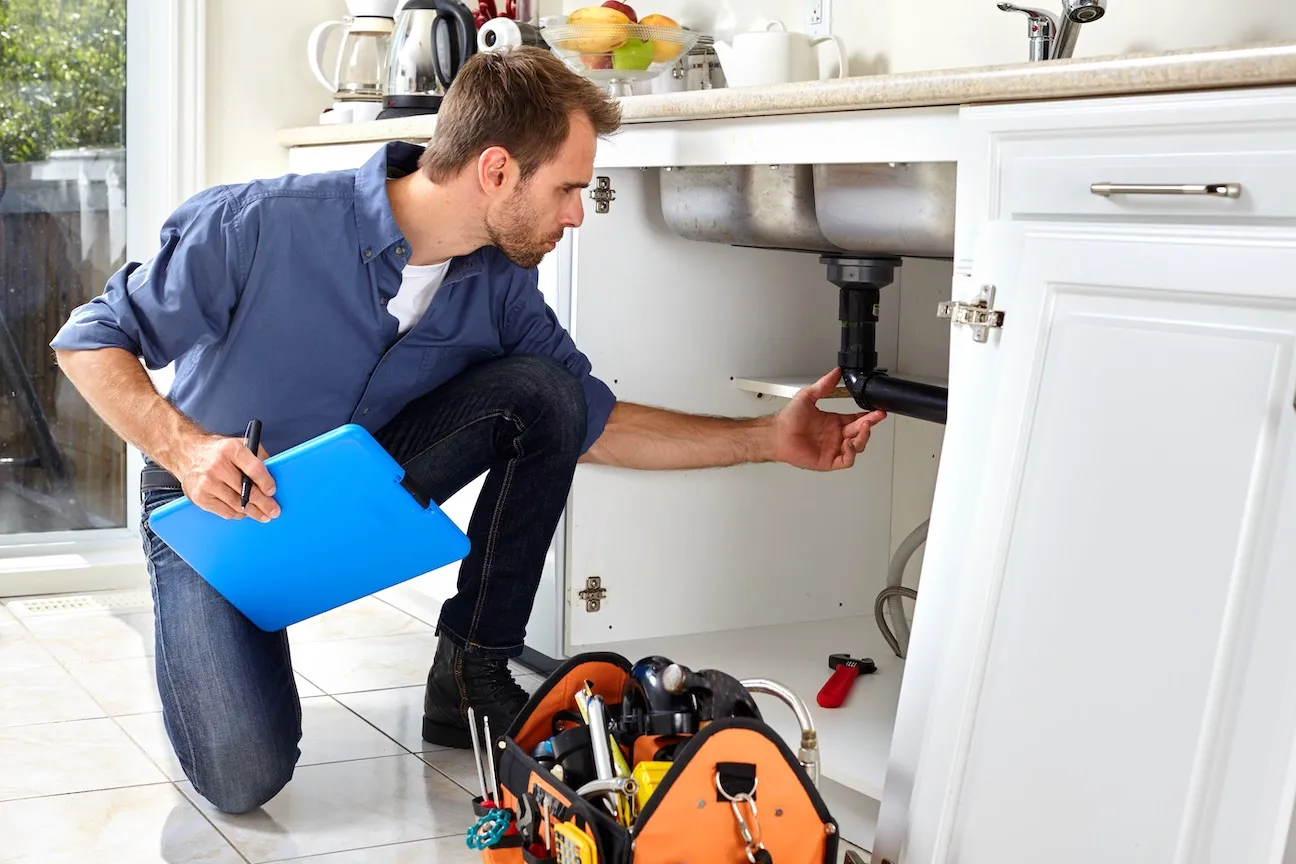 The plumbing in your home serves an integral function. When it clogs or leaks, it can uproot your family's sense of security and comfort. It can also cause foul smells coming our of your bathroom.
Our certified technicians quickly work on any plumbing problems, from faults lines to clogged drains.
With our proficient crew and commitment to quality, you can trust that your new installation or repair job will be done quickly and correctly the first time!
We can even replace any broken piping so you can go back to enjoying your Pleasanton home!
---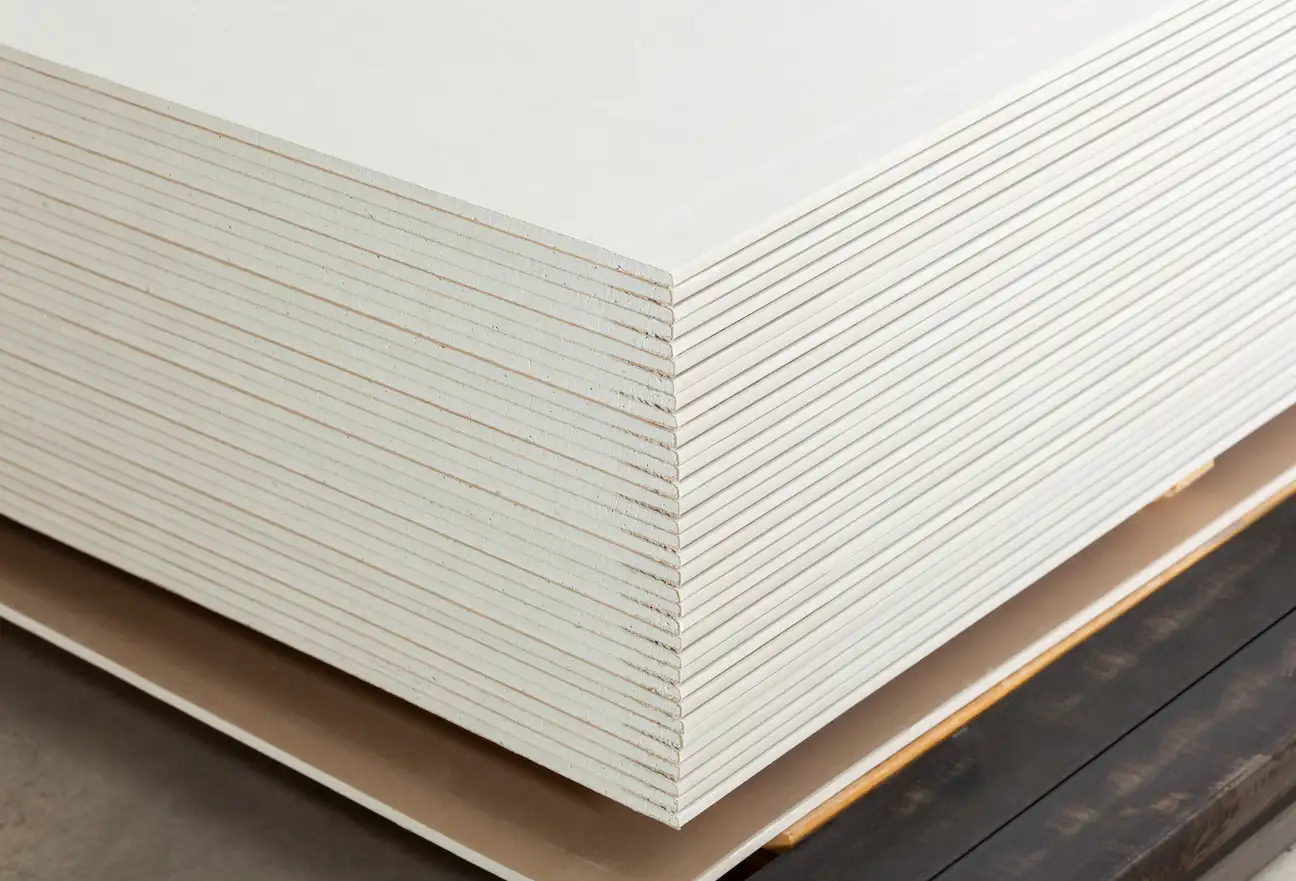 Do you have ugly seems on your walls from past remodeling jobs? Dents, scratches, and stains on the wall make your home feel uncomfortable and unsafe.
The presence of drywall and stucco damage not only affects it's overall beauty, it also increases it's vulnerability to more expensive damages. Chips in the stucco compromise the integrity of your drywall, creating vulnerability to water damage.
Dents in your drywall provide entry points for termites, mold, and dry rot to infiltrate the internal parts of your walls. The exposure of wooden supports to such conditions makes them extremely susceptible to future damage.
The best way to fix these issues is by hiring a drywall handyman skilled in making your walls smooth and consistent.
Looking for a reliable and skilled provider of stucco installation and repair services? Look no further than Kaminskiy Care and Repair. Their team of experts can handle all aspects of stucco work, delivering results that are both functional and visually appealing.
It is crucial to enlist the services of a competent local Pleasanton CA drywall handyman to ensure proper restoration, as lower quality services frequently struggle to achieve accurate texture matching, resulting in ugly scars on your wall. This draws even more attention to the damage, further contributing to an unwelcoming atmosphere.
Kaminskiy Care & Repair is here for you, from drywall installations and patches to repairs. We only utilize premium quality materials to achieve a superior finish so that you can be proud of your newly renovated setting.
Whether the job means patching up unsightly cracks or holes, or construction of entirely new walls, our handymen can get the job done right.
---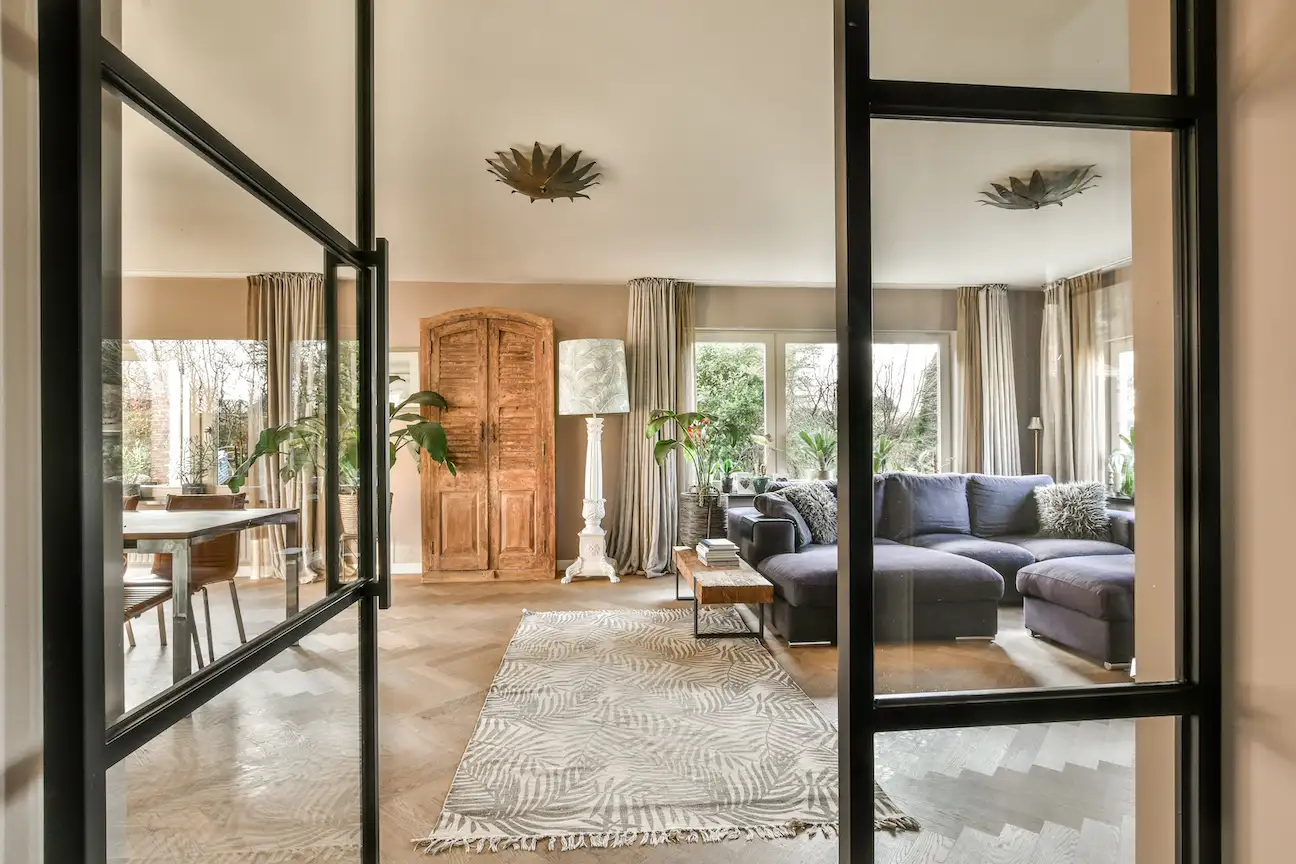 Your home's windows and doors contribute to its energy efficiency, security, and aesthetic appeal. This makes it especially important to make sure they are sealed properly and are not broken.
Because of the critical role in maintaining the insulation of your home it is important to address issues right away. When there are broken seals or loose joints, it enables outside air to infiltrate the space. This means you pay more for AC or heating, as the outside air will warm or cool your home, depending on the time of year. You could also need your doors replaced for purely aesthetic reasons. Outdated and rundown entrances can give a negative impression.
Your windows and doors also serve as an important aesthetic function for your house, so out-of-date or broken doors won't welcome guests into your home.
What you need for your windows and doors is a handyman trained in repairing and installing them on your house.
Kaminskiy's door and window handymen have you covered, no matter your needs. Sit back and relax as we handle the project for you. Our team of technicians has the tools and experience to expertly install or replace your home's windows and doors safely and effectively so that you aren't sidelined with gas and electric bills that go through the roof. Call Kaminskiy Care & Repair today!
---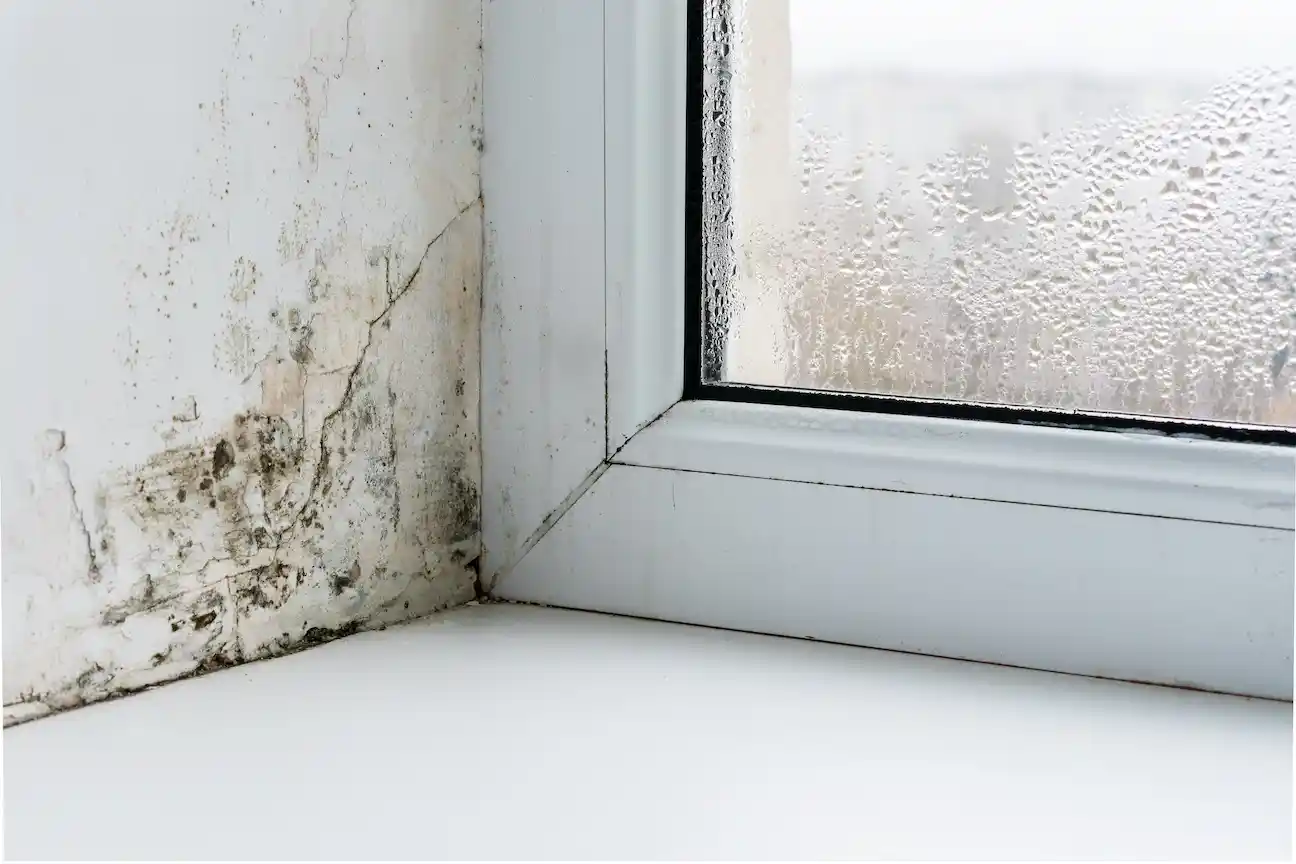 While not the only cause of drywall damage, water and mold often leave harsh, lasting marks on your walls. Even after removing the mold or moisture, the damage that remains cannot be ignored or left unaddressed.
Once you have addressed the source of water damage, you may discover that your walls have been damaged and deteriorated. Leftover water can promote the growth of mold. This would require a substantial expense to ensure the safety and health of your family. By replacing the affected walls, you can maintain beauty and functionality while ensuring the good health of your family.
Discovering a patch of mold in your home is frightening. Mold is a common occurrence, but it becomes problematic when it grows large enough to be seen and spread with spores. Having mold spores floating around in the air can negatively affect your and your family's health.
Leaving mold infestations untreated will only contribute to the escalation of the issue, meaning swift and thorough removal.
We offer mold remediation services along with restoration. We can help in renovating surfaces that have been damaged by mold infestations. Call us today for all your Pleasanton Mold and Water Damage repair needs!
---
Dry Rot And Termite Damage Repair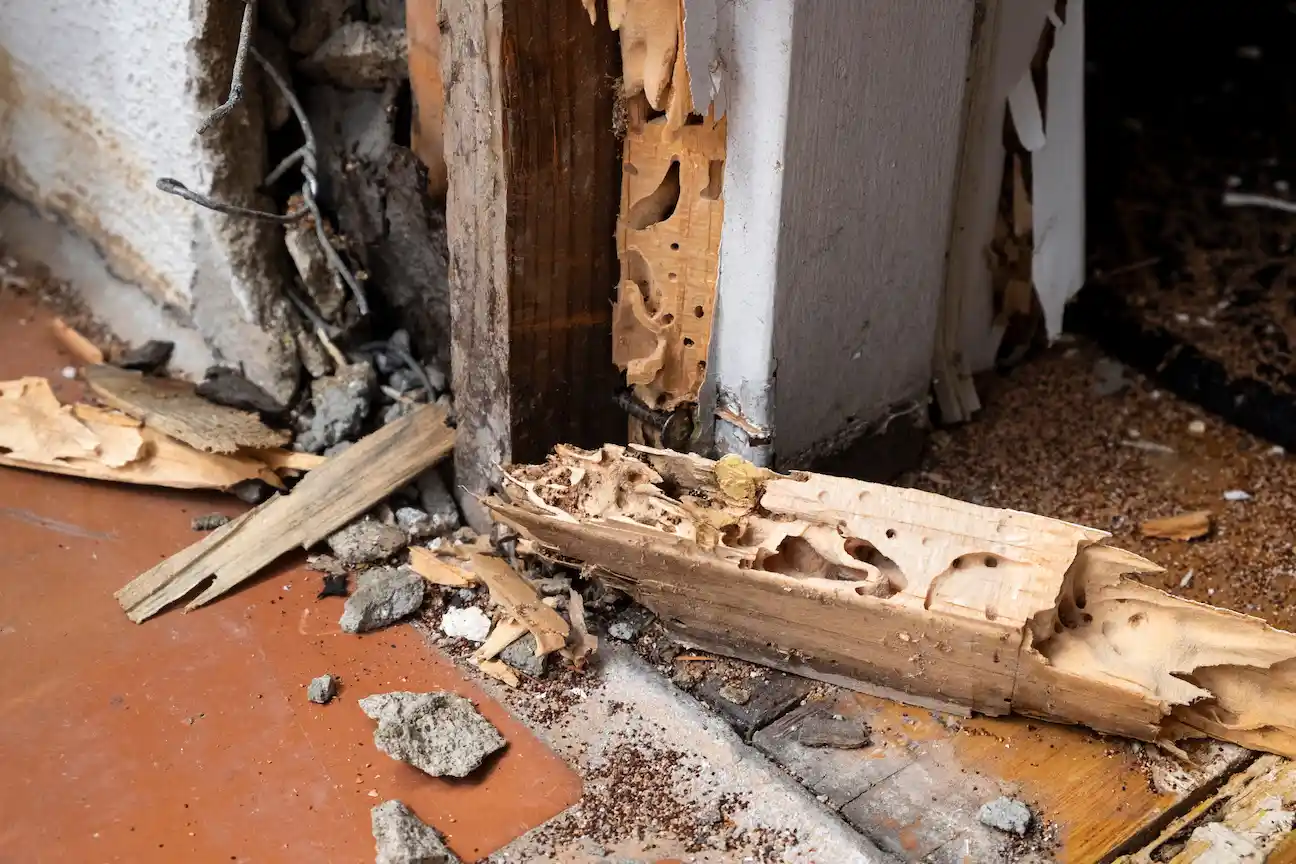 There are multiple types of infestations that can invade your house. Both dry rot and termites pose significant risks, as they can devastate the wooden parts of your home. From wooden supports to wooden flooring, they can wreak havoc on aesthetic features and structural integrity. Timing is everything. As soon as you have the all clear start repairs right away!
Dry rot is a type of fungus that consumes wood. While dry rot and termites may not consume every portion of the wood, the remnants they leave are weak and susceptible to easy breakage. This means any wood supporting structures wouldn't be able to do its job right.
Termites are known for their ability to eat through wood surfaces. Although eradicating the infestation will prevent further spread, it will not restore the weakened state of the brittle wood. The majority of exterminators do not possess the expertise to replace the delicate wooden surfaces, leaving your house at a higher risk of structural damage.
Hiring a professional Pleasanton dry rot and termite service is the most effective way to guarantee your home's structural integrity. Call Kaminskiy Care and Repair East Bay today for all your termite and dry rot repair needs!
---
Fence Repair And Installation Services in Pleasanton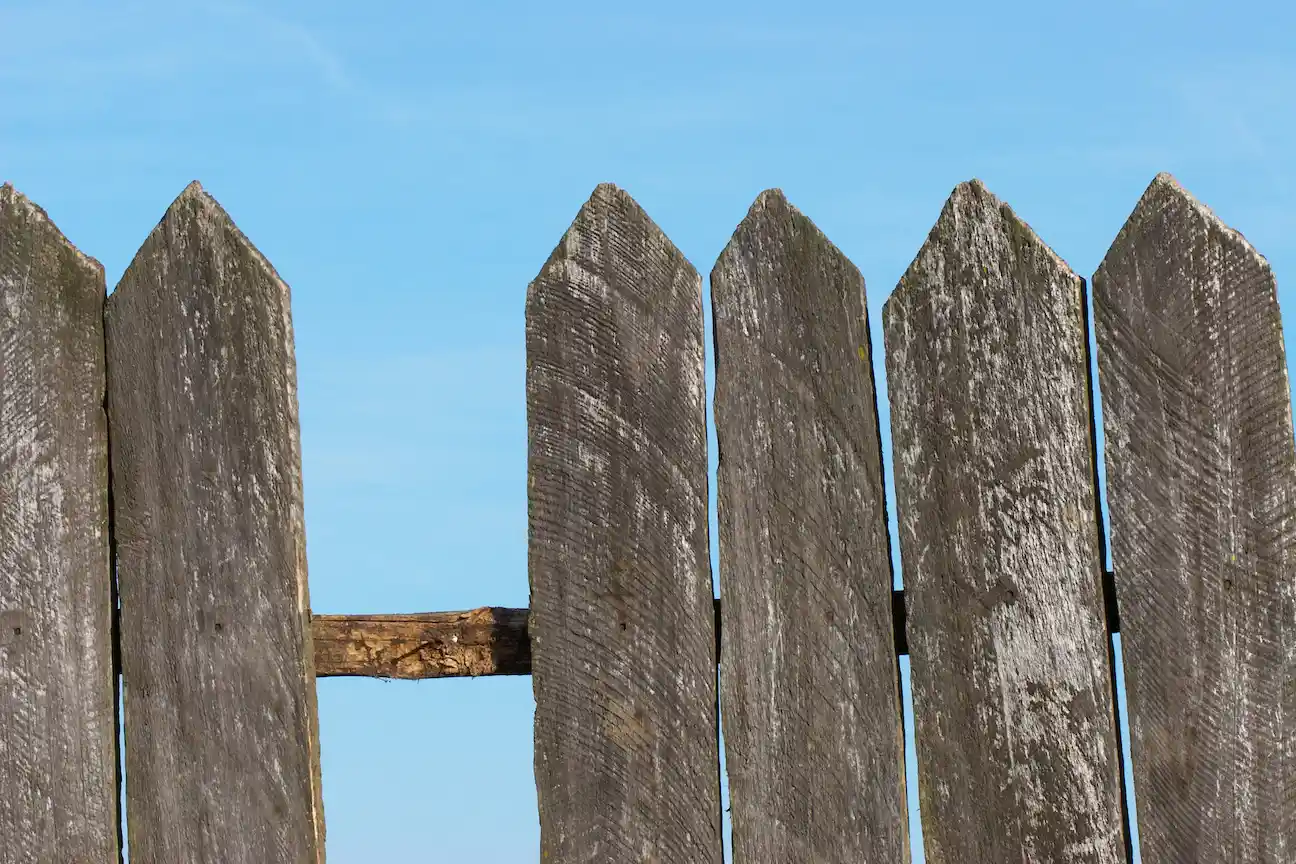 A gorgeous, fully-functioning fence does more than compliment your landscaping. In addition to marking your property boundaries, fences act as a protective barrier to discourage trespassing and provide noise reduction from adjacent traffic. Properly maintained fences will also add a lot of value.
Many factors can lead to damaged fences and gates. No matter how the damage is received, it is preferable to promptly address fixes instead of procrastinating. The more time passes, the worse the damage will be.
Rest assured that Kaminskiy will provide comprehensive assistance for all your fence and gate requirements. In addition, our team of experts excels in the installation of new fencing. Call our expert for all your Gate, Fence and Deck repair needs in Pleasanton CA today!
---
Your Local Pleasanton Handyman Service!
Since 2005, our handymen have helped homeowners like you with their home improvement needs. Our handyman can handle any job, from drywall installation to extensive electrical repair. A single call is all it takes to return your home to normal.
Attempting home repair or improvement without proper training can result in increased risk of harm to both you and your property. Certain projects may unexpectedly demand several days or even weekends to be fully resolved. Your home is an investment, and we understand trusting someone with its health is a big decision. Kaminskiy's handyman services in Pleasanton is the best option because of our guarantee: if any repair we make on your home fails within the first year of us doing it, we will fix it for free! You should not have to pay extra for our mistake.
Instead of risking the complications that may arise from attempting to address home problems on your own, entrust the task to an expert handyman service like Kaminskiy Care and Repair!