Are you looking for an expert handyman in Lafayette CA that can give you top-notch home improvement services? Kaminskiy Care and Repair is ready to address your needs.
Purchasing a home is often considered the most significant investment a person will make. In this house, you can foster a loving environment for your family, create treasured moments with those that you love, and, most importantly, embrace the joys of everyday life.
When things break, you don't always have the time or ability to make the necessary repairs. Still, broken fixtures will negatively impact your enjoyment of your home. Leaving these broken fixtures alone for an extended period could also cause the damage to grow. Enlisting the assistance of an expert handyman contractor ensures that your property is completely functional, without any effort from you.
Whether you need a bathroom or kitchen repair, new doors and windows installed, or a fix for electrical, drywall repair, water damage and plumbing issues in Lafayette CA or the surrounding area, you can rely on our quality local Lafayette handyman service to have the experience needed to get the job done right. Give us call today and experience the Kaminskiy Care and Repair Difference!
---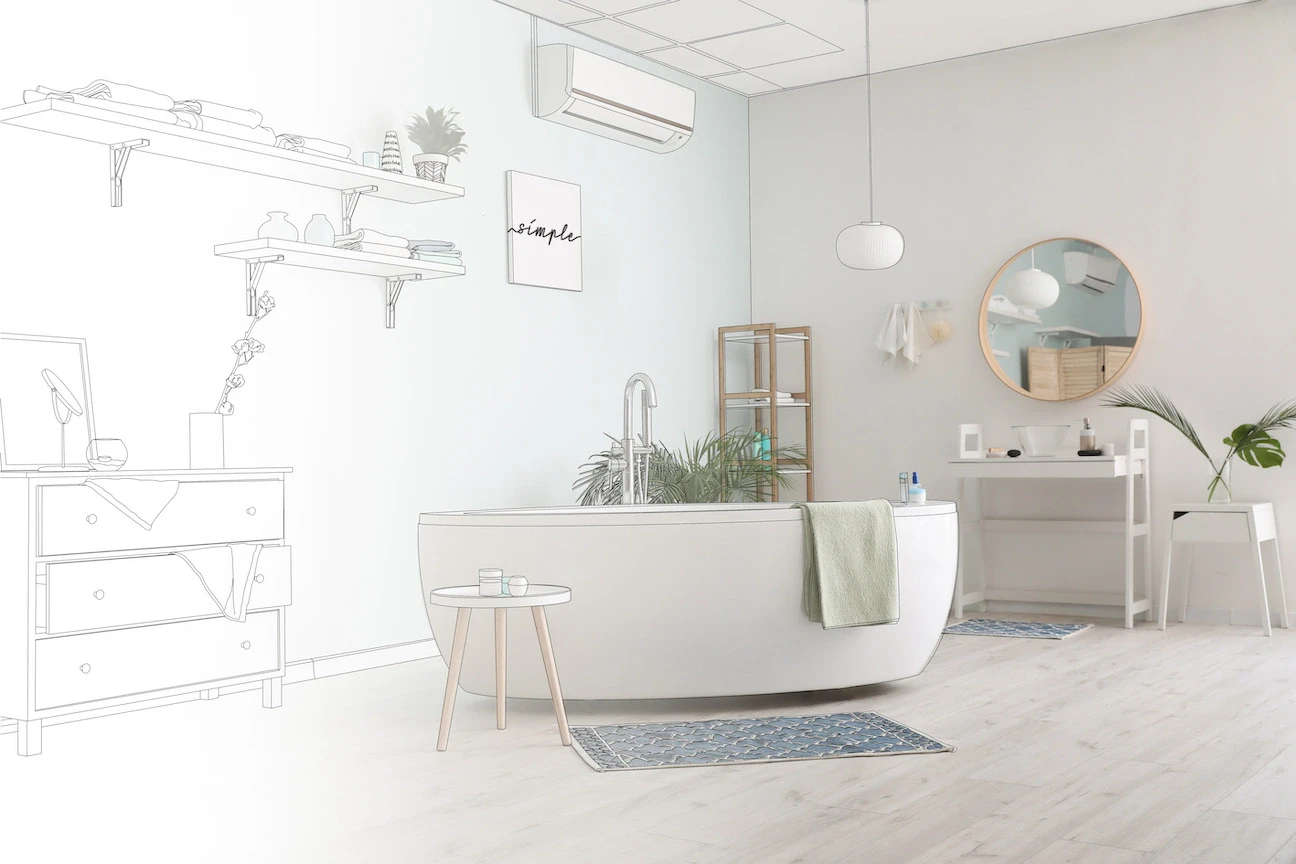 Are your bathroom tiles cracked? Is your shower head leaking? Is your toilet continuously running? Problems like these can cause discomfort and even interfere with your daily responsibilities or cost you a lot more money in water bills. You could also feel like your bathroom doesn't reflect your personal wants or needs, or the design is just straight-up old.
These spaces are consistently among the busiest rooms in any household. They are in consistant use by you, your family, and your guests throughout the day.
Regrettably, various issues can occur in your bathroom, such as leaks, clogs, and poor ventillation. It is crucial to promptly address and fix these problems as soon as you notice them. The presence of clogs in your bathroom's plumbing can cause unpleasant smells to permeate the air due to water backup.
It also risks you completely flooding your entire bathroom. When lights are broken, the lack of illumination poses a safety risk for anyone who uses this room.
Regardless of the nature of the work needed in your bathroom, it is best to refrain from undertaking this project by yourself.
The bathroom houses intricate electrical and plumbing systems, which necessitate a thorough understanding and careful handling. Without a complete knowledge on these systems, you're bound to make a mistake. This will end up costing you a lot more money in the long run.
Save time and stress by contacting a trusted handyman like Kaminskiy Care and Repair, Lafayette's number one bathroom remodel and repair handyman! Whether it is a simple or major bathroom improvement or repair, you can expect consistent and top-quality services from our dedicated team. Call our office today!
---
Kitchen Remodel and Repair For Lafayette Homes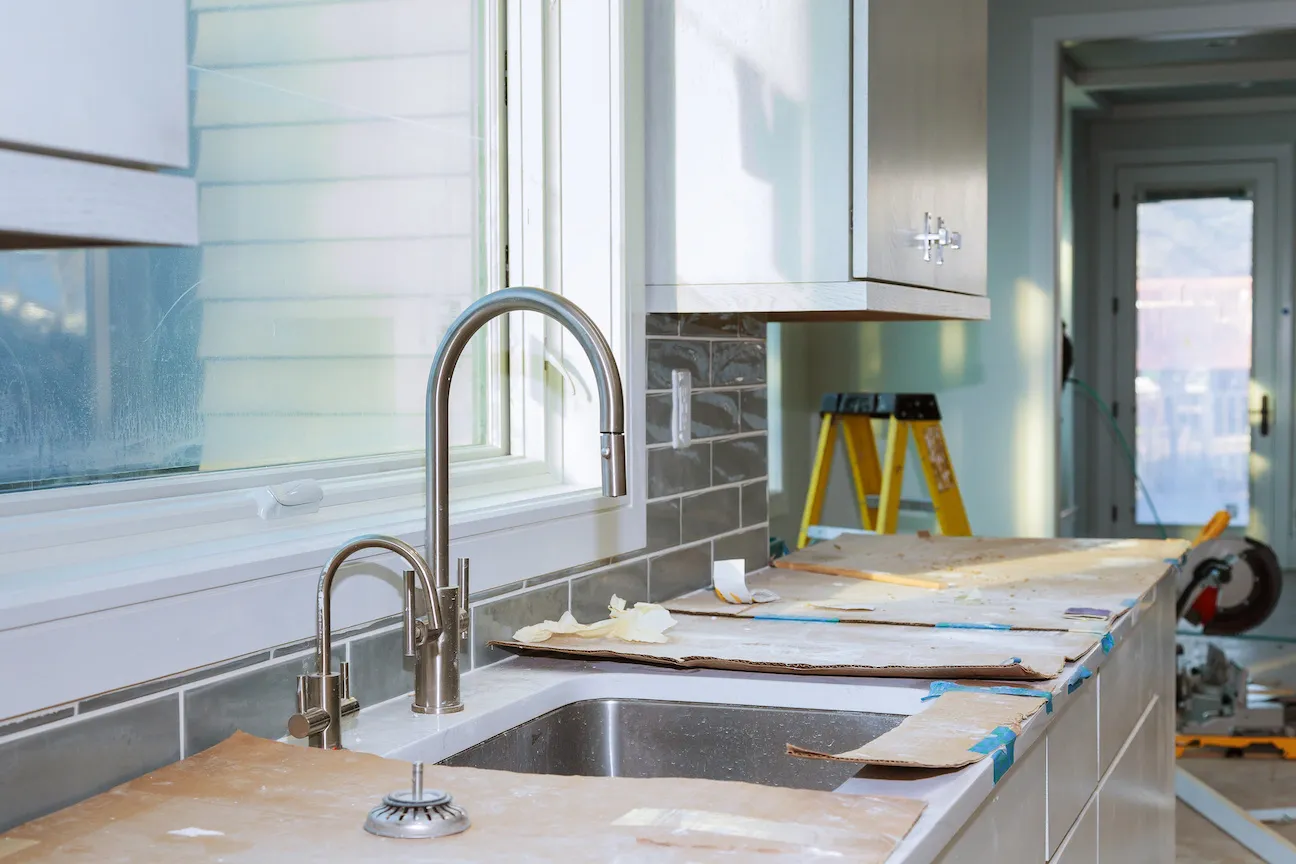 Are you suffering from leaky faucets? Are your tiles chipped and ugly? Do your kitchen cabinets have broken hinges or knobs? As the heart of the home, the kitchen needs to be in tip-top shape for when you host friends and family at your house.
Having a kitchen with broken fixtures or an outdated design needs to be taken care of by a professional team of expert handymen.
Let Kaminskiy Care & Repair in Lafayette, CA, do the job for you. Since you and your family likely spend a lot of time in the kitchen, you want it to look great and be fully functional.
With our expert team and cutting-edge tools, you will soon love the heart of your home again.
---
Lafayette Electrical Handyman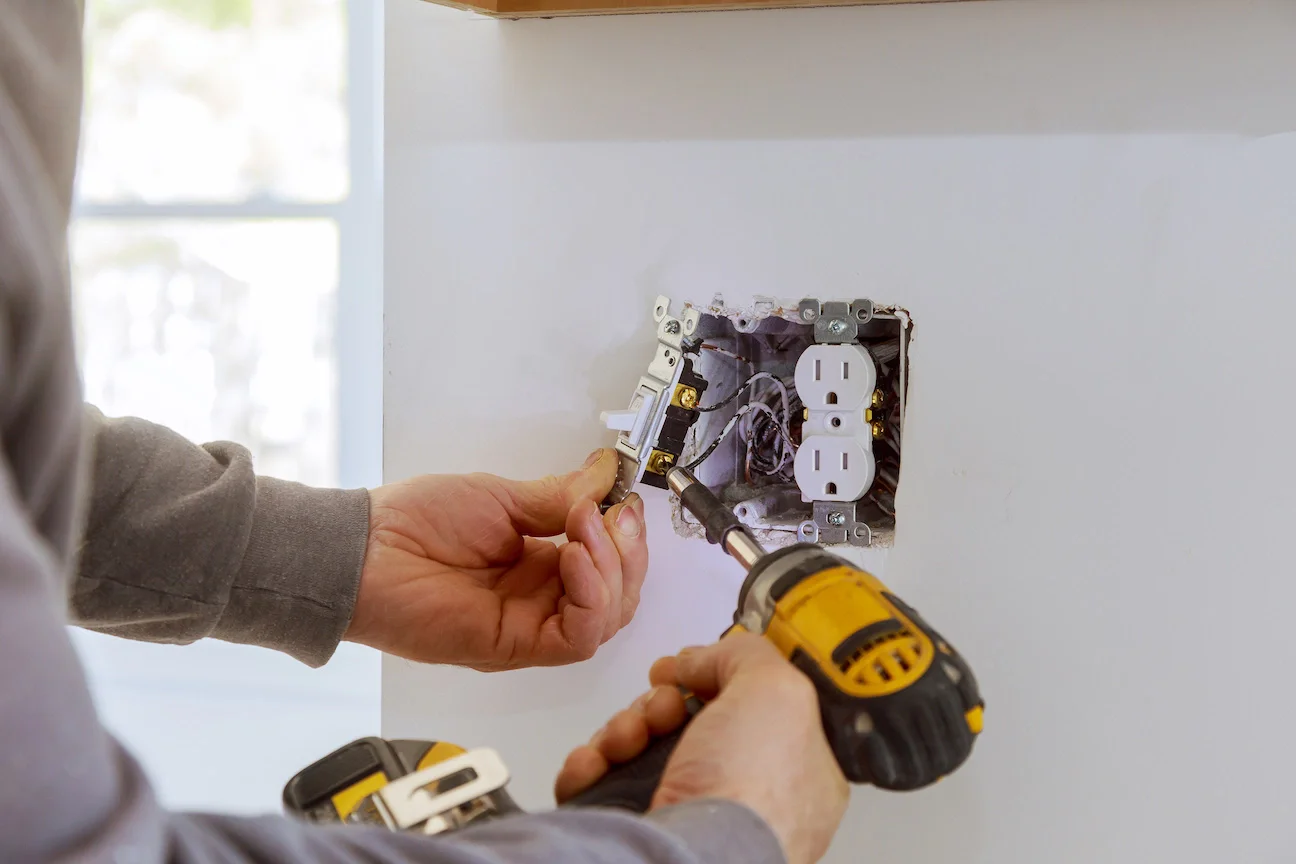 Installing electrical fixtures like ceiling fans or lights in your home is a tricky business. Improper installation of the wiring or leaving wires loose can lead to damage of your electrical system, or spark fires. When installing electrical fixtures or fixing problems with your home's system, you need a professional to ensure the job is done right.
Are you looking for a general contractor that can handle your electrical repair needs? Our team of maintenance and installation experts is here to fix those electrical problems for you. From repairing ceiling fans and other appliances to wiring lights and installing new outlets, or even mounting TV's on the wall, we will make sure you can enjoy your home amenities without worrying about safety risks. Let the professionals handle all your electrical needs.
That is why our electricians are here to ensure that your home runs smoothly with a well-maintained electrical system. Our expert team can work on all projects, from basic lighting fixture installation to complex wiring repair.
---
Plumbing Handyman In Lafayette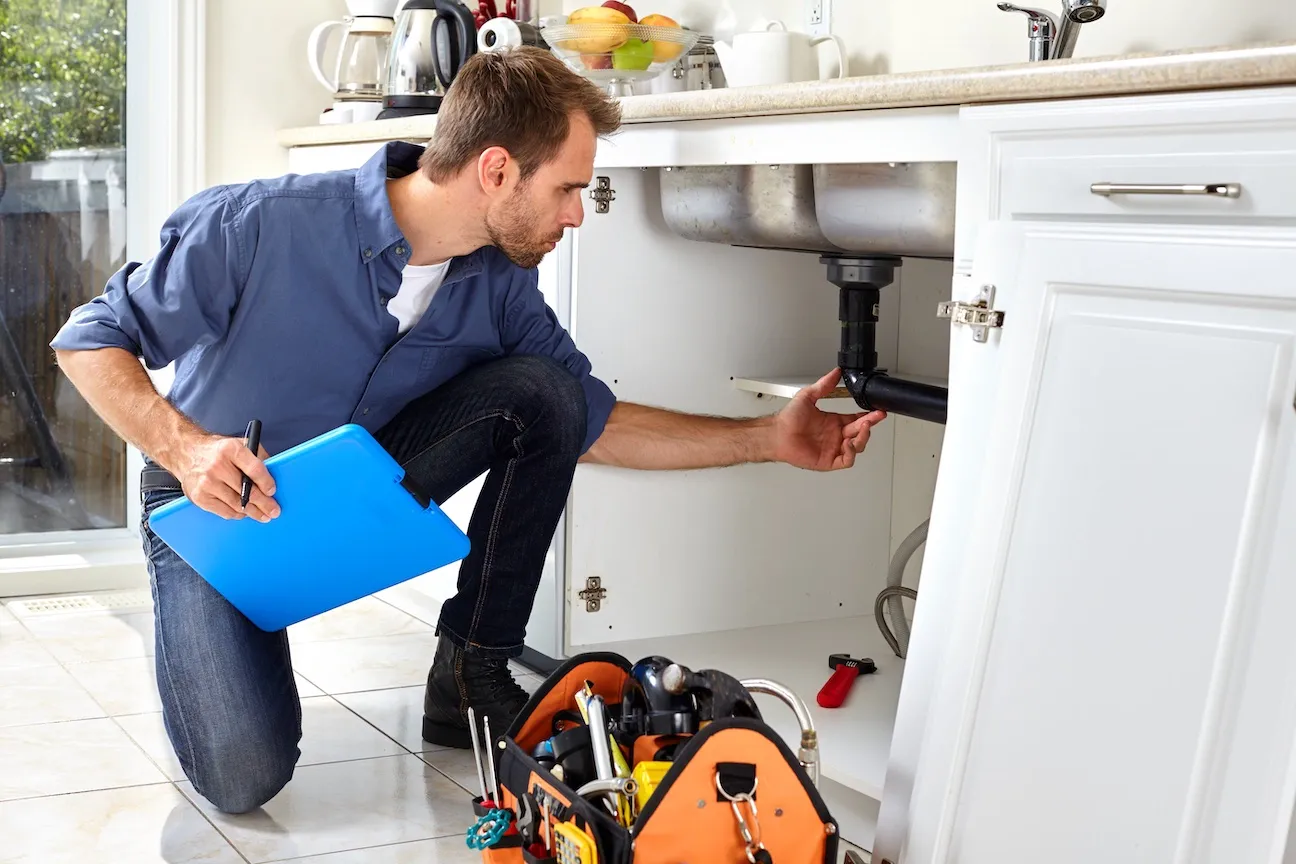 Has your toilet suddenly stopped working? Maybe your bathtub is starting to leak while you are trying to relax after a tiring day. Your sink could be clogged, too. Plumbing issues like these will not only leave you stressed but also prevent you from fulfilling your daily tasks. Handling plumbing issues alone is a confusing maze without proper training.
With professional handyman services, you can go back to your daily routines with ease. From garbage disposal installation to drain clearing, Kaminskiy will satisfy all your plumbing needs. Call our office today to get professional plumbers at the cost of a general handyman!
---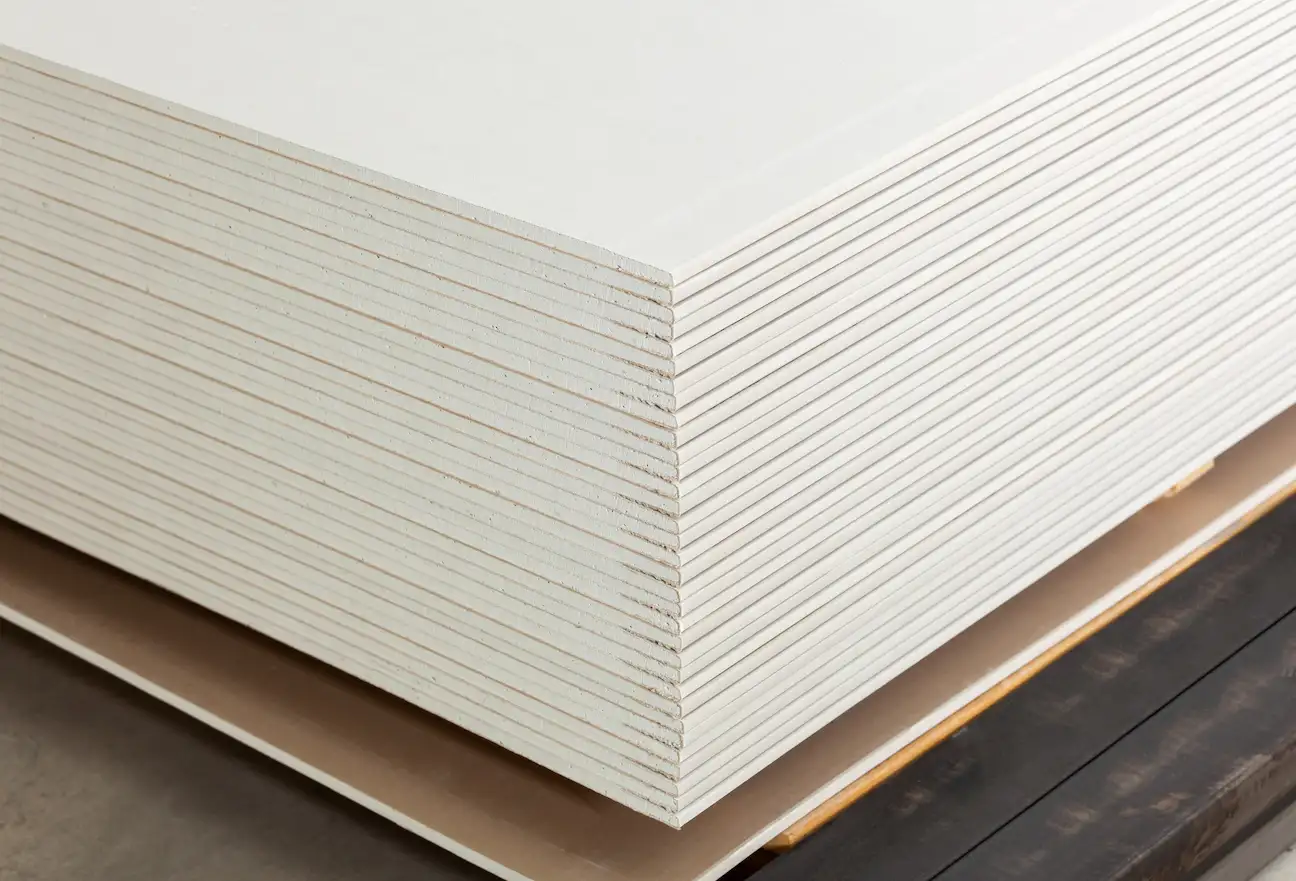 The drywall in your Lafayette home is something you don't think about until its damaged. Stains make your wall look extremely ugly, and cracks and dents can affect the structural integrity of your home.
When accidents leave a mark, your eyes will constantly catch on the dents, cracks, or stains on your walls.
The detrimental effects of drywall and stucco damage extend beyond the loss of enjoyment, as it also heightens the potential for more serious issues to arise. Chips in the stucco will leave your drywall vulnerable, and dents in your drywall give termites, mold, and dry rot access to the internal structures of your walls. The exposed internal wooden supports are highly vulnerable to termite infestations.
You could also need new drywall installed, but don't know the first place to start.
Securing the assistance of a reliable Lafayette drywall handyman is critical to ensure a satisfactory outcome, as inferior services often struggle to achieve a seamless texture match, leaving evident blemishes where the drywall was fixed. This still draws attention to the damage, making it feel even more unwelcoming.
A prompt drywall repair can help you not only maintain the beauty of your Lafayette home but also keep its structural integrity. Whether you have discovered a hole, water leaking from your walls, cracks, or some damage caused by moving furniture, our expert handymen have you covered.
Our experts are also able to install new drywall to better divide your home how you see fit. From drywall to ceiling and stucco maintenance, we will make sure any damages are addressed with precision and quality.
---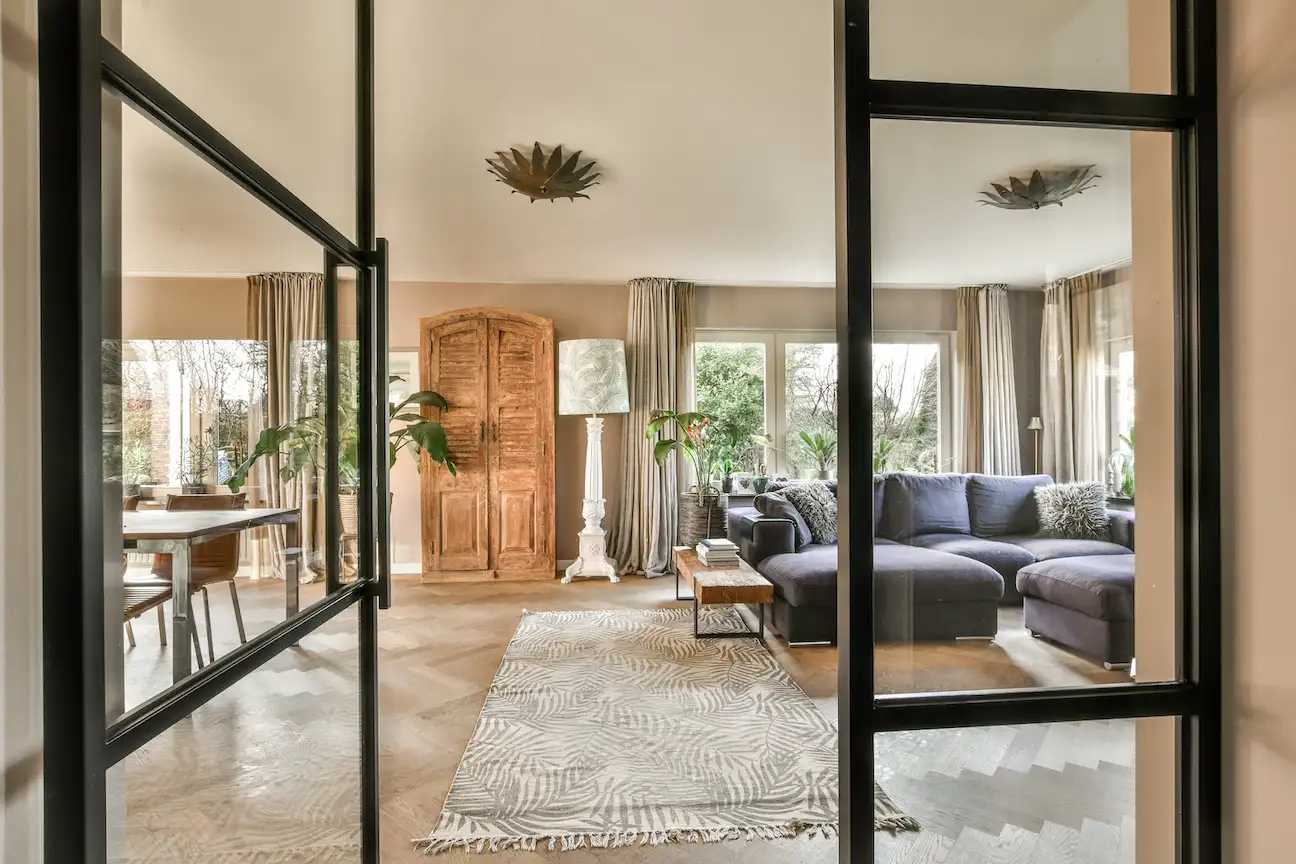 Your doors and windows help keep you and your family safe from harsh weather conditions and possible intruders. Whether it is a broken component, damaged hardware, or poor air sealing, you should address these issues right away to ensure comfort and safety and save on energy costs.
The insulation heavily relies on the presence of doors and windows. In the presence of broken seals or loose joints, air from the outside can enter the space. As a result, you will end up paying more for air conditioning or heating since the outside air will effect the inside air. Additionally, there may be a need to replace your doors for the sole purpose of improving the overall appearance. Outdated and rundown entrances can give a negative impression.
Installing or repairing these fixtures on your own could lead to poorly sealed entrances, doors that catch, or wasted, broken windows littering your property. You need a handyman who knows the best way to seal the entrances to your home. Connect with Kaminskiy Care & Repair for prompt and quality window and door repair and installation!
No matter your specific needs, Kaminskiy's team of door and window handymen is equipped to assist you. Take the burden of door and window repair off of your shoulders. For same-day service, call us today!
---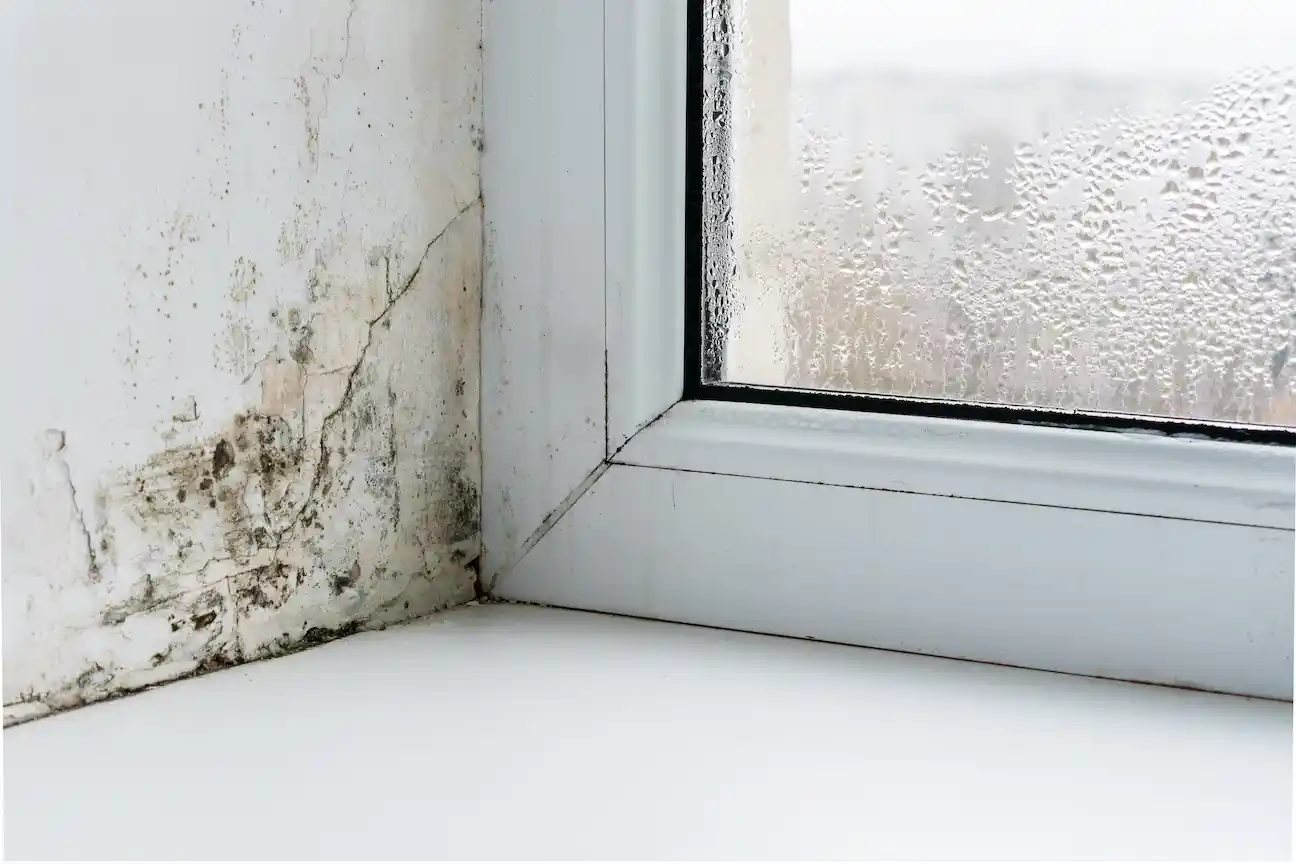 While there can be various reasons for drywall damage, water and mold are common factors that can result in persistent and unsightly marks on your walls. Even after removing the mold or moisture, the damage that remains cannot be ignored or left unaddressed.
Dealing with the root cause of water damage does not guarantee the restoration of your walls' condition, as leftover damage will still remain on your walls. When there is leftover water soaked into the walls, it can facilitate the growth of mold. This would require a substantial expense to ensure the safety and health of your family. Replacing the affected walls ensures this space remains beautiful and functional without harming your family.
Coming across a patch of mold in your home can make you fearful for your family's safety. Although mold is naturally present in every home, it becomes problematic when it grows to a visible size and releases spores.
The spores mold produces aren't meant to be breathed in, so when it grows out of control it will harm you and your family. Neglecting mold infestations will only lead to further deterioration, emphasizing the importance of swift removal. While Care and Repair doesn't provide mold remediation services, we can fix the surfaces damaged by this infestation. Call today!
---
Dry Rot And Termite Repair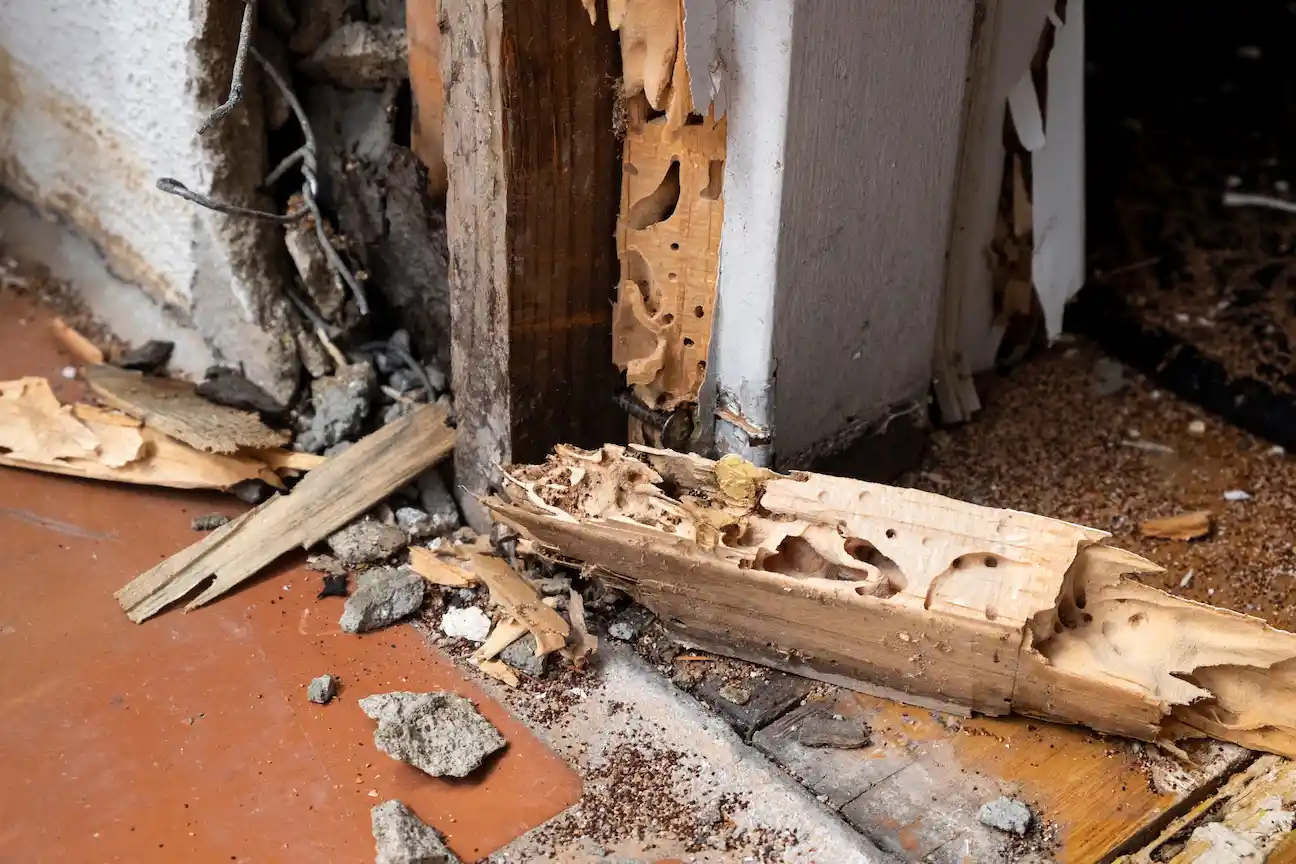 It's important to note that mold is not the only kind of infestation that can trouble your house. Dry rot and termite infestations have the potential to cause irreversible damage to the wooden structures in your home. These infestations can cause severe harm to the wooden supports and flooring, compromising both the aesthetic appeal and structural soundness. Once the infestations have been eliminated, it is vital to follow up with the replacement of the compromised wood.
Dry rot is a fungus that eats through your wooden surfaces. While dry rot and termites may not consume every portion of the wood, the remnants they leave are weak and susceptible to easy breakage. This means any wood supporting structures wouldn't be able to do its job right.
The consumption of wood surfaces by termites is a well-known characteristic associated with these pests. While getting the infestation killed will keep it from spreading, that won't fix the brittle wood. It is important to note that most exterminators do not have the necessary skills to replace the fragile wooden surfaces, meaning your house will be at a higher risk of experiencing structural damage.
The expertise of a reliable dry rot and termite repair service is the optimal solution to safeguard the structural integrity of your home. Take action now and call Kaminskiy Care and Repair!
---
Fence And Gate Repair Services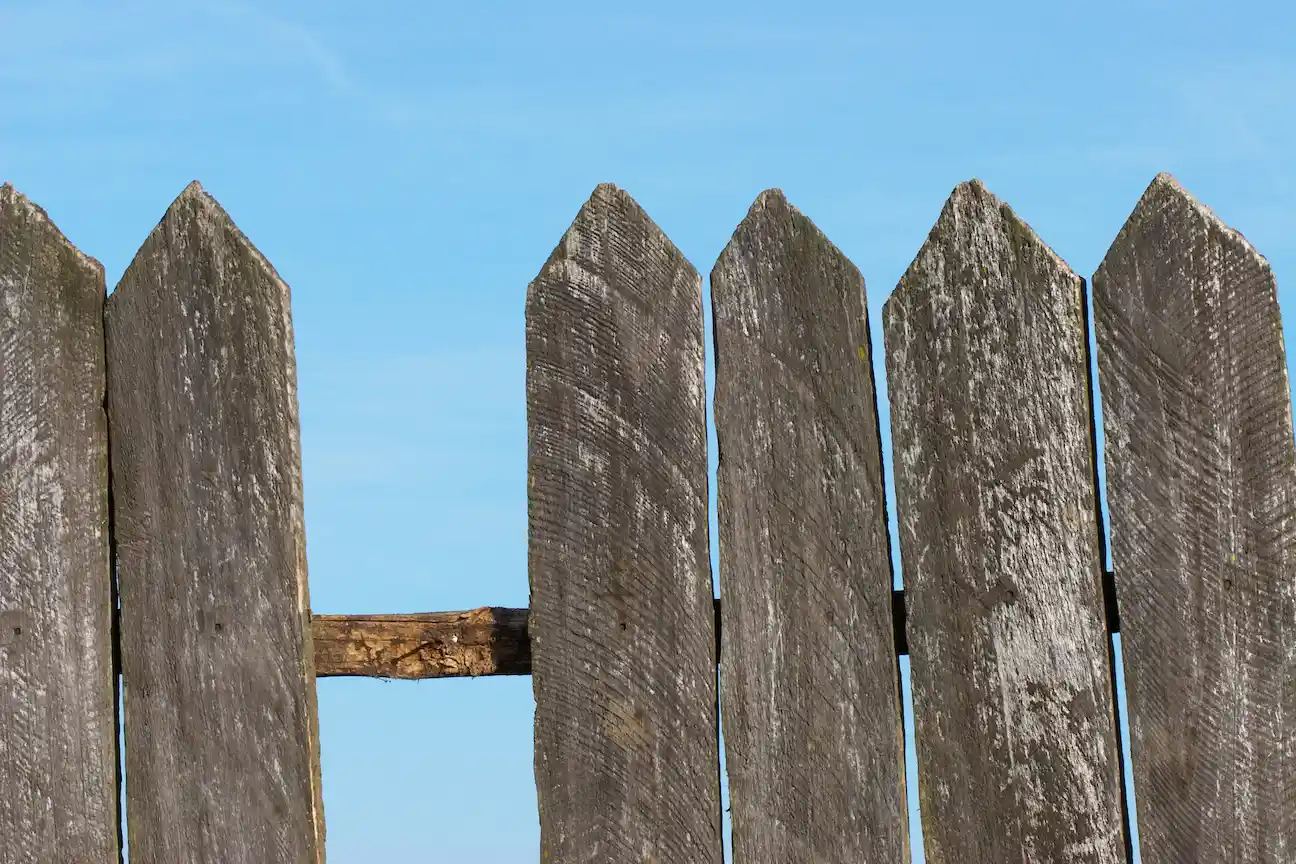 A gorgeous, fully-functioning fence does more than compliment your landscaping. By serving as physical boundaries, fences establish property lines, deter trespassers, and help mitigate the noise generated by nearby traffic. Properly maintained fences also significantly enhance your home's value.
The deterioration of fences and gates can be caused by many things. From bad weather to accidents to general wear and tear, it's better to get it fixed quickly rather than waiting. Waiting will only make the damage worse.
Count on Kaminskiy Care and Repair to handle all your fence and gate needs with expertise and professionalism. Moreover, our team of experts is well-equipped to professionally handle the installation of new fencing. Our handymen can help!
---
Let Kaminskiy Handle Your Home Repair Needs
We have been helping homeowners just like you since 2005. Our handyman can handle any job, from drywall installation to extensive electrical repair. One call is all it takes to create a fully functioning home again.
No matter what kind of home improvements your home needs, Kaminskiy Care and Repair has the tools and expertise to help you out. Skip the hassle of figuring it out yourself. Contact us today, so we can give you the incredible Lafayette handyman service that you deserve!