As a local home restoration company in Rancho Penasquitos, you're probably pondering why we even offer gutter cleaning as a service since we hardly ever get rain. Regardless of weather, maintaining proper gutters is an important task for home preservation. Leaves build up as the time goes on, which then adds unwanted weight to your gutters. This will cause the gutters to fail and break away from the facade and soffit. Facades and soffits are just the outer edges of the roof that place the gutter. Even with the sunny weather in San Diego, make sure you still get your gutters cleaned!
Below are some common questions pertaining to gutter cleaning:
---
Gutter Cleaning In Rancho Penasquitos
Gutter cleaning is cleaning all gutter systems along the roof. This entails removing leaves and other debris and doing a flush of the system. After a deep cleaning, your rain gutters will do a greater job of moving rainwater towards the downspout to stop any potential flooding.
---
How Frequently Do You Need To Clean Your Gutters?
Yes. Rain gutter cleaning in Rancho Penasquitos is an important service that should be done at least once yearly. When leaves and debris get piled on inside the gutter, water will overwhelm the area and leak into the soffits or weigh down the fascia. Furthermore, this can cause the fascia and soffit to come apart from the roof. Ideally, you should clean it 2 times a year. It is important during the fall and winter because leaves and debris can freeze, creating frozen pools alongside your roof. It can be very dangerous to you and your housing.
If it is been a while or if you have never had a cleaning, you may need your rain gutter repaired.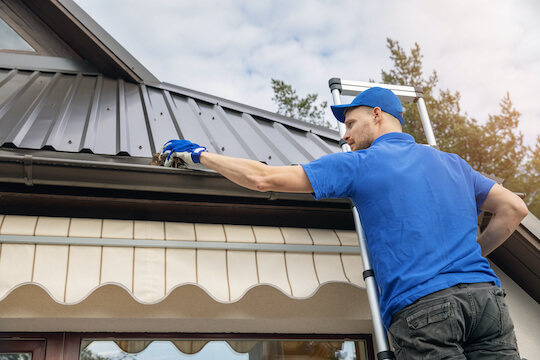 ---
Cleaning Your Rancho Penasquitos Home's Gutters
Yes, you can. However, this is definitely not something that is advisable. That's because Cleaning your gutter can be a bit of a tricky job. We recommended leaving it up to a professional for optimal results. Especially when it comes to safety, you don't want to risk it. The most dangerous aspect of gutter cleaning is going up a ladder. Without the proper safety protocols, you can severely hurt yourself and end up out of work for a long duration of time. Every year there are about 164,000 emergency room visits and 300 deaths caused by ladder falls.
Though, you don't have to worry about a thing as we've got you covered. Care and Repair Handyman Services are skilled professionals and take every safety measure seriously.
---
How do I keep my gutters from getting any leaves or debris?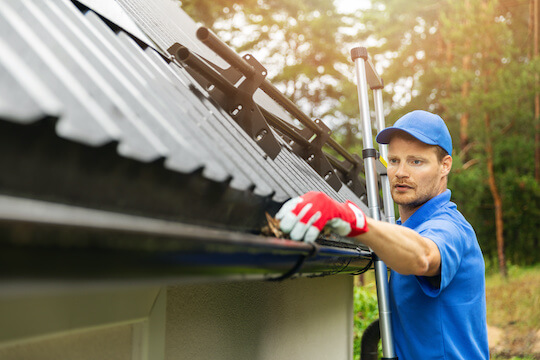 You can purchase gutter guards from your local hardware store. While that won't completely alleviate your gutters from attracting leaves, it will definitely help with buildup. However, still check and clean your gutters on a timely schedule.
There are different kinds of gutter guards. There are also different ones for the seasons. Heated coils are available for winters but may actually cause more harm if not careful. Take some time to do some research and find what works best for you! exterior house repairs are no joke and little mistakes can destroy the structure of your home if you're not being cautious.
---
Your Rancho Penasquitos Gutter Cleaners
Fortunately, you're already there! Kaminskiy Care and Repair Handyman Services are a top destination for local handyman services in Rancho Penasquitos. We provide a free quote for all repairs around your home or for commercial properties.
It's easy to overlook your rain gutters due to the lack of rain. However, with our rain gutter cleaning service, you can continue to enjoy the beautiful weather as we take care of the dirty work for you.
We serve all in San Diego County and would love to hear from you. So, give us a call and ask our services. We'll do all we can to answer your questions and provide you with a great experience.