As a local repair company in Carmel Valley, you may have initially dismissed the idea of having gutter cleaning done. After all, when does it ever rain in San Diego? However, while we certainly do not get as much rain as other places, gutter cleaning is still an important service to have done. Things like leaves pile up over time, which add weight to your gutters they were not meant to hold. This can later cause them to break and pull apart from the facade and soffit. Facades and soffits are basically the outer portions of the roof that keep the gutter in place. So, inspect and maintain your gutters on a timely basis.
Here are some common questions that often come up when it comes to gutter cleaning:
---
What is Gutter Cleaning?
Gutter cleaning is exactly that. This involves removing leaves and other rubbish and flushing out the entire structure. After a deep cleaning, the rain gutters will do a better job of moving rainwater along the downspout and stop any damage that may occur on your roof.
---
Do I need to clean my Carmel Valley gutters frequently?
Rain gutter cleaning in Carmel Valley is an important service that needs to be completed yearly. When debris and leaves get trapped inside the gutter, this will cause flooding in the area and leak into the soffits or put pressure on the fascia. Eventually, this will lead to the fascia and soffit unfastening from the roof and cause major damage. preferably, cleaning and maintenance should be done twice yearly. It is also beneficial to have this service done during fall and winter. This is because as the temperature drops, the leaves and debris can solidify and cause problems over time. This can also become quite dangerous for anyone walking by underneath.
Lastly, keep in mind any delay in gutter cleaning can lead to having to replace the entire structure.
So, avoid costly repairs down the line by maintaining those beautiful gutters!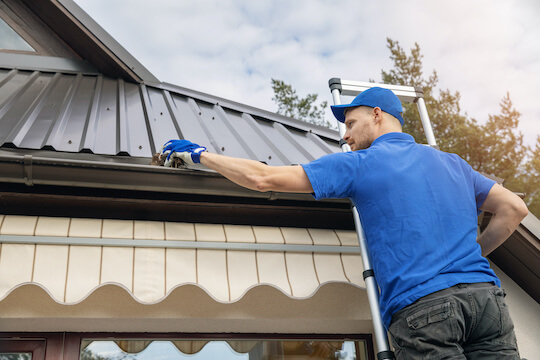 ---
Can I clean my gutters myself?
Yes, you definitely can. Though, you probably shouldn't. That's due to the fact that cleaning gutters is hard, messy, and complicated. For example, one of the more challenging parts of gutter cleaning is climbing up ladders. Even with the proper procedures in place, you can still severely injure yourself and end up out of work. Every year, there are 164,000 emergency injuries and 300 deaths involving ladder-climbing. Therefore, definitely take your safety into consideration.
This doesn't really matter though, as we'll happily do this task for you! Care and Repair Handyman Services is a highly trained team that are equipped to take on the challenges of gutter cleaning.
---
How do I keep my Carmel Vally home's gutters from getting too many leaves?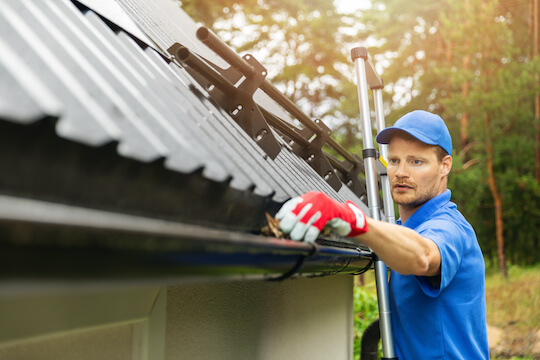 One option is to get gutter guards from your neighborhood home-improvement store. these won't completely keep your gutters from getting any leaves, but it will certainly help. However, be sure to still regularly check and inspect your gutter guards on a periodic basis.
There are also several different types of gutter guards. So, make sure you're getting the right ones. Heated coils are available for the colder months but may actually do more harm than good. Therefore, take a little bit of time to do some research and find the ones that work for your home. This just shows you exterior home repairs are not easy jobs and minor mistakes may damage the structure of your house if you're not careful.
---
Who do I call to clean my rain gutters?
Thankfully, you've already found the perfect match! Kaminskiy Care and Repair Handyman Services is one of the most highly reviewed local handyman companies in Carmel Valley. We always provide free estimates for all services around the home or commercial property, including gutter cleaning.
It's easy to overlook rain gutters, especially here in warm Carmel Valley. However, getting a gutter cleaning service done is still highly recommended. This is no issue though as we'll be able to easily take this off your plate.
We serve all of the San Diego region. So, give us a call and ask about our gutter cleaning services. We'd love to answer your questions and provide you the service you deserve.
Happy cleaning!