As a local repair company in Carlsbad, you're probably asking yourself why you might need gutter cleaning since it hardly ever rains here. The reality is, regardless of climate, keeping your gutters clean is important for home maintenance. Leaves and debris build up over time and add weight to the gutters. While this may not be a problem initially, over time this will cause the gutters to fall apart and break from the facade and soffit. Facades and soffits are essentially the outer rims of the roof that hold the gutter in place. Even without a lot of rain in Carlsbad, be sure to keep an eye out on your gutters and get them maintained on a regular basis.
The following are some questions we tend to get asked concerning gutter cleaning:
---
What is Gutter Cleaning?
Gutter cleaning is cleaning the gutters on your roof. This involves removing leaves and other debris and flushing out the entire component. After performing a thorough cleaning, your rain gutters will do a better job of moving rainwater along the downspout and prevent any damage that could occur.
---
Do I need to clean my Carlsbad home's gutters frequently?
Rain gutter cleaning in Carlsbad is an essential service that should be done on a yearly basis. When debris and leaves get trapped inside, this creates flooding into the soffits and puts pressure on the fascia. Over time, this can result in the fascia and soffit to unfasten from the roof and cause major havoc. Generally, maintenance and cleaning should be done at least twice a year. It is also critical to perform this maintenance during the fall and winter seasons as leaves and debris can solidify, creating problems alongside your roof. This can be very dangerous for you and your family.
Consequently, prolonging gutter cleaning after a long duration may result in having to replace all the gutters.
So, be sure to maintain your gutters frequently.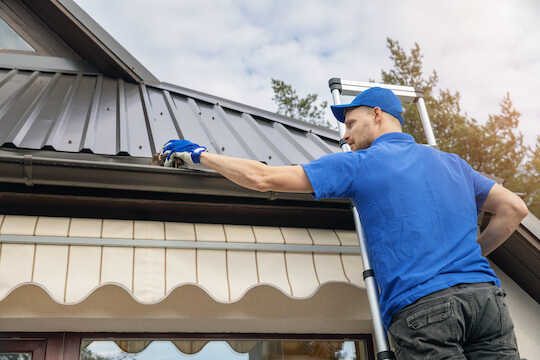 ---
Can I clean my gutters myself?
Yes, for sure. though, you may want to reconsider given the risks involved. That's because cleaning gutters can be difficult, dirty, and dangerous. Therefore, have a professional company, like Care and Repair, do the job for you. Just look at some of these stats. There are 164,000 emergency room visits and 300 deaths every year involving ladder climbing! So, this is definitely not something you want to do on your own.
That being said, we'd be happy to take care of this for you! Care and Repair Handyman Services are trained professionals and are equipped to take on the challenges of gutter cleaning.
---
How do I keep my gutters from acquiring leaves?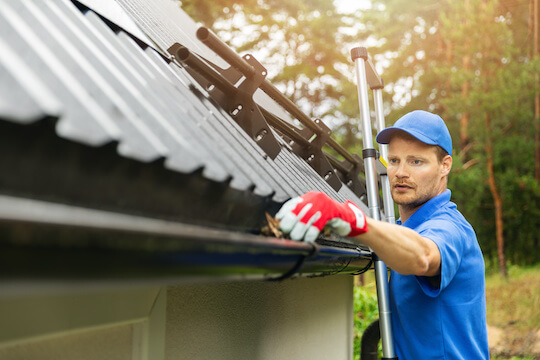 One option is to buy gutter guards from your local hardware store. This won't completely protect your gutters from getting any debris, but it will prevent some leaves from building up. However, you still need to regularly check and maintain your gutters.
There are several different kinds of gutter guards. So, be sure you purchase the right one. Heated coils are available for the winters but may create some icing on your gutter guard and actually cause damage. Therefore, do some research and make sure you're getting the answers you're looking for! Outdoor house repairs are not easy tasks and minor mistakes may damage the integrity of your house if you're not careful
---
Who do I call to clean my Carlsbad rain gutters?
Luckily, you've already found the perfect company! Kaminskiy Care and Repair Handyman Services are one of the top local handyman brands in Carlsbad. We give free estimates for all repairs and renovations needed around the house or for commercial properties.
To conclude, it's definitely easy to dismiss getting the gutters cleaned, especially here in lovely Carlsbad. Though, with our rain gutter cleaning service, you can be rest assured knowing we'll get this taken care of for you.
We serve all major cities and neighborhoods within the greater San Diego area. So, please feel free to give us a call and ask about our services. We'll answer any questions you have and get all your repair needs taken care of.
Happy cleaning!