The kitchen is often the first stop for LA County homeowners wanting a fresh look in their homes. They're the center of every home, so it makes sense that most people choose to remodel this part first. After all, they supply the setting for family reunions and dinner parties. All kitchens will eventually lose their spotless look, though.
Similar to other commonly used rooms in your home, this space often demands extra maintenance to keep things running smoothly. It's designed to be a space that exudes warmth and friendliness, while also being highly functional. Poor plumbing, cabinets in need of repair, or outdated fixtures can hinder your ability to utilize this space effectively, resulting in a dated and uninspiring atmosphere.
Giving our clients a functional kitchen is a top priority for us at Kaminskiy Care and Repair. Thanks to our extensive background in home improvement and maintenance, we have the knowledge to help you attain the space you've been longing for. Whether you're looking to replace cabinets or completely renovate your kitchen, trust our skilled team to handle your most challenging projects.
---
Custom Kitchen Island Installation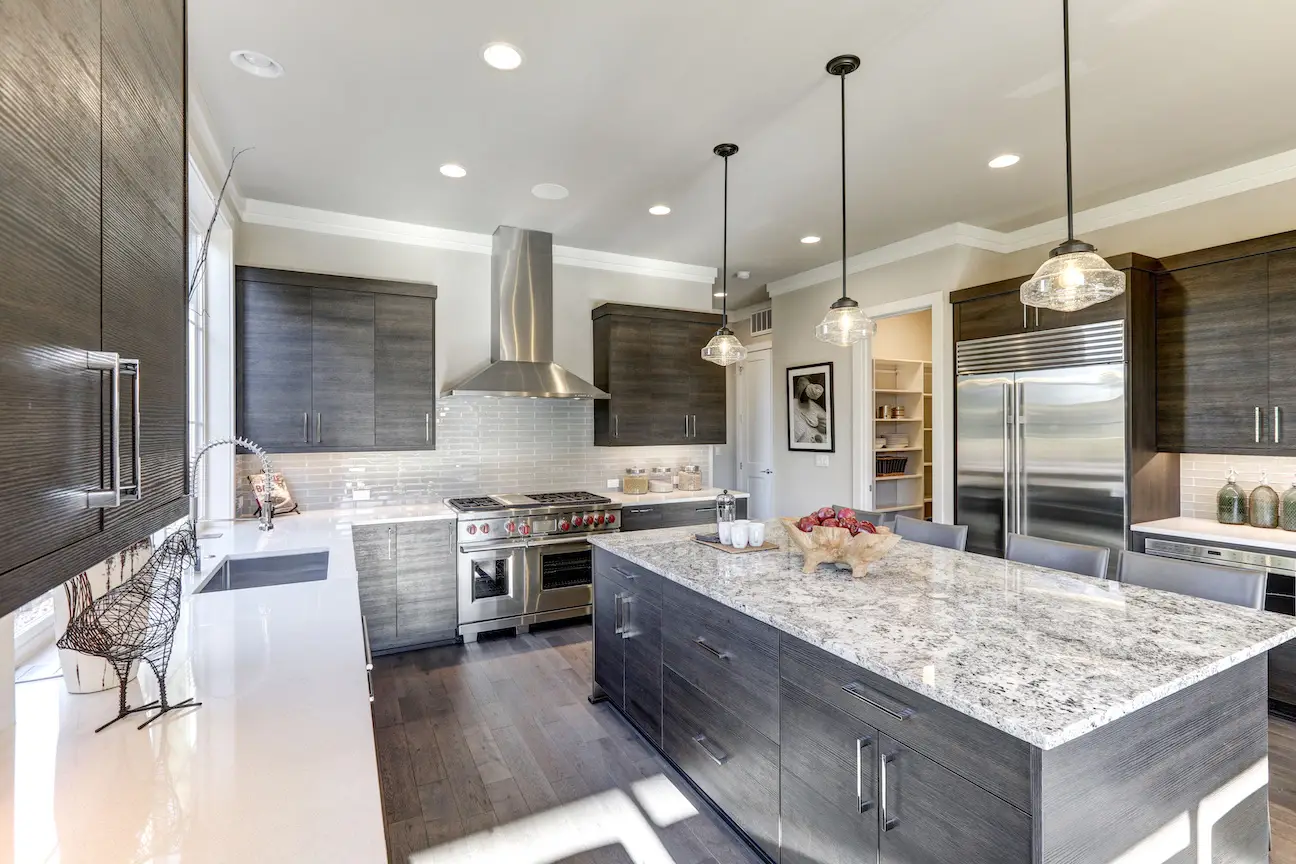 Adding an island can be a smart investment when renovating the kitchen in your Los Angeles home. They add valuable countertop and storage space, improving practicality and convenience, and act as a focal point. They also offer more room to work and prep food during parties, so it never feels as if there are too many cooks in the kitchen. Some types can even act as additional seating or a cozy gathering space for friends and family. 
There is a wide range of islands with varying sizes, shapes, and functions. With built-in seating or the capacity to house appliances like mini fridges, islands can make a substantial improvement in the functionality and efficiency of your kitchen.
You can customize your island to fit whatever your needs and the size or shape of the room. After you acquire that perfect piece, it's essential to contact the experts for proper installation! 
Our team is equipped to manage islands of all kinds, whether it's a prefabricated design or a custom piece tailored to your specific requirements. With years of experience in island installation, we are well-versed in handling every detail, countertops included. Let us handle the details and difficulties of your home improvement project! 
---
Local Countertop Installation In LA County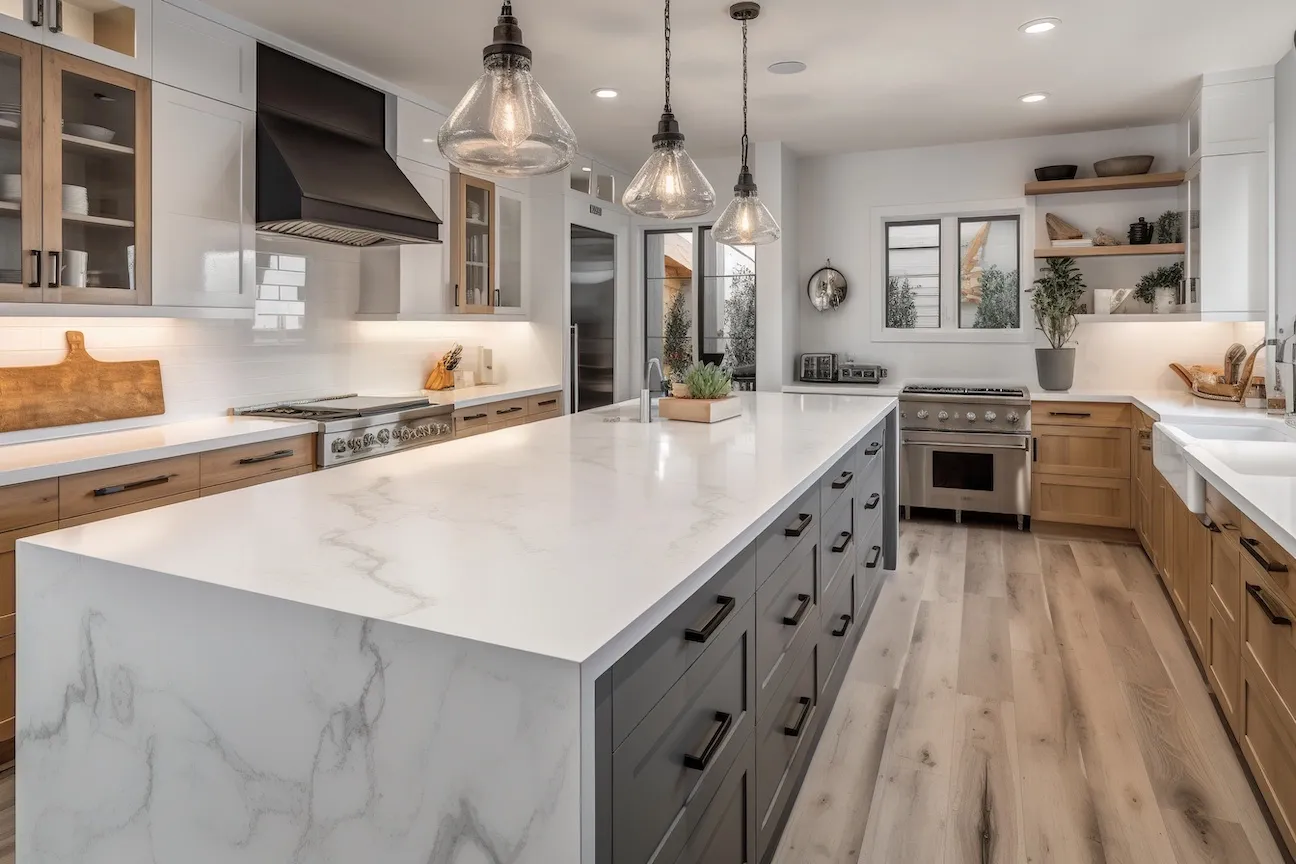 Your kitchen counter is where the actual work happens. From meal prep to the art of baking, countertops endure plenty of use. It's an important element in achieving your dream kitchen, especially if you love to cook often. If you have cracked or damaged surfaces, it can make meal preparation more challenging, especially when dealing with uneven surfaces that make chopping more difficult. Damage to the material can result in the buildup of food particles and bacteria, which can pose health hazards.
To compound the issue, broken countertops can result in damage to the cabinets beneath them. When you see a crack on any surface, it's crucial to reach out to the experts for a replacement. 
Counters play a central role in the usability of kitchen space. These vital aspects are frequently overlooked, but opting for something durable and stylish can breathe new life into your kitchen. You could find it makes quite a difference.
With several materials to choose from, you can easily find one that matches your budget and fulfills your requirements. You need something that can withstand your messiest experiments and also makes cleaning up a breeze. Regardless of whether you opt for wood, marble, quartz, or a different material, our experts can install your new counters, allowing you to enjoy your space. 
---
Local Handyman For Kitchen Faucet Installation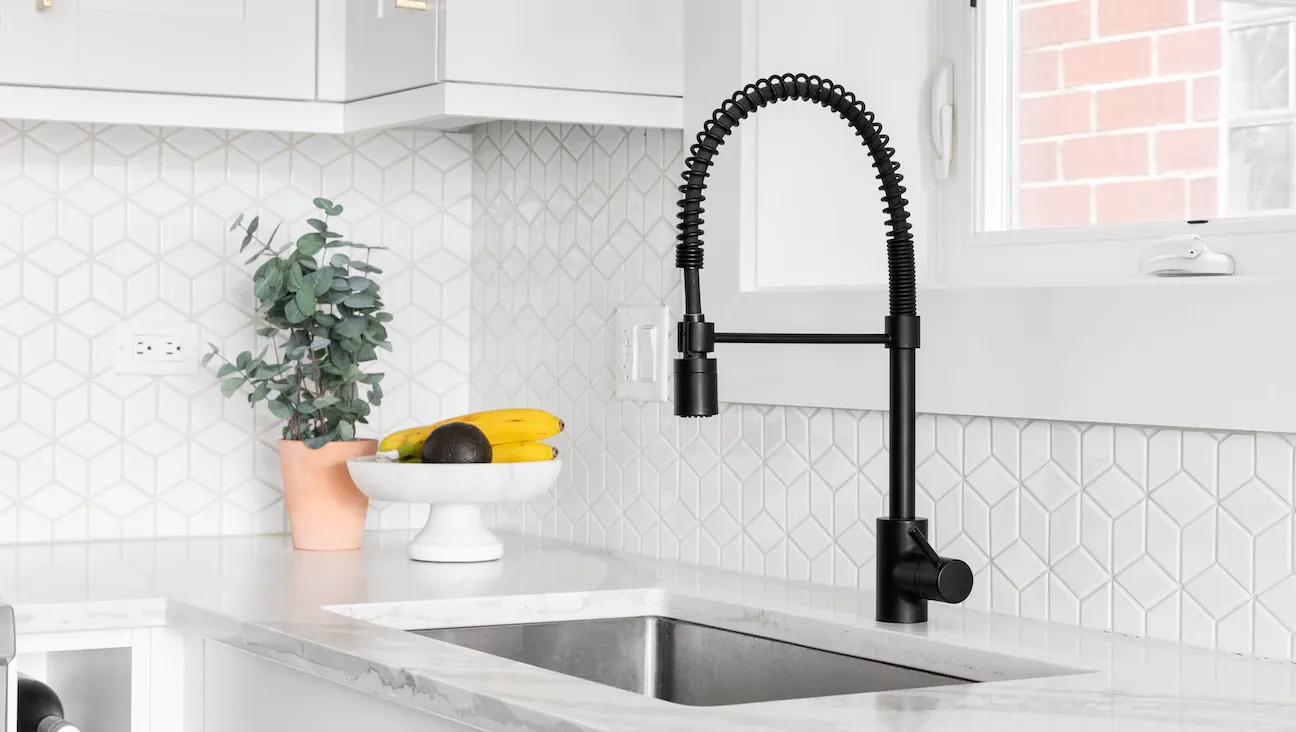 Your kitchen's plumbing is just as critical as the plumbing in your bathroom. Furthermore, many refrigerators feature water dispensers, and it's important to connect the dishwasher to the existing pipes for it to function correctly. More importantly, you need access to running water for your sinks, so you can clean your dishes, hands, or recent grocery store purchases.
When you notice leaks in your faucets or pipes, encounter poor water pressure, or find rust and mineral buildup, it's essential to call in professionals to bring these fixtures back to proper working order. A broken faucet can lead to a messy home, particularly when there's a stack of unwashed dishes in the sink.
Place your trust in the capable professionals on our handyman team to accomplish the task. Whether you need a new faucet installed or some leaks fixed, our team knows how to get everything done efficiently so you can enjoy your home again. We can also lend a hand in exchanging your old or dysfunctional garbage disposal.
Replacing your faucet isn't limited to situations where it's broken. From time to time, a simple fixture update can work wonders for your kitchen's design. Give your space a makeover to represent your current tastes or embrace emerging trends. You'll be amazed at the positive difference it can create! 
---
Kitchen Cabinet Installation And Refurbishment For LA County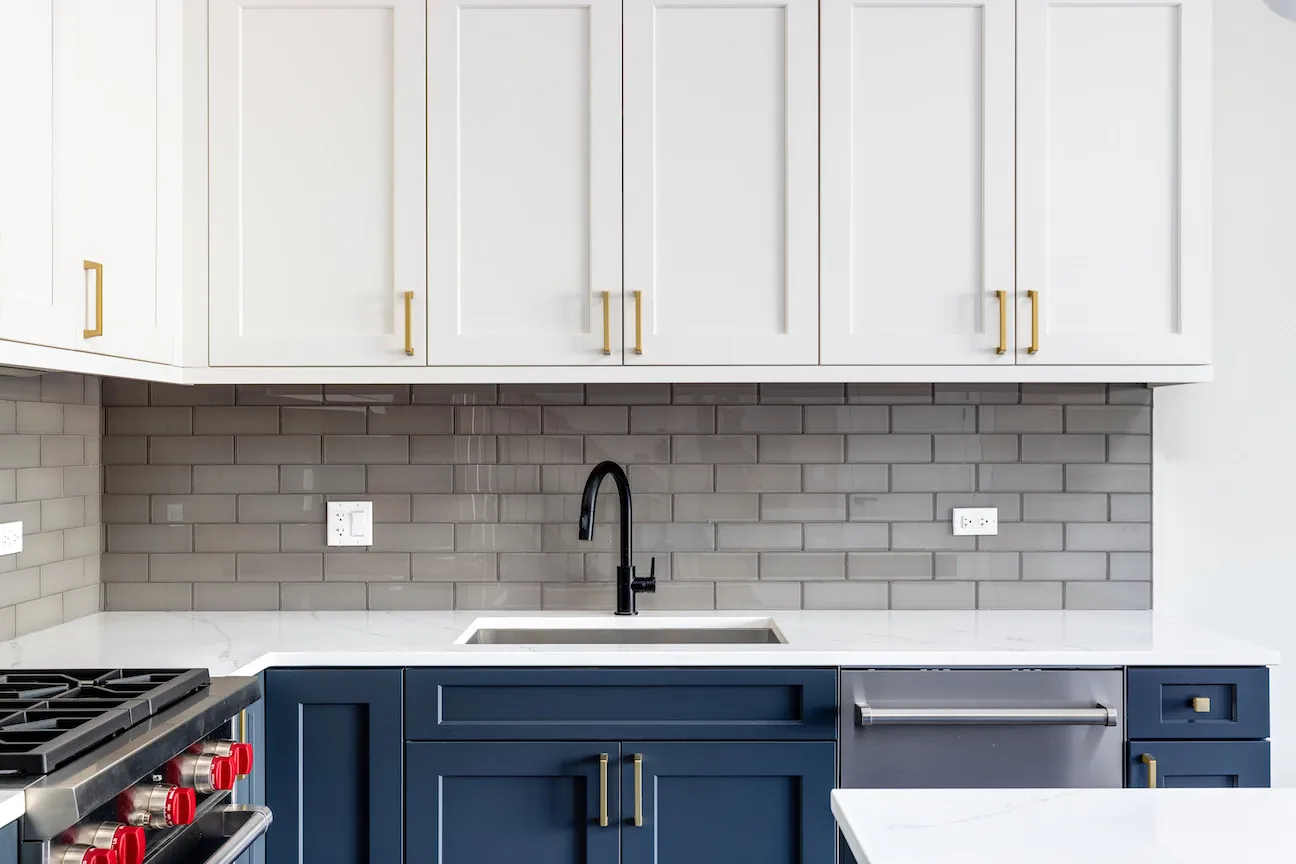 Cabinets are another essential piece of any practical kitchen. They are a smart storage option for items that you want to keep off your countertop. Given the assortment of tools, toys, and technologies that home cooks have at their disposal, having a place to keep them organized is a priority.
Cabinets also add an extra safeguard for your tools. Unfortunately, that also means these units are the first to show signs of damage. Water and mold can have a detrimental impact on your cabinets, potentially causing door warping or cracking. This can result in shelves that are not level and drawers that refuse to close correctly. As soon as you notice any damage, reach out to the professionals to have these cabinets replaced.
Even if your units are not damaged, replacing them can give your kitchen a stylish, updated look. Today, you have the option to choose cabinets in different styles, colors, and finishes. With such an extensive selection, you have the freedom to customize them according to your desired style. Choosing sturdier materials, like oak, can emphasize the attractiveness of your overall interior design style.
Regardless of why you want to switch out your kitchen cabinets, Kaminskiy Care and Repair is here for you. Trust our experienced team to handle the removal and installation of different styles and types with ease. 
---
Expert Kitchen Sink Repair and Installation
While sinks play a crucial role, they are often taken for granted in the kitchen. Even though they aren't immediately noticeable, they can still influence your kitchen's appearance and usability. Although cabinet and faucet replacements can refresh your kitchen, a fully functioning sink is essential to complete the transformation. Sink surfaces marred by cracks or stains can diminish the overall beauty of the space.
To better suit your lifestyle, you might opt for a larger sink. No matter what material or type you choose, our handymen can remove your old unit and replace it with something new! When you install a new sink, it's also a great opportunity to inspect for potential issues, such as plumbing or the existing faucet system. Our experts have the right tools and experience to handle this complex project, so you don't have to.
---
Local LA County Kitchen Backsplash And Tile Installation Services
When updating the look and feel of your kitchen, you shouldn't neglect the backsplash above your counters. Their role is to defend your walls against any spills, grease stains, or cooking incidents that might harm them. Not only are these installations practical, but they provide another opportunity for you to show off your design style.
Tiles or marble backsplashes that are damaged or cracked cannot provide adequate protection for your walls. Additionally, they become an eyesore and can give your kitchen a worn-out appearance. Replacing these elements enables you to incorporate color or another design element, creating the ideal cooking and entertainment space. Unique elements like this can take a great look and make it extraordinary.
With so many options on the market, it can be difficult to choose. The last thing you want is to spend more time installing them, especially after spending a lot of time deciding on the style. When it comes to backsplashes, the process can also be difficult because you are fighting against gravity and need to make sure they are spaced evenly. Instead of DIY, place your trust in our handyman team to complete all the work for you.
---
Kitchen Flooring Installation Handyman
No kitchen remodel would be complete without upgrading your flooring. After all the work you have put into making the space more welcoming, you don't want poorly laid floor tiles or wood to ruin the look. Replace those elements with something completely new to invigorate your space. It can produce a noteworthy result, especially when partnered with our other remodeling offerings.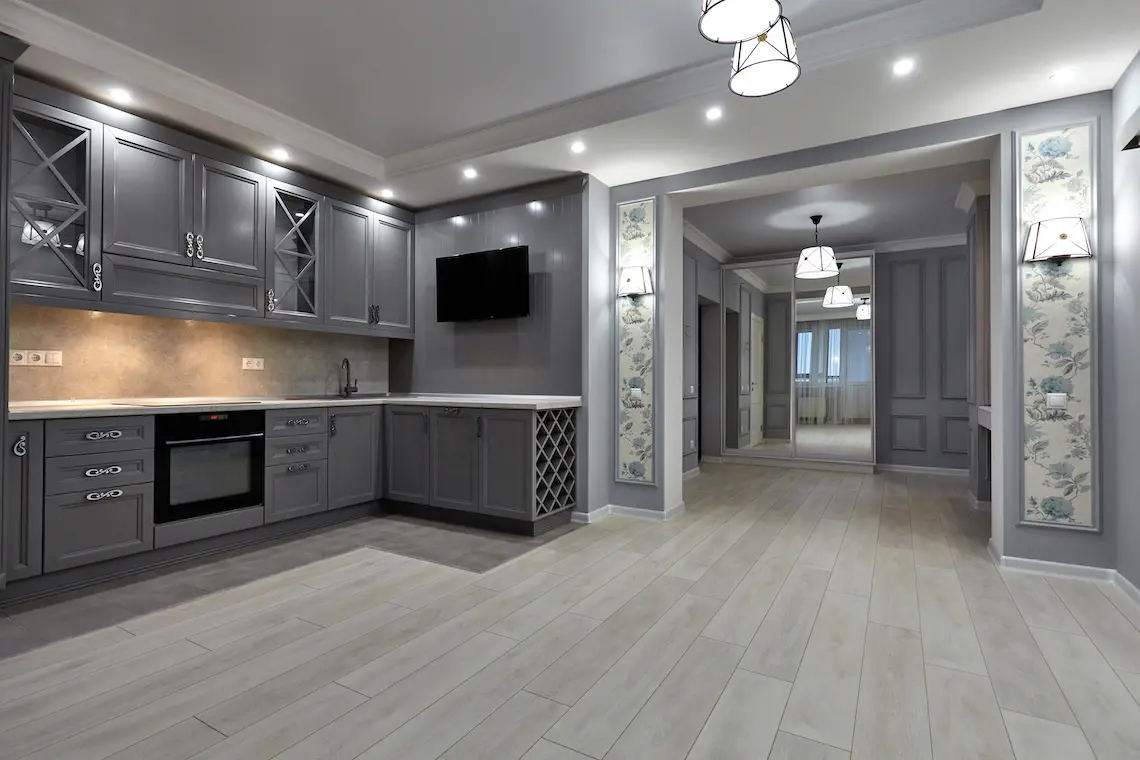 When you've settled on your flooring preference, don't hesitate to contact the experts at Care and Repair for professional installation. Our skilled professionals have all the tools and knowledge needed to install your new floors correctly the first time, so you can have more time to cook and host dinner guests. Concrete, wood, laminates, and tile can greatly impact your comfort.
No matter what you settle on, count on our experts to complete the project! We can handle any home improvement project, no matter how big the scope.
---
Kitchen Remodeling Services For LA County Homeowners
Your home's heart resides in the kitchen. When outdated, worn, or malfunctioning fixtures begin to impact your space, it's time to consider a complete renovation. This might feel like a lot to handle, even for LA homeowners who have been through it before. After you've picked out all your new fixtures, the last thing you want to is to attempt a DIY installation.
This is where you can count on Care and Repair's local Los Angeles handyman team. They have the right tools, skills, and expertise needed to conquer your toughest renovation project. Kaminskiy Care and Repair has been providing top-notch kitchen remodeling and maintenance services to local LA County homeowners since 2005. No task is too big or too small for our capable team. We're dedicated to making your dream kitchen a reality.