As a local home maintenance and remodeling company in Rancho Santa Fe, you're probably wondering why we even offer gutter cleaning since it hardly ever rains in sunny California. The truth is, keeping your gutters clean is an important task no matter where you live. Leaves and debris build up, which adds extra weight to your gutters and prevents them from performing optimally. Also, this ends up causing the gutters to not work and rip apart from the facade and soffit. Facades and soffits are the outer structures of the roof that help hold the gutter in position. So, even with perfect weather, be sure to keep those gutters in tip-top shape!
Here are some frequently asked questions that you may have for gutter cleaning:
---
Rancho Santa Fe Gutter Cleaning
Gutter cleaning is performing a cleaning of gutters around your roof. This includes disposing any accumulated leaves and other debris and doing a flush of all the components. After a proper cleaning, your rain gutters will do a much better job of being able to move rainwater towards the downspout.
---
Do you need to clean the rain gutters on a frequent basis?
Yes, Rain gutter cleaning in Rancho Santa Fe is a job needed to be done on a yearly schedule. When leaves and debris get trapped inside the gutter, water can't leave the area and will pool into the soffits and weigh down on the fascia. Then, this can cause the fascia and soffit to break away from the roof and create problems. Ideally, this service should be done at a minimum of two times per year. Also, it's important to do this during the fall and winter because leaves and debris can solidify, sticking to your home. This can be very dangerous for the people underneath.
If it is been a while or you've never had one performed, now may be just the right time.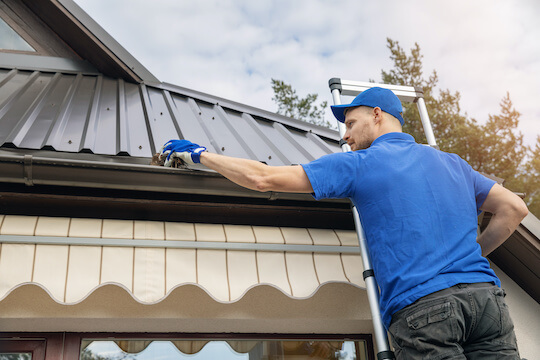 ---
Can I clean my gutters myself?
In short, yes. However, this is not recommended. Cleaning gutters is rough, dirty, and dangerous. It is almost always preferable to have a professional conduct the service. The most dangerous part of gutter cleaning is going up the ladder. Without the proper procedures in place, you can severely injure yourself and end up with complications. there are 164,000 emergency room treated ladder injuries and 300 deaths annually from ladder falls. So, be careful!
Don't risk it! Care and Repair Handyman Services are qualified professionals who had performed this service hundreds of times and are committed to provide excellent customer service.
---
Keeping Leaves And Debris Out Of Your Rancho Santa Fe Gutters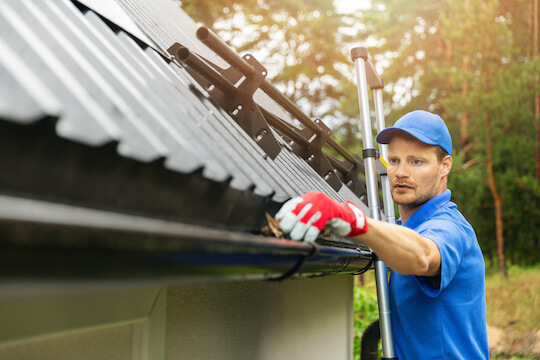 You can purchase gutter guards from your local hardware store. While that won't completely prevent anything from getting stuck, it will help alleviate any leaves or debris from piling up. So, still routinely check your gutters on a yearly basis.
Gutter guards come in a variety of different styles and are suited for different purposes. For example, Heated coils are available for cold winters but may not be right for certain regions. Therefore, ask questions and find the guards that work best for your house. This just highlights the fact that exterior house repairs shouldn't be taken lightly, and small mistakes can destroy the integrity of your house if you are not careful.
---
Gutter Cleaning Service In Rancho Santa Fe
You can call us! Kaminskiy Care and Repair Handyman Services is one of the more experienced and knowledgeable handyman services in Rancho Santa Fe. We provide free estimates for all repairs offered for around your home or for a commercial property.
To conclude, it's easy to forget about your rain gutters, especially when you live in a sunny place like Rancho Santa Fe. That being said, with our rain gutter cleaning service, you'll never have to worry as we can easily take care of this for you.
We serve the entire San Diego region. So, if you're in the area, give us a call and ask about our services. We'll do all we can to answer your questions and provide you with a great customer experience.