Being a local home repair company in Encinitas, you're probably wondering why we offer gutter cleaning as a service since it hardly ever rains here. While that is true, it is still necessary to perform regular maintenance. That's because leaves and trash can build up over time and add unnecessary weight to the structure. Then, this causes the gutters to break and rip apart from the facade and soffit. Facades and soffits are the outer rims of the roof that hold the gutter in position. So, even without much rain in San Diego, be sure to still do full inspections of your gutters!
Here are some of the most frequently asked questions regarding gutter cleaning:
---
What is Gutter Cleaning?
Gutter cleaning is cleaning the gutters around your roof. This includes removing leaves and other trash and flushing out the entire system. After rigorous cleaning, the rain gutters will do a better job of moving rainwater along the downspout to stop any damage that could occur on your roof.
---
Do I Need to Clean My Encinitas Home's Gutters Regularly?
Yes. Rain gutter cleaning in Encinitas is an important service that should be done yearly. When leaves and trash get stuck inside the gutter, it eventually causes flooding into the soffits and puts too much weight on the facias. Over time, this can result in the fascia and soffit to come apart from the roof and create damage. Normally, cleaning and maintenance should be done at least twice a year. It is also crucial to have this service done during the fall and winter months as leaves and trash can ice over, creating a potential problem for the roof. Not to mention, this is very dangerous for you and others.
Lastly, not performing gutter cleaning maintenance after a long period of time can lead to having to replace the entire structure.
Therefore, be sure to get those gutters cleaned and maintained on a yearly basis!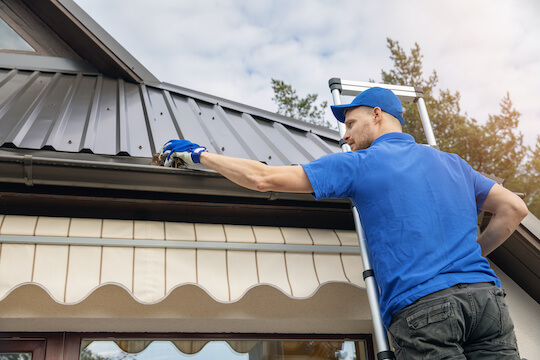 ---
Can I clean my gutters myself?
Yes, absolutely. However, whether or not that is a good idea is another question. Gutter cleaning can be challenging, dirty, and dangerous. Therefore, leaving it up to a skilled professional is ideal. For example, one difficult aspect of gutter cleaning is climbing up ladders. Even when being careful, you can still get hurt and end up regretting wanting to do the thing in the first place. Furthermore, there are about 164,000 emergency injuries and 300 deaths every year relating to ladder climbing. So, this is definitely something to avoid!
Fortunately, you don't have to worry about doing this service as we are able to do it for you! Care and Repair Handyman Services are skilled professionals and are ready to tackle the challenges of gutter cleaning.
---
How do I prevent my Encinitas home's gutters from getting leaves and trash in the first place?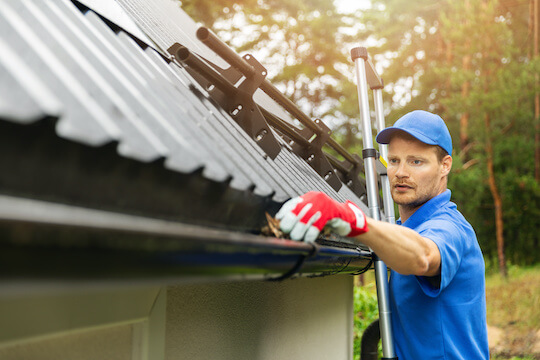 Good question! One option is purchasing gutter guards from your local home-improvement store. This won't completely stop your gutters from getting any leaves, but it will definitely help. That being said, still check and maintain your gutters on a yearly basis.
There are also several kinds of gutter guards. Heated coils are available for the winters but may actually cause some icing on your gutter guard and cause damage. Therefore, do a little bit of research and make sure you've found the one you need! This just shows you exterior home renovations are not easy tasks and minor mistakes may damage the integrity of your house if you're not careful.
---
Who do I call to clean my rain gutters?
Fortunately, you've already made the right step! Kaminskiy Care and Repair Handyman Services is one of the most highly rated local handyman companies in Encinitas. We offer a free estimate for all services around the house or for commercial properties.
It's easy to not think about rain gutters, especially here in sunny Encinitas. Though, you shouldn't have to as we'll take care of it for you.
We serve all of San Diego. So, don't hesitate to give us a call and ask about our gutter cleaning. We'll be happy to answer all your questions and provide you with great customer service.
Stay sunny!