Is your Riverside County residence suffering from the detrimental effects of dry rot and termite infestations? These issues can swiftly escalate, causing further damage to your home's structural integrity. Timely intervention and repair are crucial in preventing further complications. Look no further than Kaminskiy Care and Repair for Riverside County's finest dry rot and termite repair handyman services.
With our extensive experience, skilled technicians, and unwavering commitment to our clients, we are fully equipped to tackle the challenges posed by bothersome termites and dry rot. Our expert crew meticulously services every affected area, no matter the extent of the damage. Rest assured that we are dedicated to providing you with the exceptional home improvement and handyman services you deserve. Reach out to us today for the assistance you need. We are here to help!
---
Understanding Dry Rot
Dry rot refers to a fungal growth that feeds on the cellulose found in wooden structures. Over time, this fungus compromises the composition of the wood, rendering it brittle and hollow. Areas with high ambient moisture experience an accelerated deterioration process. Discoloration of wood surfaces and soft spots are common indicators of dry rot in residential or business establishments.
---
Reliable Dry Rot Repair in Riverside County
Undertaking wood rot repair offers numerous benefits. Firstly, it prevents the formation of holes in your wooden ceilings and walls, making your home less susceptible to leaks and other pest infestations.
Dry rot significantly affects the appearance and ambiance of your house. You can enhance your property's curb appeal and overall aesthetics by repairing or replacing damaged wood.
Our team boasts extensive experience in handling various handyman tasks, employing different techniques to effectively repair dry rot damage. Additionally, we provide superior-quality wood fixtures and materials.
We prioritize thorough clean-up after completing the service, ensuring that your home's wooden areas will look as good as new when we are done.
---
Restoring Your Home from Termite Damage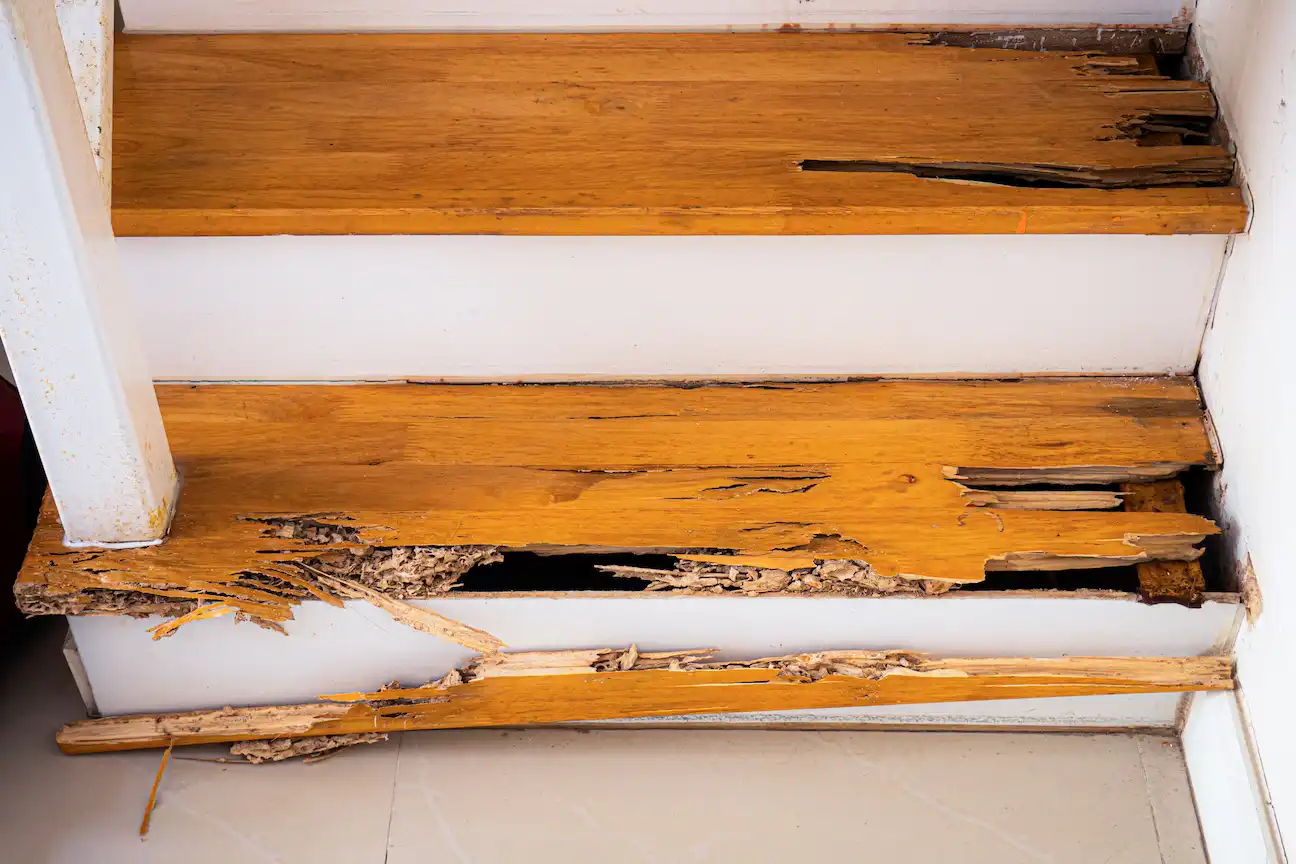 The primary objective of termite damage repair is to restore your home's structural integrity. Termite infestations can wreak havoc on your property's foundations, necessitating prompt repair or replacement of essential wooden fixtures.
Common signs of termite activity include squeaky floorboards, drywall holes, and intricate patterns within wooden structures. If you notice any of these indicators, it is imperative to engage a pest control service provider to eliminate all termites from your home.
Subsequently, enlist the expertise of a professional handyman service like Kaminskiy Care and Repair to repair the termite damage effectively. 
---
Comprehensive Dry Rot and Termite Repair for Your Riverside County Home
When confronted with dry rot or signs of termite damage, rely on Kaminskiy Care and Repair for unparalleled assistance. Luckily, you can prevent further extensive damage when you call us to get the job done.  We provide exemplary home repair solutions to each customer in the Inland Empire service area. Bid farewell to dry rot and termite damage by scheduling a service with Kaminskiy Care and Repair today! Schedule your same-day dry rot and termite repair service today and be one of our many satisfied clients in the Inland Empire.